An interview of Derek Carr saying he will continue to be there for Henry Ruggs III following his involvement in a fatal car crash has been viewed more than 1.3 million times on social media.
The Las Vegas Raiders quarterback said that his former teammate needs to be loved right now, telling reporters on Wednesday: "And if no one else will do it, I'll do it."
Ruggs was driving at a speed of more than 150 miles per hour on Tuesday when he rear-ended another car, killing the woman inside, prosecutors have said.
23-year-old Tina O. Tintor was killed in the crash along with her dog.
The athlete—who up until the crash was a wide receiver for the Las Vegas Raiders—was driving with a blood-alcohol content twice the state of Nevada's legal limit, prosecutors said.
His girlfriend, Kiara Je'nai Kilgo-Washington, was traveling with him at the time of the collision and was also injured.
"I haven't reached out, I will always be here for him," Carr said in a press conference on Wednesday. "That won't change, and I'll prove that over the course of time to him...He needs people to love him right now.
"He's probably feeling a certain type of way about himself right now, and he needs to be loved. And if no one else will do it, I'll do it."
He continued: "My emotions have been on a roller coaster so to speak this year. My heart goes out so much. I'll try to say it with a straight face because I've already been emotional about every bit of this.
"But to the family, to all the families involved, no one ever wants to see this, whether it's a football player or not, you never want to see something like this happen. It broke my wife and I's heart, honestly."
Ruggs, 22, is reportedly facing two felony charges, according to court documents seen by NPR—charges of driving under the influence, causing death or a substantial bodily injury and reckless driving.
The Raiders released the player after news of the crash broke and issued a statement saying they were devastated to hear of Tintor's death.
"We are devastated by the loss of life and our thoughts and prayers go out to the victim's family," the team said in a statement.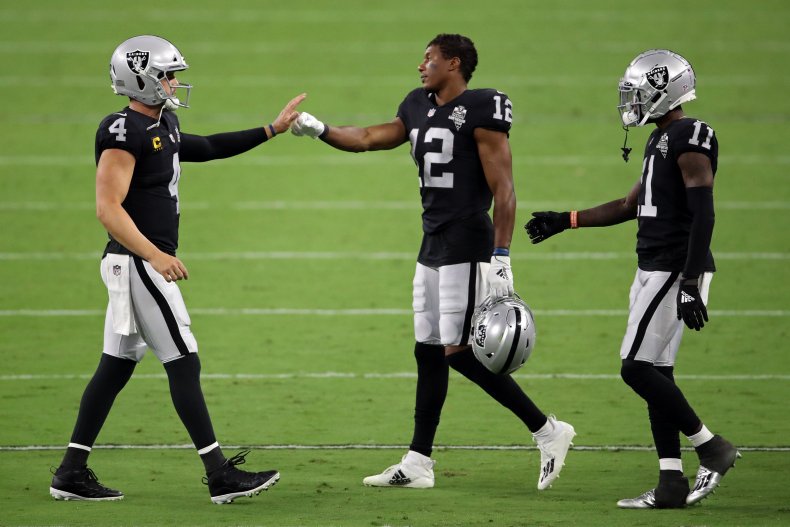 Meanwhile, Raiders interim coach Rich Bisaccia has said it is important to keep the focus on Tintor at this time.
"We want to express our sincere condolences to the victim's family," Bisaccia said in a statement, per The Associated Press. "We're deeply saddened for everyone affected. Especially the victim's family.
"We love Henry Ruggs, and want him to know that," Bisaccia added. "It's a terrible lapse in judgment, of the most horrific kind. It's something that he will have to live with the rest of his life. The gravity of the situation is not lost on anyone here and we understand and respect the loss of life."