Derek Carr Throws Three Interceptions, Gets Roasted on Twitter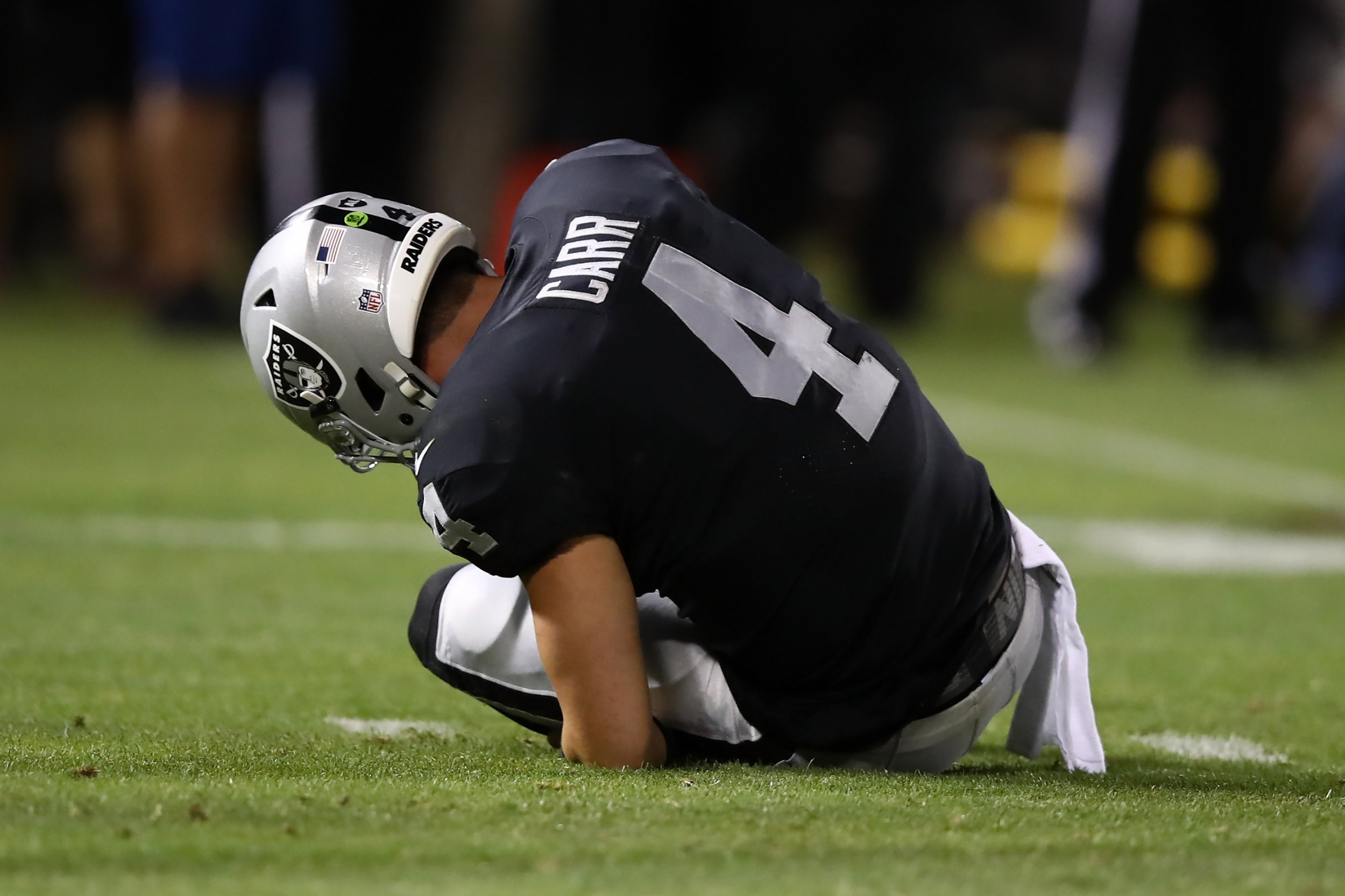 Jon Gruden's return to Oakland got off to the worst possible start as the Raiders were swept aside by the Los Angeles Rams 33-13 in their season opener on Monday night.
While all the talk ahead of the game was about Gruden's decision to trade Khalil Mack to Chicago, Raiders quarterback Derek Carr soon became the center of attention, albeit for all the wrong reasons.
The 27-year-old had completed 20 of his 24 attempted passes for 199 yards with one interception in the first half, but quickly lost control and threw two interceptions in the final quarter. The first saw Carr toss the ball up towards Rams linebacker Cory Littleton on a first and ten with the Raiders trailing by 10 points, while the second led to a pick-six from Marcus Peters.
The Raiders were booed off the field at the end of the game and, predictably, Twitter was merciless in letting Carr know just how bad his second half had been.
Some journalists suggested Carr's second interception was one of the worst throws ever made by an NFL quarterback, while others hinted the Raiders quarterback was throwing picks around like his coach.
Some pointed out the interceptions simply showed up Carr for being an average quarterback, as opposed to one whose career had been held back by offensive coordinators as has often been suggested.
Jimmy Garoppolo and Matthew Stafford had difficult season-openers, but not even that spared Carr from harsh criticism. In fairness, his choice of targets was at best highly questionable and at worst downright awful, but the former Fresno State player was hardly helped by his team—which looked short of attacking options.
To his credit, the quarterback did not shy away from criticism. Speaking to the press after the game, he admitted one of the interceptions was "one of the dumbest plays you could ever have."
However, if Carr took most of the flak, Gruden's approach was questioned too. The Raiders' coach decision to trade Mack looked even worse as Oakland's defense crumbled in the second half, while his decision to make Carr his franchise quarterback also raised eyebrows.
On the other hand, by trading Mack, Gruden has shown he's not afraid of making radical changes to the roster—and he might still try to move Carr on. However, that could prove difficult given he is only one year into a five-year deal worth $125 million, with $70.2 million guaranteed.