Derek Chauvin Attorney's Tense Exchange With George Floyd Witness Goes Viral
A tense exchange between Derek Chauvin's attorney and an eyewitness, who saw the police officer kneeling on George Floyd's neck, has gone viral.
Chauvin, who faces three charges including third-degree murder, is the first of four officers to be tried in connection with Floyd's death.
A clip from the trial, which has been widely shared on social media and has been watched more than 2.4 million times, shows Chauvin's attorney Eric Nelson cross-examining mixed martial arts fighter Donald Williams.
Williams, who was at the scene of the killing on May 25, 2020, testified that he called 911 after Floyd had been put into an ambulance since he believed he'd "witnessed a murder".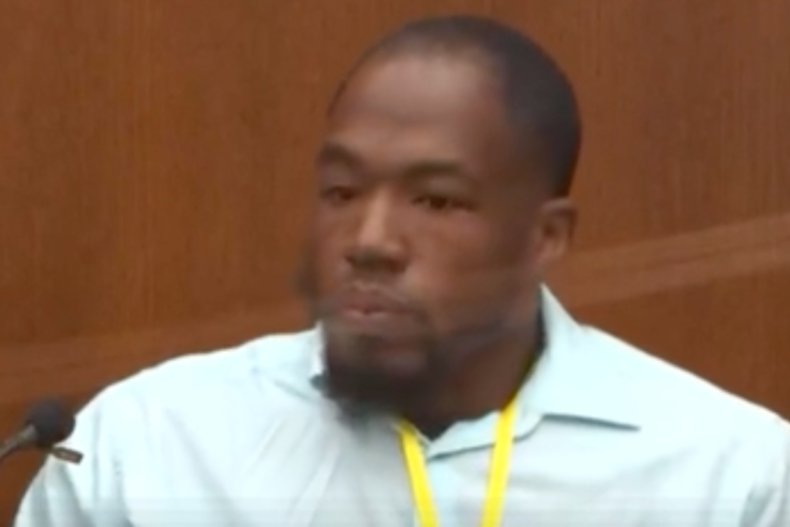 In a tape played in court, Williams can be heard telling the 911 operator how an officer "is trying to kill this citizen." As the recording ran, he appeared visibly emotional, wiping his eyes with a tissue.
But Nelson's subsequent cross-examination grew tense when he began asking Williams about how he hurled insults and expletives about the officers that were captured on the 911 call recording.
Nelson appeared to be trying to get Williams to admit he grew "angrier" as the incident unfurled but the witness maintained he acted in a "professional" manner.
Nelson said: "You called him a tough guy, to which Williams replied: "I did." The attorney then asked him if he called Chauvin "a real man," "such a man," "bogus' and a "bum at least 13 times" in the 911 call, to which Williams acknowledged that he did.
Asked whether he used expletives to describe the officer, Williams said: "If that's what the video recorded so I did."
Williams was asked about claims he was pushed by an officer to which he said that an officer had put his hands on his chest. He then admitted to responding with the threat: "I dare you to touch me like that. I swear I will slap the f*** out of both of you."
Nelson said: "It's fair to say you grew angrier and angrier" to which Williams replied: "No I grew professional and professional. I stayed in my body. You can't paint me out to be angry".
Chauvin is currently facing charges of second-degree unintentional murder, third-degree murder and a lesser charge of second-degree manslaughter. He could be sentenced to up to 40 years in prison if convicted of the most serious charge.
The police officer knelt on Floyd's neck for around 9 minutes and 30 seconds after the suspect was handcuffed on May 25, 2020.
In footage that captured the incident, Floyd can be heard pleading he is unable to breathe. Chauvin continued to hold his knee firmly on the back of Floyd's neck
Floyd was pronounced dead at Hennepin County Medical Center later that day and his death sparked protests across the globe, as well as a rebirth of the Black Lives Matter movement.