Two Women Arrested for Allegedly Throwing Paint at Derek Chauvin's Florida Home
Two people have been arrested on suspicion of vandalizing the Florida home of former Minneapolis Police officer Derek Chauvin.
Katelin Benoit, 18, and Kimberly Guzman, 20, are both accused of criminal mischief after allegedly throwing paint at the house in Windermere at around 3:55 p.m. on May 29.
Chauvin is the officer charged in connection with the death of George Floyd. He is a Minneapolis police officer, but has a second home in Florida, reported Fox 10.
Police saw the pair allegedly throwing the paint and observed them until they left the area. The suspects were later pulled over in a gray Chevy by Orange County Sheriff's deputies near Keene's Pointe at around 4 p.m.
According to an arrest report seen by Newsweek, the deputies found the paint cans allegedly used to vandalize the home on the rear driver's side floor board.
Guzman also had dry paint on her left leg.
Guzman was charged with criminal mischief of more than $200 but less than $1,000 in damage. Benoit was charged with criminal mischief of less than $200.
Both posted bond after being taken to Orange County jail, reported the Orange Observer.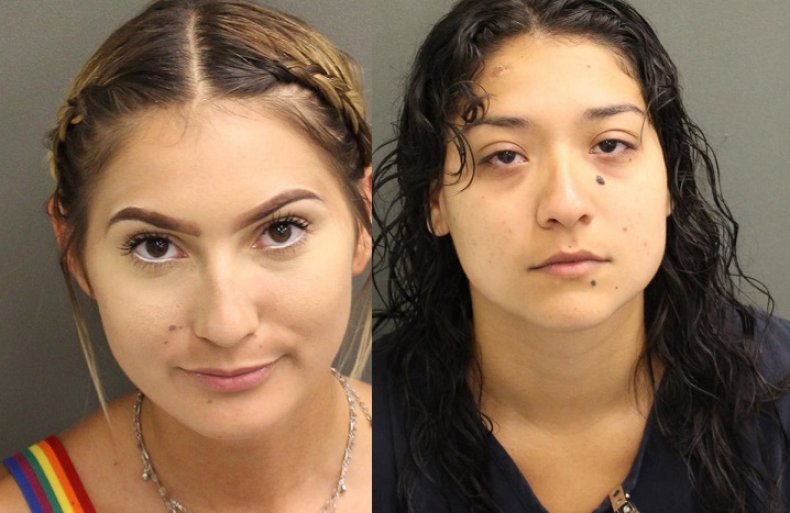 Chauvin is currently in custody after he was charged with the third-degree murder and second-degree manslaughter of Floyd.
A video shows Chauvin with his knee on Floyd's neck for several minutes during an arrest while the 46-year-old cried: "I can't breathe."
Floyd's death has sparked widespread outrage, resulting in protests and rioting breaking out in several cities for the past week.
Chauvin was fired alongside three other Minneapolis police officers after the video went viral. None of the other three officers have been charged in connection to Floyd's death.
At a recent press conference, Commissioner of Corrections Paul Schnell said that Chauvin had been moved to a high-security prison for his safety.
Schnell said the suspect was moved to the facility in Oak Park Heights because authorities were expecting a high number of protesters arrested over the weekend to be taken to Hennepin County Jail, where Chauvin was previously being held.
There were also fears he could be at risk as several jails in Minnesota have seen outbreaks of the coronavirus.
"First and foremost, we have a COVID situation. Second of all, a large number of people could be booked into Hennepin County Jail," Schnell said.
"And as a result of that, [Hennepin County Sheriff David] Hutchinson had made the request and the DOC [Minnesota Department of Corrections] accommodated that request.
"That transfer has been made, and he is safe and secure in the prison in Oak Park Heights."
Chauvin has yet to appear in court to face the charges.