Derek Chauvin Hires Lawyer Who Represents Health Care Workers Suing Over Vaccine Mandate
Derek Chauvin has hired an attorney ahead of an appeal of his conviction in the death of George Floyd in 2020.
According to court documents made public on Monday, Attorney William Mohram will present Chauvin in his appeal.
Morham is a partner at Mohrman, Kaardal, & Erickson, based in Minneapolis.
Morhram practices legal assistance in commercial litigation, intellectual property law, First Amendment litigation, trust litigation and employment litigation.
Recently, Morhman's firm represented almost 200 Minnesota health care workers who have sued their employers about COVID-19 vaccine mandate.
Morham's firm was also involved in a lawsuit that sought to annul the 2020 presidential election results in Arizona, Morhman and others received complaints from the Arizona State Bar.
Originally, Chauvin asked for a public defender to represent him on the appeal. However, the state Supreme Court denied his request, saying that he was ineligible after reviewing his financial assets.
Last month, Chauvin filed documents with the intention of appealing the conviction handed to him in a state trial earlier this year. In those documents, he said he believes there are 14 different reasons to dismiss the conviction, including that the jury was not sequestered.
In April, Chauvin was convicted of second-degree unintentional murder, third-degree murder and second-degree manslaughter. He was sentenced to 22 1/2 years in prison. That trial was on state charges. He faces a separate federal trial early next year along with three other ex-Minneapolis police officers.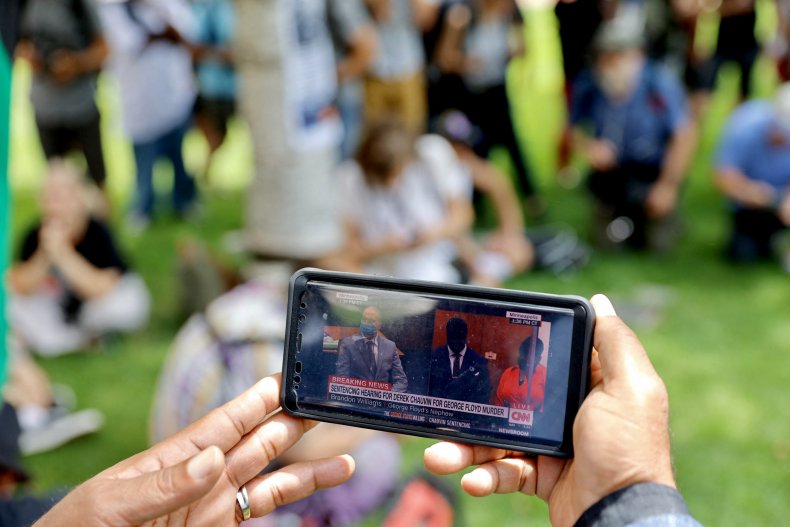 For more reporting from the Associated Press, see below.
Separately, Chauvin is also charged in federal court with violating Floyd's civil rights when he knelt on the Black man's neck for about 9 1/2 minutes as Floyd was facedown on the pavement, not resisting and pleading for air. He has pleaded not guilty to those charges.
Chauvin had 90 days from his sentencing to file notice that he intends to appeal. In addition to his notice, he also filed a motion to put the appeals process on hold until the Supreme Court reviews an earlier decision to deny him a public defender to represent him in his appeal.
In an affidavit filed Thursday, Chauvin said he has no attorney in the appeals process, and has no income aside from nominal prison wages. His case before Cahill was funded by the Minnesota Police and Peace Officers Association's legal defense fund. Chauvin wrote: "I have been informed that their obligation to pay for my representation terminated upon my conviction and sentencing."