Commissioner of the Minnesota Department of Public Safety John Harrington announced Friday afternoon that former Minneapolis police officer Derek Chauvin has been taken into custody by state authorities.
Chauvin was one of four police officers involved in the death of George Floyd. He was identified as the cop who knelt on Floyd's neck before Floyd later died in police custody. A viral video of the incident has ignited four consecutive days of civil unrest in Minnesota where the National Guard has been activated.
Hennepin County Attorney Mike Freeman announced on Friday that Chauvin has been charged by the County Attorney's office with third-degree murder and manslaughter.
When asked what changed since yesterday, Freeman said, "We have now been able to put together the evidence that we need."
The other three police officers involved in Floyd's death have not been arrested but Freeman says that they are "under investigation" and that he "anticipates charges."
Harrington did not say where Chauvin was when arrested.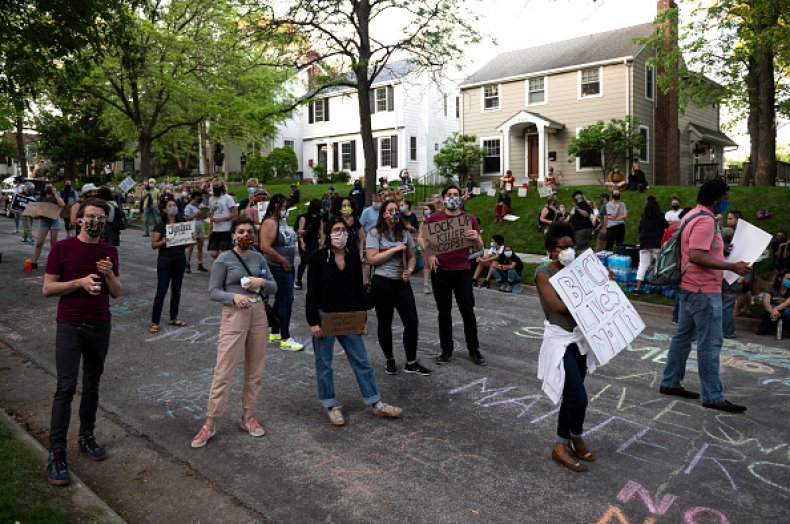 Protestors have been gathering in front of Chauvin's house in Oakdale, a Twin Cities suburb. Oakdale Chief of Police Bill Sullivan said the house was vacated earlier this week, but local police dressed in riot gear have been seen guarding the property.
"Officers are stationed in the neighborhood only as needed, based on the activities of protesters," Sullivan said in a statement to Newsweek.
Senator Amy Klobuchar commended the arrest by the Bureau of Criminal Apprehension, calling it "the first step towards justice on Twitter." Other activists groups, including the American Civil Liberties Union, said it is "not enough" and has urged for "a swift, independent prosecution conducted by the Attorney General's office."
Chauvin is also the subject of an ongoing federal investigation by the FBI and the Department of Justice.
On Thursday night, CNN correspondent Omar Jimenez was arrested by Minnesota Police during a live broadcast covering the ongoing protests. The arrest drew wide criticism with many pointing to the fact that a black journalist had been arrested before the white cop involved in Floyd's death.
Newsweek reached out to Chauvin's attorney and the Bureau of Criminal Apprehension for comment but did not hear back before publication.