Derek Chauvin Prosecutor Reveals It Was His First Ever Criminal Case
An attorney who prosecuted Derek Chauvin for the murder of George Floyd has revealed it was his first criminal case.
Jerry Blackwell and Steve Schleicher led the prosecution team in a trial that ended last week with the former Minneapolis officer convicted on all three charges against him.
In an appearance on MSNBC's The Last Word on Tuesday, the pair told Lawrence O'Donnell why they decided to join the case pro bono.
Blackwell, who delivered the prosecution's opening statements in the closely watched trial, said the experience did feel like it was why he became a lawyer.
But he revealed that the Chauvin trial was his first experience in criminal law, as his work usually revolves around trying cases involving Fortune 500 companies.
"Most people wouldn't realize that this was my first foray into criminal law and the first criminal case I'd ever been involved in," Blackwell, the founder and chairman of the firm Blackwell Burke P.A., told O'Donnell.
But he added that it was "a moral moment" for him.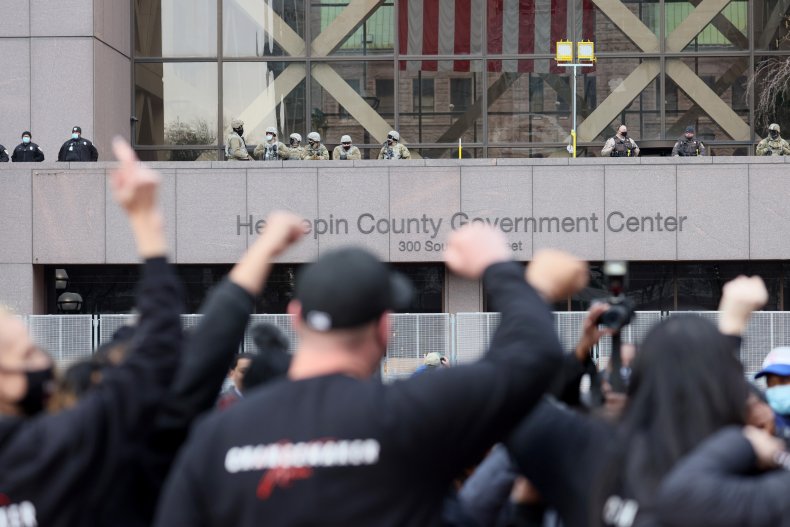 "It was one of those moments where everything within you, every fiber, just sort of resonated that this is a time to stand up, to be counted, to do what you can for the cause of good and right.
"I simply wanted to be involved and offer whatever skills I had to bring about justice in this case."
Blackwell added that after receiving a call from Minnesota Attorney General Keith Ellison, he thought: "What have I done? This is going to be on an international stage, your first criminal case.
"But at that point I was committed to it so win, lose or draw, whether I'd be embarrassed or not, that would be committed to seeing this through to the end and that's what I did."
Schleicher said he had tried numerous murder cases and also prosecuted police officers over the course of his career.
He also explained that it was a "privilege" for him to join the case because "at some point, you owe something back to the state that's been so good to you."
He said: "For me, it was very easy... the Attorney General of your state calls and asks for help, you say yes."
He continued: "It's a privilege to practice law, it's a privilege to make a living in the practice of law and serving others. It's a joy to be able to practice with your friends.
"And of course, when he called and asked, I wanted to help."
Blackwell and Schleicher have been contacted for additional comment.