Derek Chauvin Sentencing Begins With Statements From Floyd's Brothers, 7-Year-Old Daughter
Derek Chauvin's long-awaited sentencing hearing began Friday with an impact statement from George Floyd's daughter, Gianna.
In a video played in Minneapolis' Hennepin County Court, Gianna, 7, said that she misses her father and wishes she could play with him. She added that she asks about him "all the time."
"We used to have dinner every single night before we went to bed," she said. "My daddy always used to help me brush my teeth."
Following the video with Gianna, Floyd's two brothers, Philonise and Terrence, and his nephew Brandon Williams delivered in-person impact statements before the court.
"The heartbreak and hurt goes far beyond any number of tears we could ever cry," Williams said. "Words simply cannot express the pain, anguish and suffering that our family and friends have endured since George's murder. It has been truly unimaginable."
Terrence said the family is calling for the maximum possible sentence for Chauvin, the former Minneapolis police officer who knelt on Floyd's neck for over nine minutes during his arrest last May.
"We don't want to see no more slaps on the wrist. We've been through that already," Terrence said.
In April, a jury convicted Chauvin of unintentional second-degree murder, third-degree murder and second-degree manslaughter. Under Minnesota law, he will be sentenced for only the most serious offense.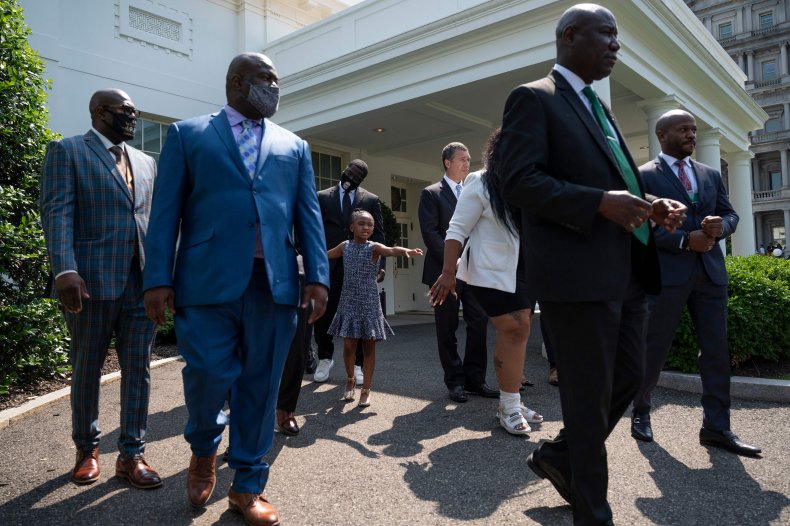 Carolyn Pawlenty, Chauvin's mother, was the only member of his family to address the court on Friday. In her statement, she said that her son is "a good man" and someone who "always dedicated his life and time to the police department."
"When you sentence my son, you will also be sentencing me," she said. "I will not be able to see Derek, talk to him on the phone or give him our special hug. Plus, the fact that when he is released his father and I most likely will not be here."
When it was Chauvin's turn to address the court, the ex-officer said that because of other legal matters he was not able to give a full, formal statement.
"Briefly, though, I want to give my condolences to the Floyd family," he said. "There's going to be some other information in the future that would be of interest, and I hope things will give you some peace of mind. Thank you."
Chauvin waived his right to have the jury determine his sentence, so Judge Peter Cahill will be responsible for making the determination. The prosecutors have requested a sentence of 30 years in prison.