Derek Chauvin Sentencing Time as George Floyd Killer Faces 30 Years in Prison
Former Minneapolis police officer Derek Chauvin will be sentenced today for the death of George Floyd. He faces a potential 30 years behind bars.
Hennepin County Judge Peter Cahill will hand down Chauvin's sentence on Friday with proceedings expected to begin at around 1.30 p.m. CDT (2.30 p.m. EDT), according to Minnesota Public Radio (MPR).
Chauvin was convicted on April 20 on three counts—unintentional second-degree murder, third-degree murder, and second-degree manslaughter—but as these convictions arose from a "single behavioral incident," under Minnesota law, he will only be convicted for the most serious offense.
The proceedings will be broadcast live by a variety of outlets, including MPR and Court TV.
Under the state's sentencing guidelines, the most serious punishment for unintentional second-degree murder is a 40-year prison term.
However, Chauvin is unlikely to face the maximum sentence. As he has no previous convictions, Minnesota's sentencing guidelines prescribe a "presumptive sentence" of 12.5 years, with discretion to set a sentence in the range of 10 to 15 years, according to the Associated Press (AP).
Nonetheless, Chauvin may face a harsher sentence as Judge Cahill is taking into account four aggravating factors that could potentially see him hand down a longer prison term. Prosecutors are seeking 30 years for Chauvin, and that outcome is a distinct possibility.
The aggravating factors are that Chauvin "abused a position of trust and authority," that he "acted with particular cruelty," that he committed second-degree murder "in concert with three other individuals"—meaning three other police officers charged with civil rights violations—and that he committed the crime "in the presence of children."
Cahill has previously said that the prosecution proved the four aggravating factors at trial, according to Court TV. Chauvin kept his knee on Floyd's neck for nine minutes and 29 seconds, resulting in his death.
In an order in May, Cahill wrote: "The slow death of George Floyd occurring over approximately six minutes of his positional asphyxia was particularly cruel in that Mr. Floyd was begging for his life and obviously terrified by the knowledge that he was likely to die but during which the Defendant objectively remained indifferent to Mr. Floyd's pleas."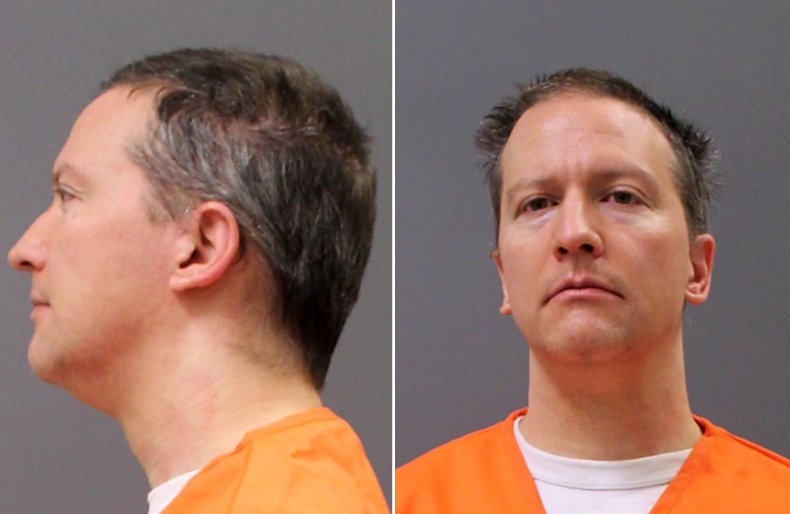 Cahill will hear arguments from the prosecution and defense on Friday before passing sentence. Victim impact statements from Floyd's family are also expected. Chauvin will have the opportunity to speak, but he declined to testify during his high-profile trial.
Chauvin's attorney, Eric Nelson, has asked for his client to be sentenced to time served and be granted probation, though this outcome seems unlikely. Nelson argued that "the single most important fact," supported by the evidence, was that Chauvin did not intend to kill Floyd.
Under Minnesota law, it's possible Chauvin will only serve two-thirds of his sentence in prison and could then be placed on supervised release.
Newsweek has asked Derek Chauvin's attorney for comment.