Derek Chauvin Trial Latest as Delay Sought, $27M for George Floyd Family, Jury Mostly Picked
The attorney for Derek Chauvin, the former Minneapolis officer charged in George Floyd's death, asked the judge to delay his trial, saying the $27 million settlement for Floyd's family would taint the jury pool and violate his client's right to a fair trial.
Defense attorney Eric Nelson also asked Hennepin County District Judge Peter Cahill to move Chauvin's trial to another city—a motion that was previously unsuccessful.
"I am gravely concerned with the news that broke on Friday relevant to the civil settlement," Nelson said on Monday. He maintained that the timing of the announcement was "very suspicious" and "has an incredible propensity to taint the jury pool."
But prosecutor Steve Schleicher argued for jury selection to continue, noting that the state had no control over the Minneapolis City Council.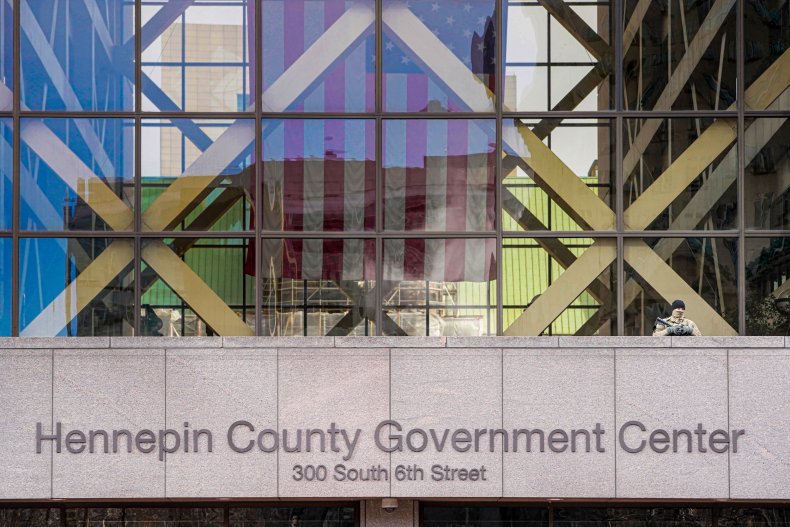 The City Council announced Friday that Minneapolis had agreed to a $27 million settlement. It was described by Ben Crump, an attorney for the Floyd family, as the largest pre-trial settlement ever for a civil rights wrongful death claim.
Cahill agreed that Nelson had a "legitimate concern" about the publicity generated from the settlement, adding that he wished city officials would stop talking about the case. "At the same time, I don't find any evil intent that they were trying to tamper with this criminal case," he said.
Schleicher argued that it was not clear whether news of the settlement would "cut" in favor of the prosecution or defense. "The problem is, it cuts," the judge replied.
Nelson also noted that Attorney General Keith Ellison's son Jeremiah Ellison is on the City Council. Keith Ellison heads the prosecution team.
"We've got a mayor who's a lawyer by trade… he should know better, and obviously Mr. Ellison's son is a City Council member," Nelson said.
"And I'm not accusing Mr. Ellison of anything… but it is profoundly disturbing to the defense, because ultimately the goal of this system is to provide a fair trial, and this is not fair."
Minneapolis Mayor Jacob Frey's office and Keith Ellison's office have been contacted for comment.
According to the Star Tribune, Cahill intends to bring back seven jurors seated last week to be questioned about whether the settlement news would affect their impartiality.
Nelson also urged the judge to consider giving both sides extra peremptory challenges to remove potential jurors for possible bias without citing a reason. Nelson had used eight of his 15 strikes by the end of the day on Monday, while prosecutors have used five of their nine strikes so far, according to the newspaper.
Cahill agreed to consider the request for a delay, but denied the strikes.
The defense's fears were realized when the first potential juror said she "gasped" when she heard the amount of the city's settlement to Floyd's family. She was dismissed after saying she couldn't be impartial.
But other potential jurors questioned later in the day did not mention hearing about it.
Two jurors were seated Monday—a Black man in his 30s who works in banking and a white woman in her 50s, a single mother who works as an executive assistant at a health care clinic.
According to the Associated Press, the man said in his juror questionnaire that he had neutral impressions of Chauvin and Floyd. He also said he didn't believe Chauvin set out to hurt anyone, but wondered why other officers didn't intervene.
The woman wrote in her questionnaire that she didn't watch the cellphone video showing Chauvin kneeling on Floyd's neck in full because it was "too disturbing."
But she added that the ex-officer was "innocent until we can prove otherwise."
She also said she had "somewhat negative" opinions of Black Lives Matter and Chauvin, and a "negative" view of the protests that took place in the wake of Floyd's death.
The jury so far consists of six men and three women, ranging in age from their 20s to their 50s. Five are white, two are Black, one is multiracial and one is Hispanic.
Jury selection will end when 12 jurors, as well as alternates, have been selected.
Opening statements in the trial will commence no earlier than March 29.
Floyd, a 46-year-old Black man, died after Chauvin, who is white, kneeled on his neck for almost nine minutes while the man gasped that he couldn't breathe on May 25 last year. His death triggered protests against police brutality and racial injustice across the U.S. and abroad.
Chauvin is charged with second-degree murder, third-degree murder and manslaughter. Three other former Minneapolis officers face charges of aiding and abetting second-degree murder and manslaughter. They will be tried separately.