Derek Jeter was gracious to the baseball world Wednesday. All except for one person.
The longtime New York Yankees captain singled out the lone baseball writer who did not vote him into the Baseball Hall of Fame during his induction speech in Cooperstown, New York on Wednesday.
Jeter ranks sixth in major-league history with 3,465 hits, was a 14-time All-Star, five-time gold-glove winner and led the Yankees to five World Series championships in his nearly two-decade career in New York. He easily surpassed the 75-percent threshold for induction in his first year on the Hall of Fame ballot when he received 396 out of 397 votes.
His 99.7 percent vote share was the second-highest percentage of any player -- only longtime Yankees teammate and relief pitcher Mariano Rivera was unanimously inducted by the writers when he achieved that in 2019.
Jeter used his 15-minute speech to thank a slew of ex-teammates, coaches, managers, his family and media members. He also used his platform to chide the lone voter who didn't choose him, who has remained anonymous since the Class of 2020 was announced January 21, 2020.
"Thank you to the baseball writers, all but one of you, who voted for me," Jeter said.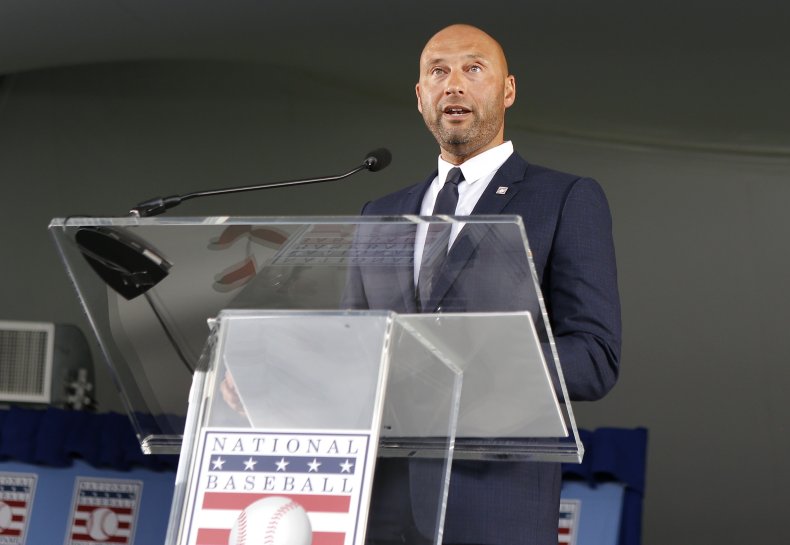 Jeter headlined the Baseball Hall of Fame Class of 2020, with outfielder Larry Walker, catcher Ted Simmons and longtime MLB Players Association president Marvin Miller also joining him. No players were inducted in the Class of 2021.
The Class of 2020 was forced to wait an extra 14 months as the original induction ceremony, scheduled for July 26, 2020, was pushed back until Wednesday due to the COVID-19 pandemic. But sports royalty joined Jeter on his big day. Basketball Hall of Famers Michael Jordan and Patrick Ewing sat alongside Jeter's ex-Yankees teammate CC Sabathia as the A-listers on hand.
Other marquee athletes also shared their thoughts on Jeter's career on social media, with Martin Brodeur, the NHL's all-time leader in goalie wins, and Jeter's ex-Yankees teammate Curtis Granderson weighing in.
Jeter's speech also caused the Yankees and Miami Marlins, for whom Jeter is the CEO and a part-owner, to pause their pregame preparation.
Aaron Boone, the Yankees manager who played with Jeter during the 2003 season, was among those who enjoyed his speech.
"I thought it was great," Boone said during his pregame media availability ahead of New York's game against the Toronto Blue Jays. "I thought he touched on a little bit of everything, shared some really cool little stories [about] people who obviously impacted his career. Getting to see his family out in the crowd was cool and getting to witness another Hall of Famer I got to play alongside of."