Shortstop Gleyber Torres Is Drawing Comparisons to Another Yankee Legend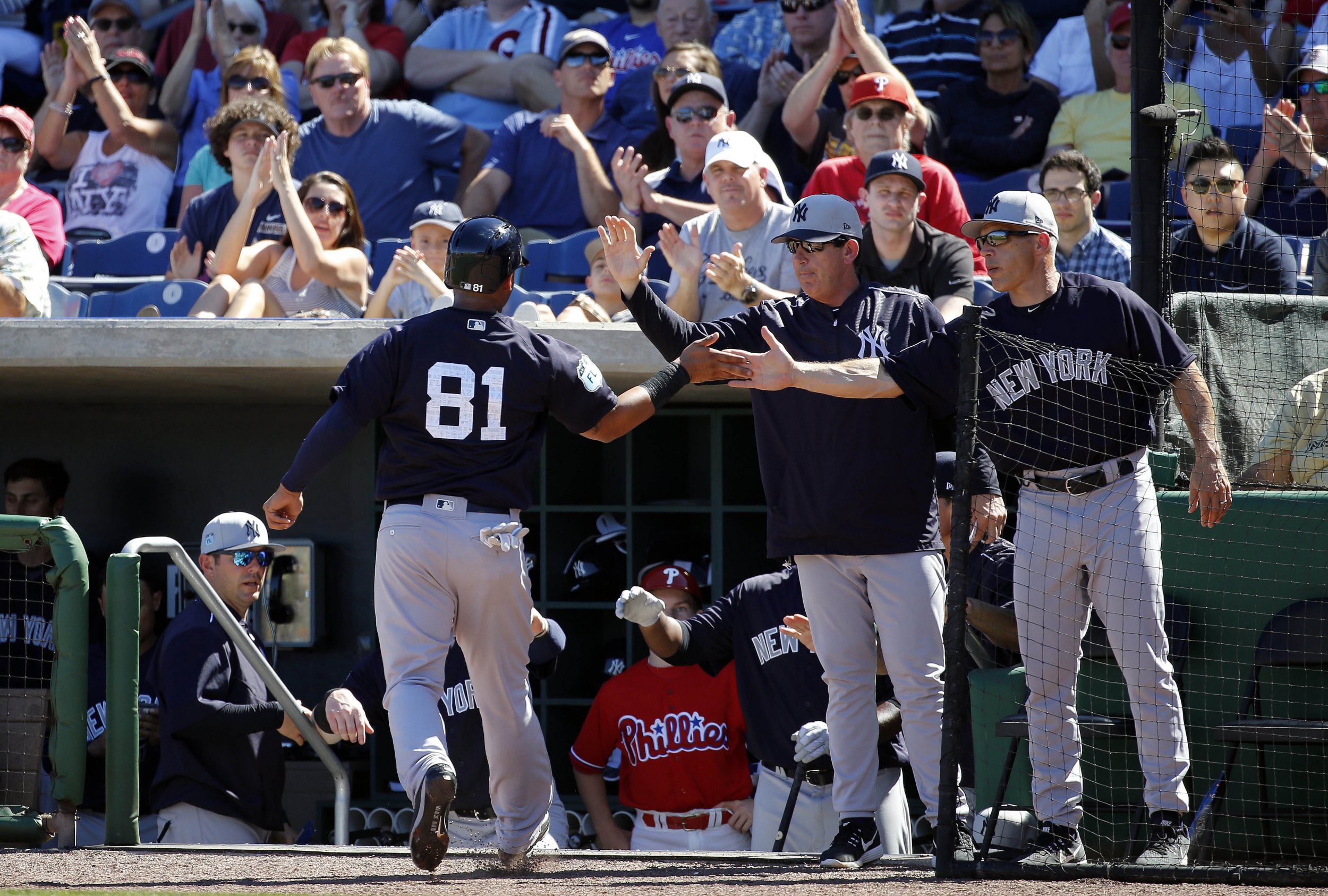 You may have read this before, in a previous millennium, but the New York Yankees have a "good-looking young ballplayer" in camp who plays shortstop and has duly impressed the team's manager, a former catcher named Joe. "He's mature for his age," Yankee skipper Joe Girardi said of Gleyber Torres, 20, after he hit a double and a home run on Tuesday to hoist his spring training batting average to .455.
While the precocious prospect is not Derek Jeter incarnate—and observers will remind you that the Yankees already have a penned-in starter, Didi Gregorius, at that position—Torres is the talk of the Yankees camp in Tampa, Florida. In his inaugural spring training, the Venezuela native leads the team in batting and is second in RBI and extra-base hits, while batting ninth. "I don't think he's fazed by the situation," said Girardi, who was both a teammate and manager of Jeter.
Gregorius has spent the first half of March representing the Netherlands in the World Baseball Classic, giving Torres, whom the Yankees acquired from the Chicago Cubs last July, a chance to start daily this spring. Don't even breathe "Wally Pipp" near anyone in a pinstriped uniform, but Torres's exceptional play is forcing the Yankees to ponder the prospect of this prospect making the big-league club.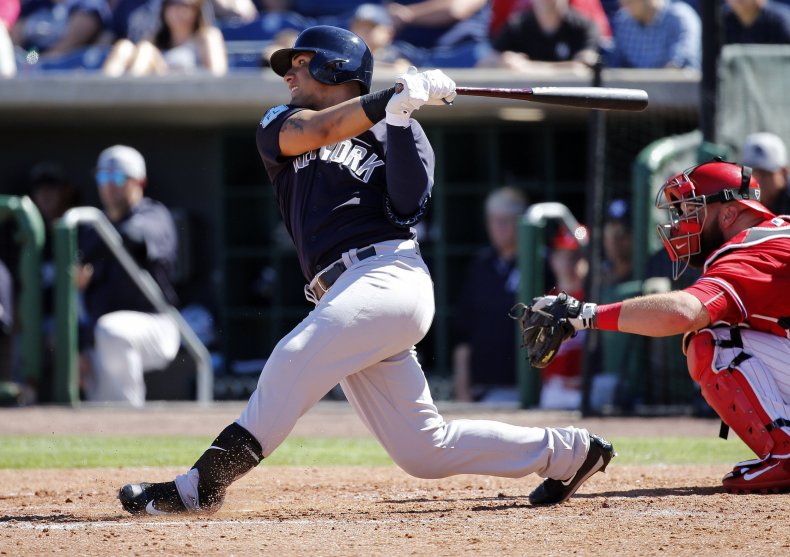 With the proviso that breathless stories about baseball prospects penned before St. Patrick's Day are about as valuable as a Joe Shlabotnik rookie card, Torres's torrid stretch is no surprise. Last autumn, he was named MVP of the Arizona Fall League after batting a league-best .403. What he can do is not in question. Where he will do it come April is. Torres played A-ball last season, while the Yankees were struggling not to finish below .500 for the first time since 1992.
In late July, the Yankees held a spring cleaning, trading two of their three All-Stars (outfielder Carlos Beltrán and reliever Andrew Miller), as well as closer Aroldis Chapman. In early August, an armistice was negotiated with 41-year-old looming presence Alex Rodriguez, who departed with the alacrity of a Trump campaign manager. The Yankees' 2017 season, as well as the club's next era, began the very next day: Overnight call-ups Tyler Austin and Aaron Judge hit back-to-back home runs in their first big league at-bats.
Austin and Judge made a more dramatic entrance than Lin-Manuel Miranda, but it was catcher Gary Sanchez, an August third call-up, who nearly stole the American League Rookie of the Year award in just two months. Clouting 20 home runs while batting .299, Sanchez resuscitated a moribund season, returned the Yankees to the back pages of the New York tabloids, and finished second in American League Rookie of the Year voting. The Yankees finished 84-78.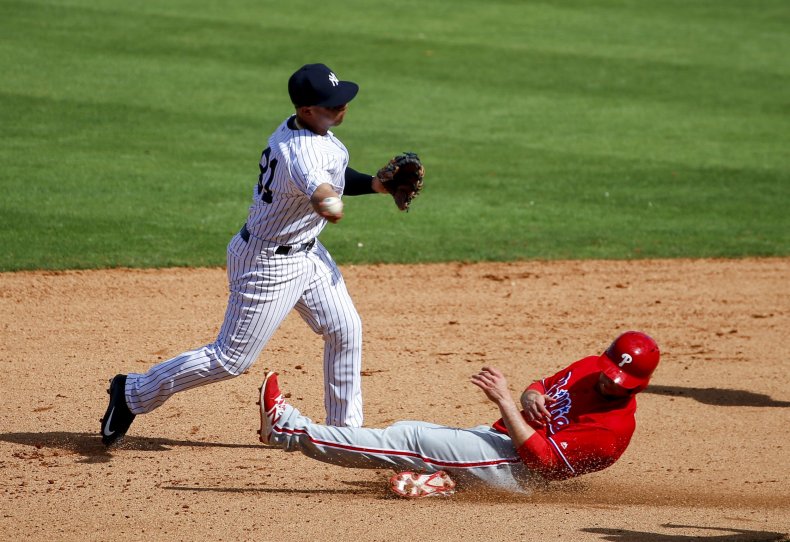 Torres, meanwhile, was a 19-year-old middle infielder hitting .275 at Class A Myrtle Beach. The Chicago Cubs were wise to trade him: Chapman became the closer who helped bring them their first World Series banner in 108 years. The Yankees were no less shrewd to deal the comet-throwing lefty in exchange for yet another future everyday starter who, like Austin, Judge and Sanchez, is 25 or younger (first baseman Greg Bird, who missed all of last season and is hitting .429 this spring, is 24).
Related: Baseball can't be America's pastime until it lets women play
When Jeter was broke into the big leagues as a 21-year-old in 1995, Torres was not yet born. He would lead the Yankees to five World Series titles while becoming the most impervious-to-negative-press athlete to perform in New York City since Secretariat. Like the 1973 Belmont Stakes winner, Jeter would retire to sire offspring (his first, with his wife, Hannah Davis, is due later this year). His marriage last June was the only ring ceremony involving a Yankee of note since 2009.
Whether the Yankees are a year or three away from being contenders again, they've quickly put together a promising young, talented core. Where Torres fits in this season is still a mystery. Gregorius and second baseman Starlin Castro will both be 27 on opening day and are the two most reliable hitters from last season's club besides Sanchez (they are the only three Yankees who hit 20 home runs and hit .270 or better). Would Torres platoon with Gregorius? The vet may be Dutch, but he does not go Dutch. Chances are Torres will open the season in Double-A, which for Yankee prospects means the Trenton Thunder.
"He's never even played in cold weather yet," said Girardi, stemming the lather of excitement Torres is generating. This is true. Yankees fans are excused for being excited about a young shortstop with a prodigious bat and an even temperament. But they should also remember that it's still only spring training, and it isn't even spring yet.