'Derelict in Their Duty': Tulsi Gabbard Blasts FBI for Role in Larry Nassar Abuse Case
Tulsi Gabbard, a 2020 Democratic presidential candidate and former congresswoman, criticized the FBI's role in the sexual abuse case of former USA Gymnastics doctor Larry Nassar.
"How much is a little girl worth?" Gabbard asks in a video she posted on Twitter on Sunday. "That's a question we should never have to ask because the answer, it should be threaded through our society, it should be a fact we take for granted that we would never leave her stranded. Or worse, when she cries out, turn back, just to protect those who attack her."
In the clip that has garnered over 40,000 views, Gabbard assures that gymnasts Simone Biles, McKayla Maroney, Maggie Nichols and Aly Raisman as well as others are being listened to—adding that their testimony before the U.S. Senate was "devastating and sickening."
Throughout the nearly three-minute video, Gabbard accuses the FBI of turning their backs on the victims in Nassar's case in an aim to protect themselves and an establishment that played a role in the abuse of young girls.
"FBI agents were not only derelict in their duty —they chose to turn a blind eye to Nassar's abhorrent crimes," Gabbard says.
"What perversion of justice within your own minds made you decide not to protect the innocent?" she continues, pointing at the FBI agents in the abuse case. "Instead, you put yourself on the line to protect a rapist and a pedophile."
She also calls for holding the FBI accountable and stressed that "there cannot be a different system of justice for the elite."
"So how much is a little girl worth?" Gabbard asks again towards the end of the video. "If you say less than the cost to cover your own ass, shame on you. If you say less than your salary, less than the reputation of a powerful pedophile, shame on you, you do not belong in civilized society."
"How much is a little girl worth? She is worth sending predators and their protectors to prison," the former congresswoman concludes.
On September 15, four of Team USA's gymnasts testified over the way the FBI handled the investigation into the sexual abuse claims against Nassar. As they shared their accounts of their abuse, Biles, Maroney, Nichols and Raisman said that the FBI "turned a blind eye" to the allegations.
"To be clear I blame Larry Nassar and I also blame the entire system that enabled and perpetrated his abuse," Biles said.
All four women demanded that the FBI, USA Gymnastics, and the U.S. Olympic and Paralympic Committee to be held accountable.
"Just as it is naive to assume the problem only rests with Nassar, it is unrealistic to think we can grasp the full extent of culpability without understanding how and why USAG and USOPC chose to ignore abuse for decades," Raisman said.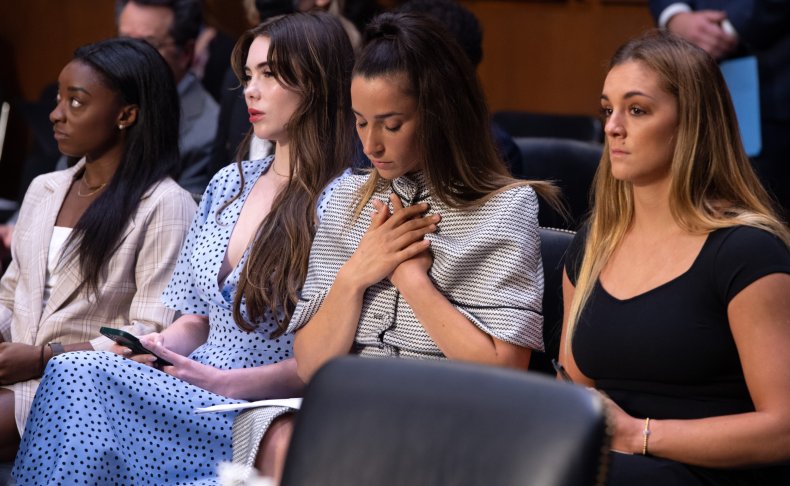 Nassar is now serving a 175-year prison sentence after being convicted in 2018 of abusing 10 minors.
Newsweek reached out to the FBI and Gabbard for comments, but didn't receive a response by the time of publishing.