Is Derrick Rose Back? Timberwolves Star Rolls Back the Years, Gets Twitter Talking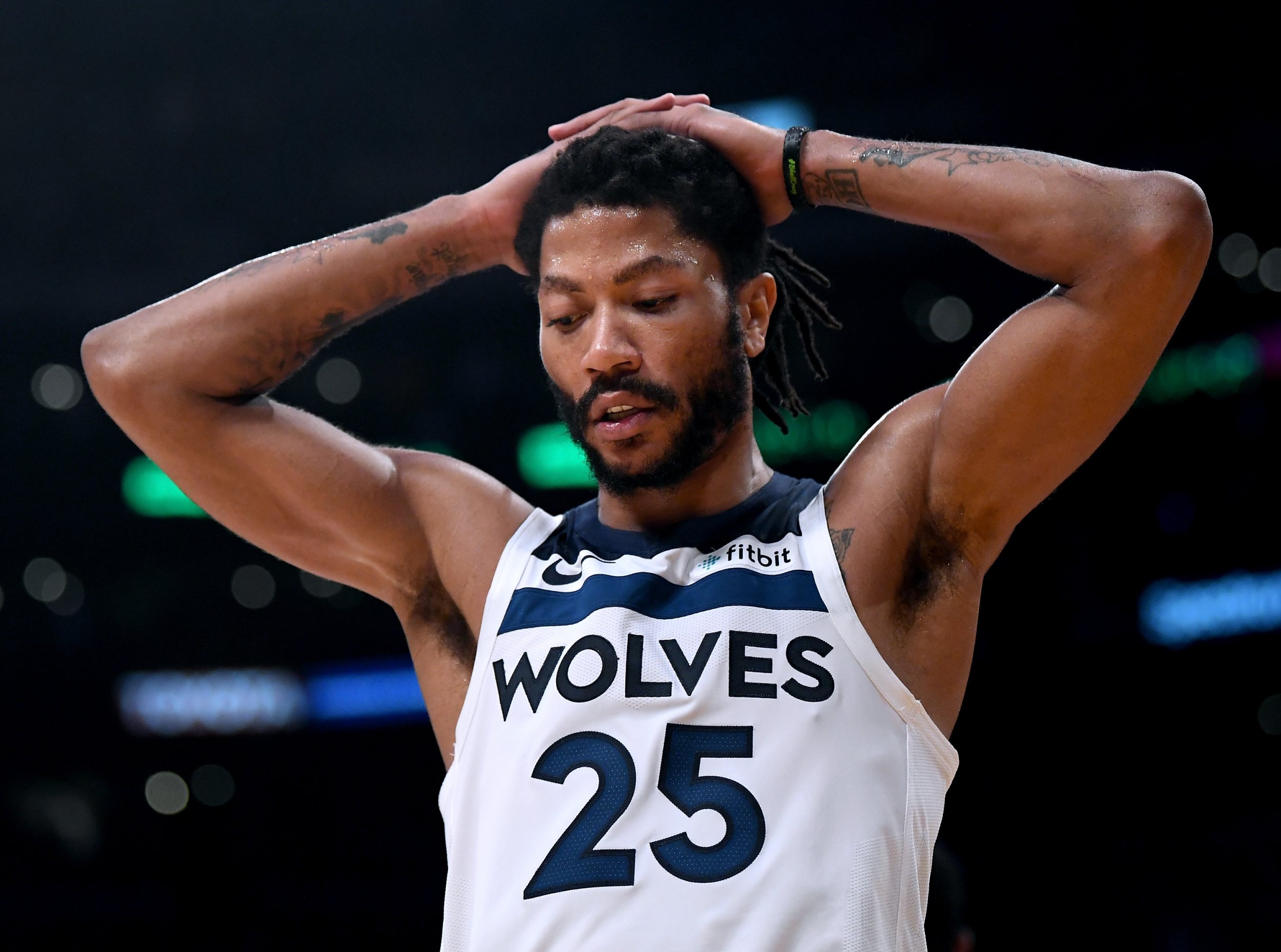 The Minnesota Timberwolves might have fallen short of clinching their first win on the road this season, but Derrick Rose continues to roll back the years.
The number one overall pick of the 2008 draft scored 31 points in 37 minutes, on 11-of-17 from the court as the Timberwolves lost 114-110 in Los Angeles to the Lakers.
While the result leaves them 4-8 for the season with a calamitous 0-7 record on the road, Rose was again a major positive for Minnesota. The 30-year-old dropped a career-high seven three-pointers from nine attempts, contributing to a franchise-record 20 triples.
Rose's virtuoso performance, coming just after a week he scored a career-high 50 points against the Utah Jazz, had Twitter talking yet again.
Only a year ago, Rose's career appeared to have reached its nadir. He left the NBA altogether to re-evaluate his options after undergoing four knee surgeries in six years.
However, the 2011 regular season MVP's perseverance appears to have paid off and this season he is averaging 18.6 points in 28.7 minutes, shooting 46.1 percent from the field.
Over the last 10 games, those figures climb to 20.6 points in 29.2 minutes with a 47.6 percentage from the floor.
There's no doubt Rose is back in his element and that confidence is clearly flowing through his veins, probably for the first time since his days in Chicago. His new-found bravado was there for all to see as he hit a three-pointer over Lonzo Ball in the third quarter. He had some choice words for the Lakers point guard afterward.
The night ultimately ended on a sour note for Rose and Minnesota when he missed his final three-point attempt after coming under pressure from Tyson Chandler.
The Wolves point guard was far from impressed with the call and hinted the Lakers big man had fouled him.
"They're not going to give me that call," Rose was quoted as saying by ESPN. "They haven't been giving me that call, so I've just got to get used to it."
While the Chicago native has rediscovered his best form on the court, he faces a potentially crucial crossroad off it.
A woman who accused him of rape will have her appeal heard on 16 November after the player was cleared by a federal jury in 2016.
The alleged victim claimed Rose and his two friends visited her in an apartment in Los Angeles in the early hours of August 27, 2013 and had sex with her. However, while the plaintiff said she had been drugged and was too intoxicated to give consent, the men claimed the sex was consensual.
The Los Angeles Police Department opened an investigation but observers at the time suggested the lack of physical evidence made charges unlikely. Rose and his two friends were found not liable as opposed to not guilty, given the trial was a civil litigation, rather than a criminal trial.