Derrick Rose Trial: What Is Minnesota Timberwolves Star Accused Of?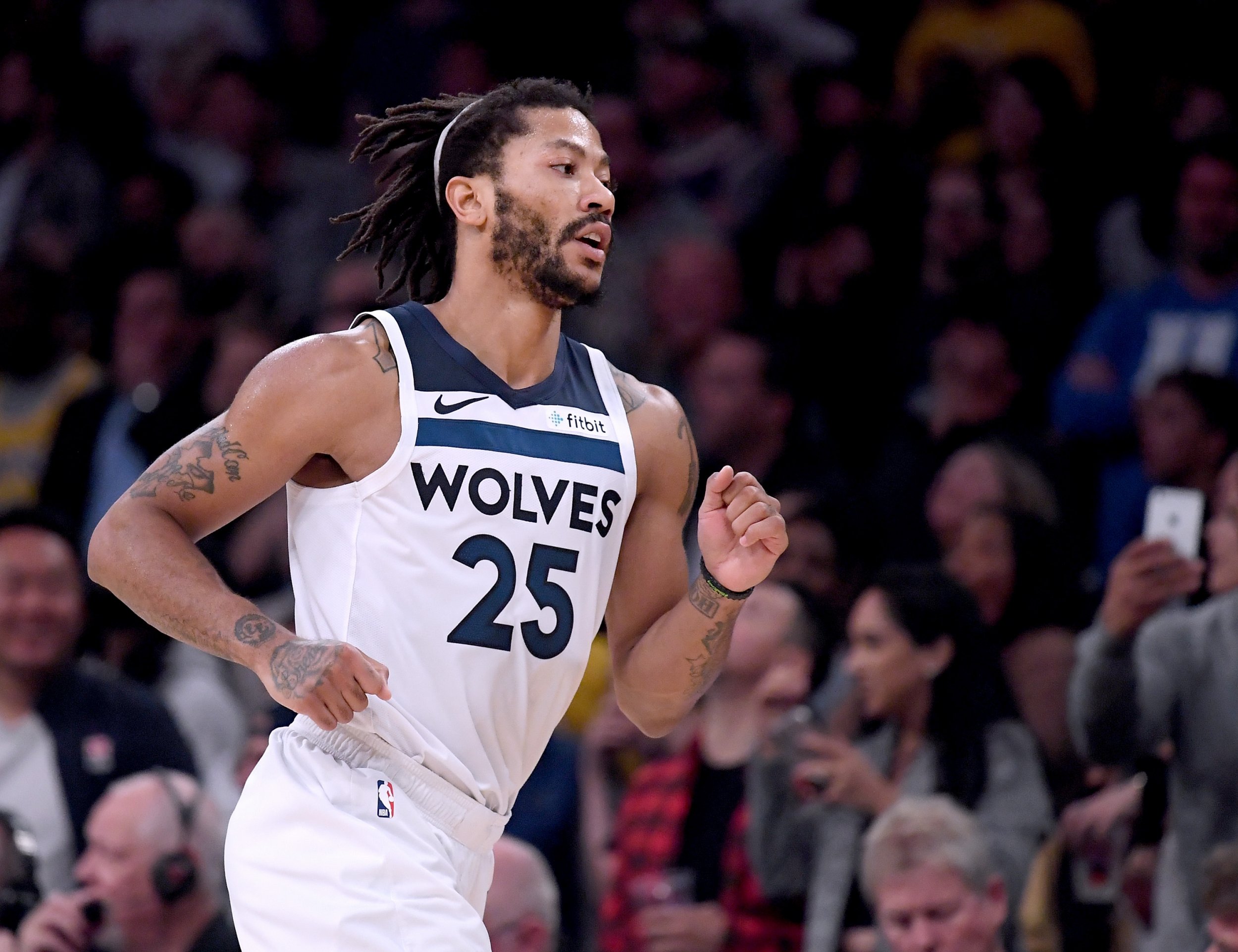 In recent weeks, Derrick Rose has rolled back the years on the court, but now faces a crucial challenge off it as a woman who alleges he raped her will have her appeal heard in court.
Just a year on since leaving the NBA to re-evaluate his options after a series of his serious injuries had threatened to derail his career, the Minnesota Timberwolves point guard has averaged 19.2 points, 4.8 assists and 3.5 rebounds per game this season.
At the beginning of the month, the 30-year-old has scored a career-high 50 points against the Utah Jazz and followed that up a week later with a career-high seven three-pointers against the Los Angeles Lakers.
Rose underwent four different rounds of surgery to his knees and his performances this month have rightly earned praise from his peers. His comeback is one of the feel-good stories of the NBA this season.
However, this week Rose's career faces a challenge of an altogether different nature. A woman who accused him of rape will have her appeal heard on 16 November in Pasadena after the player was cleared by a federal jury in 2016.
The alleged victim claimed Rose and his two friends visited her in an apartment in Los Angeles in the early hours of August 27, 2013 and had sex with her.
The woman did not come forward with her complaint until 2015, when she accused Rose (who at the time of the alleged incident played for the Chicago Bulls), Randall Hampton and Ryan Allen of breaking into her apartment and raping her.
After the complaint was filed, the Los Angeles Police Department opened an investigation but observers suggested the lack of physical evidence made charges unlikely.
While the plaintiff said she had been drugged and was too intoxicated to give consent, the men claimed the sex was consensual. That was despite the fact that during a deposition in June 2016 Rose admitted to not knowing what consent meant.
The three-time NBA All-Star and his two friends were found not liable as opposed to not guilty, given the trial was a civil litigation, rather than a criminal trial. A jury of six women and two men made a verdict in the case.
Rose's decision to allow the matter to end up in court instead of agreeing to settle had initially puzzled observers, given a liable verdict would have in all likelihood jeopardized his career.
At the time, Waukeen McCoy, the plaintiff's lawyer, described the outcome as unjust and indicated his legal team was considering an appeal, a date for which was confirmed in September.
"I think it's a shame for this country that a celebrity can come to court and slut-shame a woman," McCoy said.
In his closing statement, McCoy claimed Rose and his two friends had committed rape. "They have no remorse, they are not apologetic," he argued. "She [his client] is not looking for a quick dollar. She's looking for accountability."
Had the verdict gone the other way, the trio would not have faced jail time or a criminal conviction but would have had to pay damages. The plaintiff reportedly sought $21.5 million in compensation.