When Is 'Derry Girls' Season 3 Coming to Netflix?
It's been over three years since fans of the hilarious sitcom Derry Girls saw Erin (played by Saoirse-Monica Jackson), Orla (Louisa Harland), Clare (Nicola Coughlan), Michelle (Jamie-Lee O'Donnell), and James (Dylan Llewellyn) get up to some serious mischief. Thankfully, Derry Girls Season 3 is almost here.
However, the long-anticipated wait for Season 3 is bittersweet as the latest series marks the end of the Derry Girls story.
Lucky fans in the U.K. and Ireland will have access to the new series before the rest of the world, with the third and final season premiering on Tuesday, April 12 at 9.15 p.m. on Channel 4 and episodes airing every Tuesday thereafter.
So, when exactly will Season 3 of Derry Girls land on Netflix? Newsweek has everything you need to know.
When is Derry Girls Season 3 Coming To Netflix?
Just like the first two seasons of Derry Girls, Season 3 will be coming to Netflix for fans to enjoy.
Unfortunately, fans in the U.S. will be waiting a little longer for the final season to drop.
The good news is, unlike viewers in the U.K., who will have to wait for every Tuesday at 9.15 p.m. for episodes to drop, all six episodes will be available in one go for fans to binge-watch.
At the moment, an official Netflix release date for Derry Girls Season 3 has not been confirmed, but judging by previous release patterns, Derry Girls could hopefully be heading to Netflix in the summer.
In the past, Derry Girls has landed on the global streaming platform after all episodes of Derry Girls have finished airing on Channel 4 and All4.
This means Derry Girls could land in June 2022 at the earliest or at some point this summer. Fingers crossed it will not be too long a wait.
What Will Happen in Derry Girls Season 3?
Derry Girls will be sticking to its roots in the third and final Season 3, which means, yes, more drama and mischief from Erin, her cousin Orla and their friends Clare, Michelle, and English James as they come of age during the Troubles in Derry while juggling school at Our Lady Immaculate College., romance, relationships and the chaos of the 1990s.
Season 3 will see the gang waiting for their exam results but, as teased in the trailer, fans can expect to see a lot of the usual mess the Derry Girls find themselves in.
The official synopsis per Channel 4 teases: "While Northern Ireland is growing up, this gang of eejits certainly aren't any time soon - there's hope in the air that The Troubles may finally be over, but their troubles are only just getting started as they get ever closer to 'adulthood'."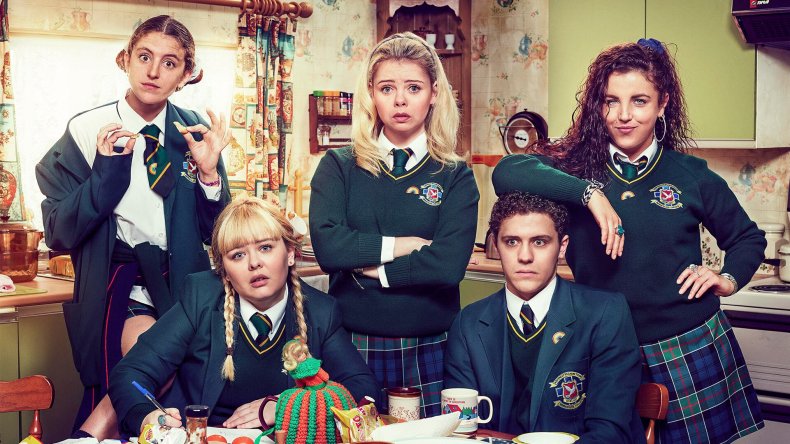 Speaking to Stylist, Coughlan, who plays Clare ("the wee lesbian"), teased the show would end with the signing of the Good Friday Agreement—the first step towards peace in Northern Ireland.
She said: "Lisa has always said publicly that she wanted to bring it up to the Good Friday Agreement, so we knew that was going to be the endpoint. And I think even in series one we kind of felt like three series was probably the right amount.
"It's about such a specific time in their lives when their friendships are their world, and then when you get older there's relationships and jobs and everything and they all go their separate paths. Derry Girls is about that specific time, so of course, it feels bittersweet, but it does feel like the right time and way to end it."
Who Stars in Derry Girls Season 3?
The entire main cast has returned for Derry Girls Season 3.
This means Saoirse-Monica Jackson is back as Erin Quinn and Louisa Harland returns as her eccentric cousin Orla McCool.
Bridgerton star Nicola Coughlan is back as their long-time friend Clare Devlin alongside Jamie-Lee O'Donnell as Michelle Mallon and Dylan Llewellyn is back as "the wee English fella" James.
Tara Lynne O'Neill is back as Mary Quinn, the matriarch of the Quinn family, and Tommy Tiernan as her husband from the Republic of Ireland, Gerry Quinn.
Kathy Kiera Clarke is also back as Sarah McCool, Orla's super-cool mom, and Ian McElhinney as Joe McCool, Mary and Sarah's father who will no doubt be winding up Gerry in Season 3.
And last, but by no means least, Siobhán McSweeney is back as the legendary Sister Michael, the headmistress of Our Lady Immaculate College.
Fans will also see the return of Peter Campion as Father Peter and Leah O'Rourke as Jenny Joyce, the prefect of Our Lady Immaculate College.
Derry Girls Season 3 airs Tuesdays at 9.15 p.m. on Channel 4 and All4.