#DershowitzLogic Trends After Trump Lawyer Accused of Saying President Cannot Be Impeached for Anything That Helps His Re-election
Defense lawyer for Donald Trump, Alan Dershowitz, has sparked much debate on Twitter and spawned the hashtag #DershowitzLogic for his response to a question over whether it mattered the president had engaged in a quid pro quo with his Ukrainian counterpart in exchange for military aid, a claim which is at the center of his impeachment trial.
Trump faces two articles of impeachment, one for abuse of power and one for obstruction of Congress, stemming from allegations he leveraged military aid to Ukraine in return for the announcement of a corruption investigation into his political rival Joe Biden and his son Hunter.
On the first day of the question-and-answer session during the Senate impeachment trial, Dershowitz said on Wednesday that every public official believes their election is in the public interest.
"If a president does something, which he believes will help him get elected in the public interest, that cannot be the kind of quid pro quo that results in impeachment," he said, according to USA Today.
He added that by saying an impeachment based on mixed motives "would permit almost any president to be impeached."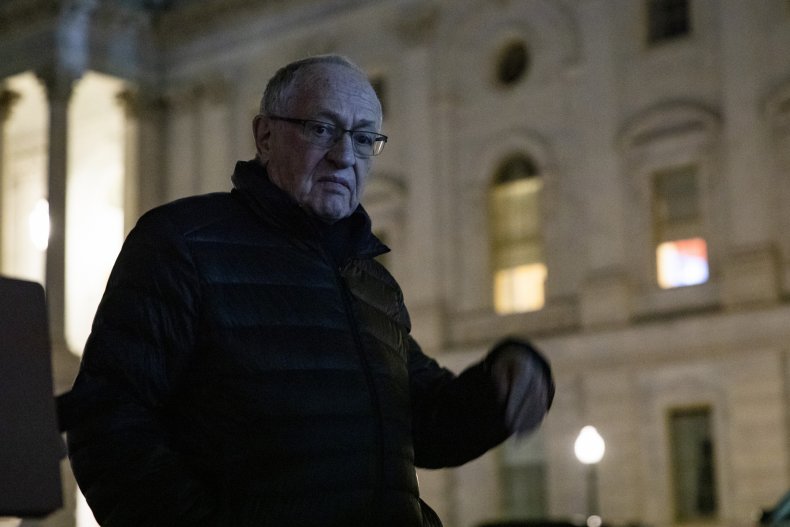 Dershowitz's remarks sparked concern among Democrats such as impeachment manager Adam Schiff who said such logic would give a president "carte blanche" to cheat in an election.
Other Trump critics weighed in on Twitter. Harvard Law professor Laurence Tribe compared the argument to French King Louis XIV's declaration, "L'état, c'est moi," meaning, "I am the state."
"Accepting this argument would put us on a short path toward dictatorship, benevolent or otherwise. It's incompatible with the government of, by, and for the people. It's government by egomania," Tribe tweeted to his 742,000 followers.
By Thursday morning, #DershowitzLogic was trending, with the hashtag added to tweets such as by Sirius radio host Joe Madison, who wrote: "So in essence, Dershowitz is saying you can commit a crime IF it's in the public interest?!"
Lawyer and radio host Dean Obeidallah tweeted to his 102,000 followers that Dershowitz's statement was "as laughable as it is dangerous. "Anyone who accepts his view that a President is above the law as long as they doing things in the 'national interest' has rejected our Constitution and replaced it with a monarch," he added.
Maz Jobrani tweeted to his 124,000 followers: "Using @AlanDersh argument I think robbing a bank is good for the interest of the people i represent (my family), so I should be able to rob a bank legally."
Dershowitz, when contacted by Newsweek, said his tweets on Thursday clarified his position which he said had been distorted by the media.
He tweeted: "Anyone watching my answer would know that it was in response to the manager's claim that any electoral benefit would constitute an impeachable quid pro quo.
"I pointed out how open ended that argument is because politicians honestly believe that their reelection helps the national interest.
"I did not say or imply that a candidate could do anything to reassure his reelection, only that seeking help in an election is not necessarily corrupt," he said, adding, "critics have an obligation to respond to what I said, not to create straw men to attack."
The second of the two days scheduled for questions and answers in the Senate impeachment trial starts on Thursday afternoon.