Dershowitz Tells Mike Lindell His Family 'Murdered in Holocaust' But He Still Defends Deniers
Famed attorney Alan Dershowitz has said that his family was killed in the Holocaust but he still defends Holocaust deniers, "bigots" and "ignoramuses" because "in America everything is debatable."
In an interview shared to Frankspeech.com Monday, Dershowitz and Mike Lindell discussed the $1.6 billion lawsuit that was recently filed by MyPillow against Dominion Voting System. Dershowitz told Newsweek in March that he's working as a consultant on First Amendment issues to the law firm representing Lindell.
The lawsuit could be one of the most important cases in history for the First Amendment "because it involves the election of a president. No matter where you stand on the fairness of the election, people should support your lawsuit, even if you think the election was 100 percent perfect. Even if you think that Dominion is the greatest company in the history of the world," Dershowitz said.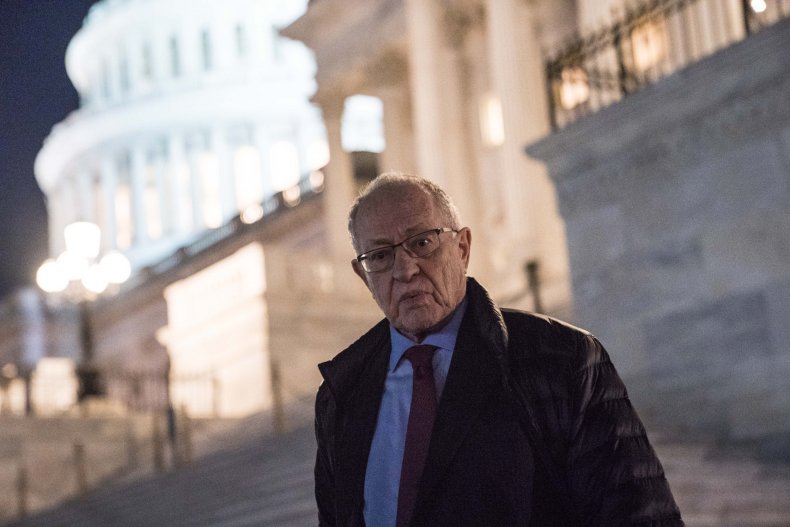 He added: "Remember the First Amendment prohibits the government from suppressing freedom of speech. Dominion is the government for purposes of this lawsuit."
Last month, Lindell announced the new lawsuit against Dominion during a livestream on Frankspeech.com, his social media network. "MyPillow sued Dominion today for $1.6 billion," he said. "It's not about the money, it's about our First Amendment rights of free speech. That's what this is about."
The lawsuit comes two months after Dominion filed a $1.3 billion lawsuit against MyPillow and Lindell alleging that he defamed it by publicly claiming that the company's voting machines fraudulently changed votes to favor President Joe Biden.
Dershowitz expressed his view that "everything is debatable" in America and said he defends clients who make claims that he finds offensive.
"Look, my family, my own family—my cousins, my grandfather's brothers—were all murdered in the Holocaust, and yet I defend the right of bigots and ignoramuses to say the Holocaust didn't occur," the attorney said. "It's wrong, it's foolish, it's bigoted, it's insulting, it affects my family, but I defend their right to say it."
Dershowitz continued: "If you want to say the earth is flat, say the earth is flat. The geologists will come and prove you wrong and historians will prove you're wrong about the Holocaust. It's ultimately up to history, it's ultimately up to science to determine the truth."
"In the meantime, and we always live in the meantime, all points of view have to be expressed. Nothing can be censored. We have to make sure every idea is allowed to be communicated so that the American people who are smart and good people can decide which ideas to accept and which ideas to reject. That's the American way," he added.
Newsweek reached out to Alan Dershowitz for further comment. This story will be updated with any response.