Des Moines Mayor Worried about 'Super-Spread' Trump Rally Coming to City
Des Moines Mayor Frank Cownie fears President Donald Trump's planned campaign rally in the city will be a "super-spread" event, indicating that he doesn't want the event to go ahead later this week.
Mayor Cownie told the Des Moines Register on Sunday that he was "worried about the spread" of COVID-19 at the Des Moines International Airport in Iowa—the venue hosting Trump's stump appearance.
The Democratic official also called on locals attending the rally to wear masks and practice social distancing as much as would be possible.
"We don't want a super-spread event here in Des Moines," Cownie told the Des Moines Register. "We urge everyone who would attend this event to wear a mask and social distance as best they can, and to stay safe and healthy."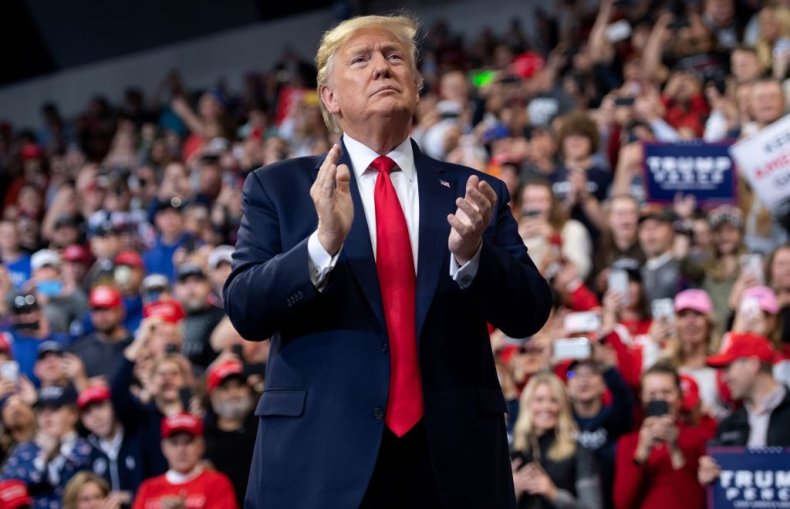 President Trump is scheduled to hold his rally at the Des Moines International Airport from 6 p.m. local time on Wednesday evening. Doors are billed to open three hours earlier, shortly after Vice President Mike Pence is expected to hold a MAGA event in Grand Rapids, Michigan.
A disclaimer on the campaign's event page for the Des Moines rally tells supporters that by registering for the event they "acknowledge an inherent risk of exposure to COVID-19 exists" in any public space with others present.
Speaking to the Des Moines Register, a Republican National Committee spokesperson said the Trump 2020 team would be asking attendees to wear masks provided to them. They are also expected to ask people to observe social distancing rules and have their temperatures taken before entering the venue.
Newsweek has contacted the Trump re-election campaign for comment and further details. This article will be updated with any response.
Mayor Cownie raised his fears about the slated Trump rally in Des Moines a month after the president's campaign team staged a rally in Michigan where many supporters failed to wear masks or observe social distancing measures.
Footage from several networks showed a large portion of the rally crowd breaking the state's guidelines on wearing face coverings in public spaces while standing within six feet of those around them.
According to the latest official COVID-19 stats from Iowa, more than 100,000 individuals have tested positive for coronavirus in the state since March—roughly 1 in 32 of all Iowans who have taken tests.
In Polk County, home to the city of Des Moines, almost 17,200 positives cases have been reported during the same period, and neighbouring counties have reported a few thousand more confirmed cases of infection.