DeSantis Backs Law Banning Vaccine-Related Firings After Florida County Fined $3.5 Million
Florida's Leon County faces a $3.5 million fine for firing 14 county employees who wouldn't get vaccinated against COVID-19 and Governor Ron DeSantis is exploring all options to legally block vaccine-related terminations in the private sector.
The Florida Department of Health ruled that Leon County violated Florida's statute prohibiting government entities from requiring proof of a COVID-19 vaccination and found the county to have violated the statute 714 times, for a total fine of $3.575 million. Leon County denied that it violated the law, raising questions about the statute's applicability, and vowed to enforce the vaccine mandate.
DeSantis, a vocal critic of vaccine and mask mandates, called the law "very clear" that people can't be discriminated against because of their COVID-19 vaccination status. He cited natural immunity among people who were already infected as reason for banning vaccine mandates and criticized the "powers that be" for not recognizing that protection. The Centers for Disease Control and Prevention (CDC) recommends everyone, regardless of whether they had COVID-19, to get vaccinated.
"You have a lot of folks in that boat," DeSantis said of those who have recovered from the virus. "And also I just think [getting vaccinated] should be a personal decision. That's the law in Florida and people need to abide by that law."
Along with implementing fines, DeSantis said he's open to creating further legal protections for workers who don't want to get vaccinated. DeSantis plans to challenge the Biden administration's requirement that people who work at companies with more than 100 employees be vaccinated against COVID-19 or submit to weekly testing. Biden announced the plan in September, but left implementation up to the Department of Labor, which has yet to reveal details or enforce the measure.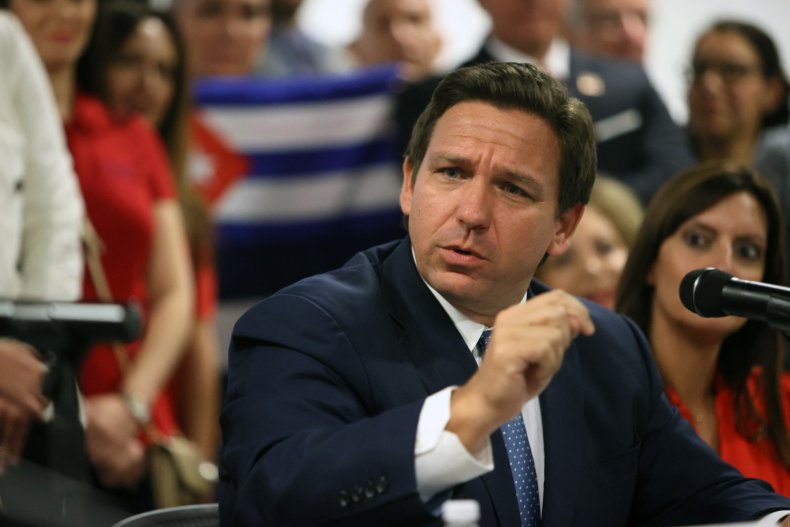 Amid worker shortages, DeSantis called it "totally unacceptable" to implement policies that could require companies to fire employees.
"I think every worker should be protected from losing their jobs over this. Why would you want to see people lose their livelihoods?" DeSantis said. "These are people who have been working for us the whole dang time and now they're going to get tossed to the curb?"
Unsure if he could sign an executive order to prevent private companies from firing employees who won't get vaccinated, DeSantis pushed the Florida legislature to pass a law.
Florida has the 17th highest vaccination rate per 100,000 people in the United States and 72 percent of the population over 12 has been vaccinated, according to data from the CDC and Florida Department of Health. However, the state saw a surge in cases over the summer as the Delta variant spread, an occurrence some believed could have been prevented if Florida had public health measures in place.
DeSantis' blocking of mask and vaccine mandates has made him a target of criticism, but the Florida official has stood firm in his decisions since the beginning of the pandemic. The Florida governor predicted northern states would see a spike in cases, as well, and that vaccine mandates for employees, specifically health care workers, would backfire, hindering their ability to care for patients.