A new poll shows Ron DeSantis is virtually tied with former President Donald Trump among Florida Republican voters in a hypothetical head-to-head matchup, fueling speculation Florida's governor could potentially compete with Trump for the party's presidential nomination in 2024.
Released on August 16, the University of North Florida (UNF) poll showed DeSantis with a two-point lead over Trump among registered Republican voters in the state, with just 7 percent of voters saying they'd vote for someone else.
While other polls have directly compared Trump and DeSantis—a rising star in the GOP who has modeled his political brand after Trump's—the UNF poll appears to be the first public example of DeSantis' viability in his home state in a head-to-head contest for the presidency against the man who is still widely considered the head of the modern Republican Party.
Though DeSantis was handily defeated by Trump in a straw poll of CPAC attendees this month, a recent Suffolk University/USA Today poll showed DeSantis with a wider base of support among Republican voters than Trump. Other polls in battleground states like Michigan and early-voting New Hampshire also show DeSantis in a virtual stalemate with Trump, demonstrating broad national appeal among the Republican base.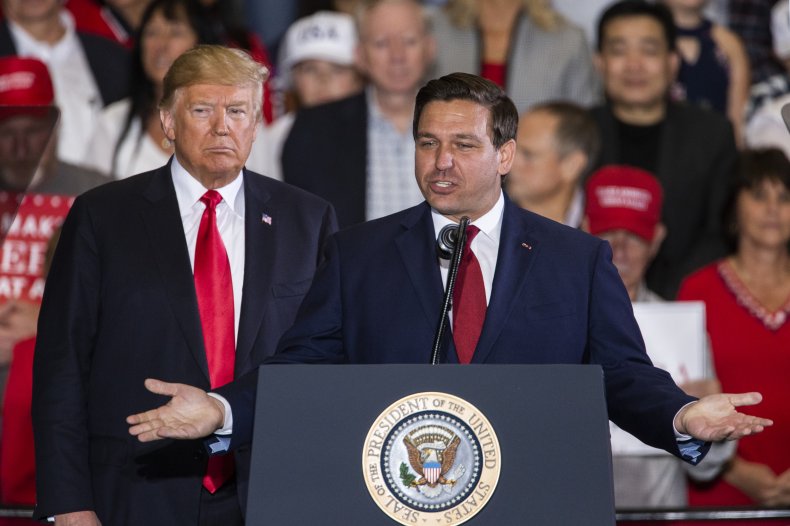 "DeSantis and Trump are the two most popular Republican names being discussed for 2024 and DeSantis is edging him out in their home state," said Dr. Michael Binder, a professor of political science who led the UNF poll. "People are split on whether Trump and DeSantis are friends or merely acquaintances, I guess we'll really find out after the midterms and the 2024 race starts to heat up."
Though DeSantis has walked a fine line in balancing his political ambitions and his relationship with Trump—who has regularly denied speculation of a simmering feud between the pair—the Florida Republican has taken a more proactive role in GOP politics nationally in the lead-up to the 2022 midterm elections.
Over the weekend, DeSantis headlined rallies for several Trump-endorsed candidates in competitive races in New Mexico and Arizona. And this week, DeSantis will headline rallies in the battleground states of Ohio and Pennsylvania in support of candidates like J.D. Vance and Doug Mastriano, who face stiff competition in their respective bids for the U.S. Senate and governor.
However, the UNF poll also showed DeSantis to be an increasingly polarizing figure among the state's electorate as he faces competition for re-election in the fall. Once ranking in national polling among the nation's most popular governors, DeSantis' approval rating in UNF polls has dropped 8 points since February.
And while nearly half of the state's voters "strongly approve" of the job he is doing in office, nearly the same percentage of those surveyed disapprove strongly of his job performance.
Trump, meanwhile, is surging in the days after the FBI raided his Florida home for a number of allegedly classified documents he was keeping there. Shortly after the raid, Trump received a 10-point boost over DeSantis among Republican primary voters in a Politico/Morning Consult poll, widening what many already saw to be an expansive lead for the party's nomination.