DeSantis Convenes Special Session With Florida Lawmakers to Crackdown on Vaccine Mandates
Florida legislators will meet for a special session called "Keep Florida Free" starting Monday, called by Republican Governor Ron DeSantis in October with the aim of blocking COVID-19 vaccine mandates.
Both Republican-controlled chambers of the state legislature are scheduled to consider four bills that will impose tougher penalties on businesses and local governments that require COVID-19 vaccines for their employees, and schools that require students to wear masks.
"No cop, no firefighter, no nurse, nobody should be losing their job because of these jabs—we must stand up for people and protect their jobs and livelihoods," DeSantis said in a news release. "We're going to be striking a blow for freedom."
With infection rates dropping in the state, Democrats have criticized DeSantis' war on mask and vaccine mandates as a political move that fights efforts to control the virus, rather than the virus itself.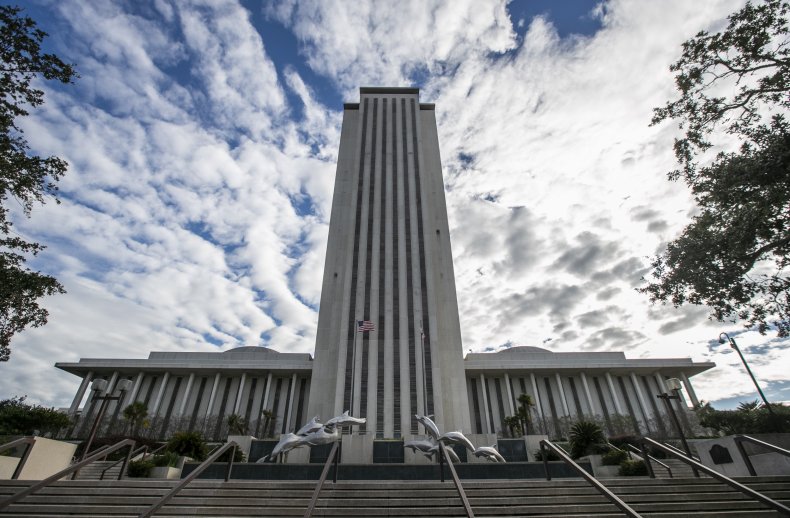 DeSantis wants to "throw some red meat to the base and keep them happy," said state Rep. Michael Grieco of Miami Beach. "Decisions are being made based on politics, not based on the well-being and health and safety of Floridians."
The governor and other Republicans who consider vaccine mandates to be federal overreach and an infringement on personal freedoms have pushed back on President Joe Biden's vaccine rollout efforts, forcing the public health issue into the realm of partisan politics.
Last month, Florida sued the Biden administration over a sweeping mandate that requires millions of federal workers to be vaccinated by November 22.
"What the federal government is doing is wrong. It is wrong to kick people out of work; it is wrong to try to micromanage businesses; and it is wrong to deprive key industries of people that we need," DeSantis said.
As Florida emerged as the epicenter of the virus amid the Delta surge earlier this year, DeSantis surrounded himself with controversial health experts against mask and vaccine mandates who opposed mask mandates, advocating for a more targeted response to the virus.
He has since become one of the most recognized Republican leaders in the country for his approach to addressing the pandemic.
His messaging on COVID-19 echoes the Great Barrington Declaration, a document co-authored by Stanford professor Dr. Jay Bhattacharya, which advocates for protecting those who are at highest risk and allowing others to develop immunity through natural infection.
The governor, who received the Johnson & Johnson vaccine in April, officially launched his bid for reelection in 2022 last Monday.
Newsweek reached out to DeSantis' office for further comment.