DeSantis Says He Couldn't Find Mass Migration in Florida, Had to Use Texas
Florida Governor Ron DeSantis said he had to gather the 48 migrants flown to Martha's Vineyard last week from Texas, because his state has not experienced mass migration.
On September 14, the small Massachusetts island, known as a wealthy vacation spot, unexpectedly received two planeloads of migrants, most of whom were originally from Venezuela. In a statement to Fox News, Gov. DeSantis later claimed responsibility for arranging the flights.
The controversial move from the Florida governor followed the playbook already written by Texas and Arizona Republican governors Greg Abbott and Doug Ducey, who since April and May this year have collectively sent thousands of migrants to liberal bastions of the likes of Washington, New York and Chicago.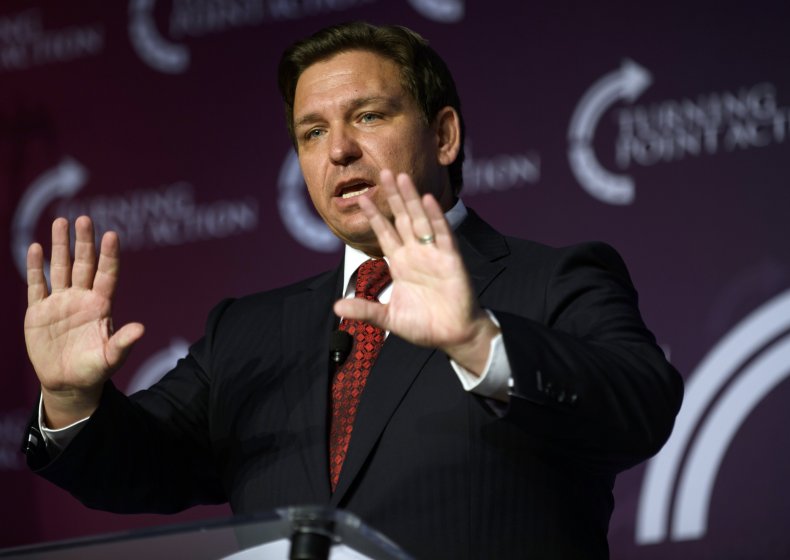 But unlike Abbott and Ducey, DeSantis was the only Republican governor to be relocate migrants from a third state rather than his own.
According to a reconstruction of the events offered by Bexar County Sheriff Javier Salazar, who has launched an investigation into the legality of the flights, a Venezuelan migrant was paid a fee to recruit a total of 48 migrants from a resource center in San Antonio. They were then "lured" to a hotel where they were housed for two days, according to Salazar, before being boarded onto the flights under "false pretenses."
Local officials and attorneys in Martha's Vineyard confirmed that the migrants didn't know their destination or they were told they would be going somewhere else than Martha's Vineyard—mainly, Boston. The migrants also talked about being promised jobs and housing upon arrival by those who had put them on the flights.
DeSantis said that the migrants flown to Martha's Vineyard from Texas were identified as wanting to relocate to Florida.
"The problem is we're not seeing mass movements of them into Florida, so you end up with a car with maybe two [people]," DeSantis said during a speech on September 20.
"And if we know that that's illegal, there's someone that's kind of smuggling them, they're committing a crime then you can do arrest, but that's not effective enough to stop the mass migration, it's just coming in onesie-twosies," he added.
DeSantis said he had collected data from the border showing that "between a third and forty percent of the people coming across are seeking to end up in Florida."
He then added that redirecting migrants "at the source" to sanctuary jurisdictions, "the chance to end up in Florida is much less."
The flights to relocate the migrants from Texas to Martha's Vineyard were paid with Florida's taxpayers' money, as part of a $12 million budget approved by the Florida legislature to "transport illegal immigrants to sanctuary destinations." The money to fund the program has been accrued from Florida's share of the federally funded Coronavirus State Fiscal Recovery Fund, appropriated to the Florida Department of Transportation (FDOT).
In response to accusations that the whole act was an inhumane political stunt aimed at building his political profile for a presidential run in 2024, DeSantis repeatedly said he was offering a chance to these migrants to reach "greener pastures" and be in "the most posh sanctuary jurisdiction maybe in the world." He has also called the flights "voluntary."
Correction 9/22/2022 3:20 a.m. ET: This article has been updated to correctly identify Bexar County.