DeSantis Doubles Down Against Masks After Criticism for 'Bullying' Students
Florida Governor Ron DeSantis embraced his controversial comments to a group of high school students, putting out a video on Thursday calling for the end to "COVID theater."
On Thursday morning, DeSantis posted a video on Twitter that began with his remarks and included the criticism he received. Then, the video turned to several instances of politicians not wearing masks, including President Joe Biden's State of the Union speech, in an effort to highlight the hypocrisy of the criticism he received.
"The political science show cannot go on," DeSantis posted on Twitter. "It's curtain call for COVID theater."
Criticism has done little to sway DeSantis' position, especially when it comes to COVID-19. One of the most criticized governors during the pandemic, DeSantis bucked calls to institute mask and vaccine mandates, going as far as to ban vaccine requirements from the state of Florida and restrict schools from forcing students to wear a mask.
Before starting Wednesday's press conference, DeSantis told several Middleton High School students to take off their masks because they aren't effective and it's time to "stop with this COVID theater." While he told students they could wear them if they wanted, he added that "this is ridiculous" before a speech at the University of South Florida in Tampa.
Some students chuckled at the governor's remarks and took their masks off, but others kept them on. The clip of the interaction quickly went viral on social media, with many criticizing the governor for chastising the students or pressuring them to take their masks off with his comments.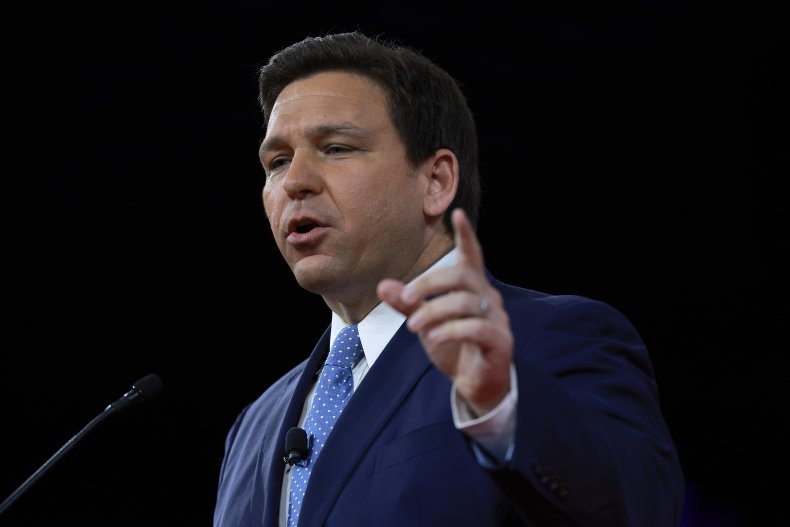 The remark prompted criticism from a student's father, who accused the governor of "bullying" kids. Kevin Brown Sr. told WFLA that he told his son that wearing a mask is a choice and the governor has "no right to tell no kid or no one that they can or can't wear a mask."
Kevin Brown Jr. told WFLA that he thought about taking his mask off, but decided to keep it on as is his "right."
Dawn Marshall, whose son took off his mask after the governor's remarks, told WFLA it was "shocking" that DeSantis told the kids to take off their masks.
"He pretty much said, 'Take off your mask, it's stupid,' and 'Take off your mask, your parents don't matter,'" Marshall told WFLA.
Under new recommendations from the Centers for Disease Control and Prevention (CDC), more than 70 percent of Americans live in areas where masking in public settings is no longer advised. The CDC used to determine the proper mask advice predominately on case counts but updated their framework to include hospitalizations and local hospital capacity.
State and local health officials across the country have started lifting mask and vaccine requirements or have plans to do so in the near future pending spikes in cases. In California, where some of the strictest measures were enacted at the start of the pandemic, Governor Gavin Newsom called for life to move into an "endemic" phase of the outbreak, where people live with the virus.
Not everyone was critical of DeSantis and some lauded the governor for leveling with the students about the validity of mask-wearing. Christina Pushaw, DeSantis' press secretary, posted on Twitter that DeSantis wasn't "berating" the kids, he was just using the language that dads use to "talk to their kids." She argued that the students "obviously got it" since they were "smiling and laughing about it" and some asked him for a photo after the press conference.
Newsweek reached out to Governor Ron DeSantis for comment.