Florida Hit With Lawsuit Minutes After Ron DeSantis Signs New Voting Bill
Florida Governor Ron DeSantis signed a controversial election reform bill into law on Thursday morning, and minutes later a lawsuit was filed against state Republicans that claims the legislation violates the First and Fourteenth Amendments.
The voting bill adds more limits to voting in Florida similar to legislation in other states, where critics say GOP leadership are pushing an agenda connected to former President Donald Trump's widely disproven claims of election fraud.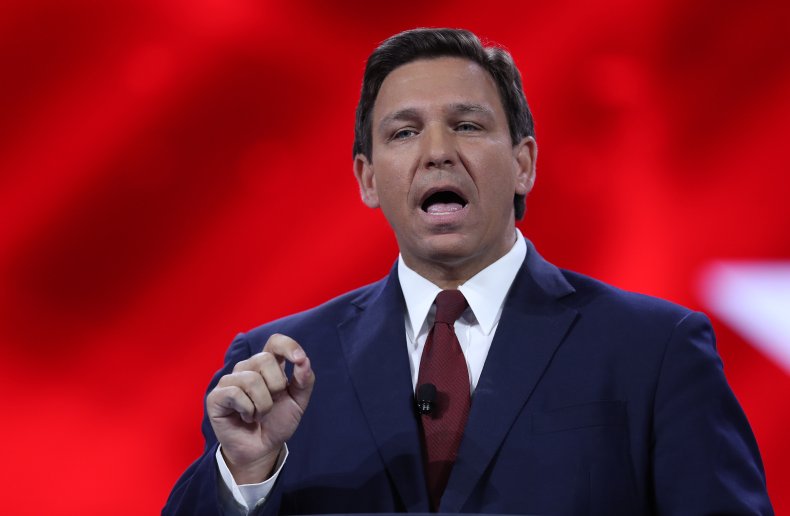 Provisions of the bill—called Senate Bill 90—include stricter voter ID requirements for voting by mail, adding limits on who can pick up and return a voter's ballot, and banning private funding for elections. Restrictions created by the bill include expanding partisan observation power during ballot tabulation and creating more rules regarding drop box use for absentee ballots.
The lawsuit against the bill was brought on by a coalition that includes the League of Women Voters of Florida, the Black Voters Matter Fund, and the Florida Alliance for Retired Americans. In the paperwork filed, the suit says Senate Bill 90 "caters to a dangerous lie about the 2020 election that threatens our most basic democratic values, and, in the end, makes it harder to vote without adequate justification for doing so."
Defendants in the lawsuit, which was announced minutes after DeSantis signed the bill, were named as Florida Secretary of State Laurel M. Lee, Florida Attorney General Ashley Moody, and 67 state supervisors of elections.
Later on Thursday, a separate lawsuit was filed by Common Cause, Florida branches of the NAACP and a disabilities rights group. That suit alleges discrimination against the state's Black, Latino, and disabled voters.
The new Florida law is being compared to recent Georgia legislation that also cuts back on the use of drop boxes and requires ID to vote by mail. (Unlike Georgia, Florida lawmakers backtracked on adding language that would make providing food and water to voters waiting in long lines illegal.)
Republican leaders in Iowa reduced the early voting period, as well as cut the number of hours available for people to cast their ballots on Election Day. In Texas, legislators are pushing a law that would make disabled people prove their disabilities in writing before they can vote absentee.
According to New York University's Brennan Center for Justice, 361 bills with provisions that restrict voting had been introduced in 47 states as of March 24.
The actual signing of the bill was met with controversy when DeSantis announced Fox News would be the only media outlet allowed to observe. "This keeps us ahead of the curve," DeSantis said during a Fox News segment following the signing. "We're proud of the strides that we've made. We're not resting on our laurels and me signing this bill here says, 'Florida, your vote counts. Your vote is going to be cast with integrity and transparency.'"