DeSantis Hits Biden for Going 'Above and Beyond' to Deny Access to Monoclonal Antibodies
Governor Ron DeSantis criticized the Biden administration's decision to revoke the use of two different monoclonal antibody treatments, arguing that they should be distributed even if they're significantly less effective against Omicron than they were against Delta.
On Monday, the Food and Drug Administration (FDA) halted the use of monoclonal antibody cocktails made by Regeneron and Eli Lilly until a new variant that's susceptible to the treatments emerges. DeSantis, a leading advocate for the widespread use of the therapeutic, criticized the Biden administration for being "reckless" and the cause for thousands of appointment cancellations in Florida.
"Normally, you'd have to have some serious clinical data to do it," DeSantis said at a press conference on Tuesday, referencing the revised Emergency Use Authorizations. "They're going above and beyond to deny access to people."
In announcing the treatments would not be available to people in the United States, the FDA said data showed treatments are "highly unlikely" to be effective against Omicron. Omicron became the dominant variant in the United States in mid-December and accounts for about 99 percent of cases nationwide.
The FDA noted that the treatments could be available in the future if there's a new variant that is susceptible to treatments.
DeSantis expanded access to monoclonal antibody treatments during the last wave of cases, urging all those who are eligible to seek out the treatment if they test positive. However, the revocation of the use of two of three monoclonal antibody treatments in the United States prompted the cancellation of more than 2,000 appointments in Florida.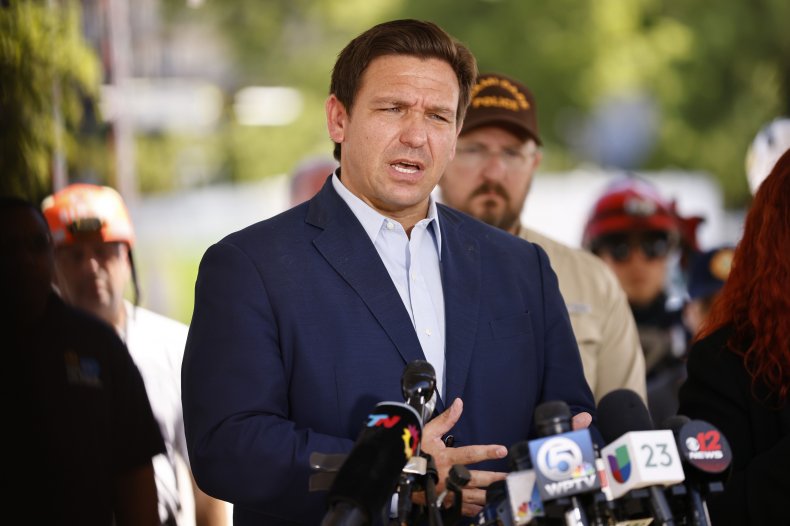 While the Florida governor acknowledged that most recent infections were likely due to the Omicron variant, he noted there was no way to rapidly identify if someone was infected with Delta. Regardless of the variant that caused the infection, DeSantis said people should be able to choose whether to receive a monoclonal antibody treatment.
"Even if with Omicron it's half as effective or even 25 percent as effective, that's better than nothing for people," DeSantis said.
It's unclear just how ineffective the Regeneron and Eli Lilly monoclonal antibody treatments are against Omicron infections. In December, Regeneron said its treatment had "diminished potency" when fighting Omicron.
When considering whether to allow a treatment with reduced effectiveness to continue, Dr. Panagis Galiatsatos, a pulmonary physician and professor at Johns Hopkins Hospital, said it's important to weigh the cost-benefit ratio. For example, if it helps keep one out of every four patients out of the hospital, that could be worth the resources needed to administer the treatments. However, if it's only keeping one out of every 100 people out of the hospital, it might not be worth taking resources away from other areas in health care.
"It comes down to the outcome we want to get," Galiatsatos said. "At some point, it loses its effectiveness if you have to give a ton of treatments to have one good outcome."
Aside from pressuring the Biden administration to change course, it's unclear what, if anything DeSantis can do to reintroduce the monoclonal antibody treatments to Florida's COVID strategy. He vowed to "fight" back against the decision and is looking into whether he can file a lawsuit against the FDA.