DeSantis Introduces Faith-Based Emergency Response in Jewish Neighborhoods Amid Anti-Semitic Attacks Spike
Florida Governor Ron DeSantis introduced the state's first faith-based emergency response amid a rise in anti-Semitic attacks across the nation.
On Monday, DeSantis signed a new law recognizing Hatzalah of South Florida as an official Florida Medical Emergency Service.
"In South Florida, they have a fleet of vehicles, communications networks and trained emergency medicine professionals to provide volunteer ambulance services, however, current Florida law did not recognize any ambulance providing volunteer services as an authorized emergency vehicle," DeSantis said at The Shul of Bal Harbour.
"This bill that I'll sign today ensures faith-based, volunteer, first responder services, like Hatzalah, can operate in our state," he added. "Now you have to have a proven track record like Hatzalah does, it's not just like anyone can do it."
The nonprofit response team is located throughout Jewish neighborhoods in the state and is available when someone calls for their help.
A statement from the Hatzalah of South Florida's website reads: "Our mission is to improve medical outcomes and save lives by augmenting existing emergency medical services in South Florida with community-based state-certified EMT volunteer responders."
The new bill will allow Hatzalah vehicles to use lights and sirens when responding to emergencies.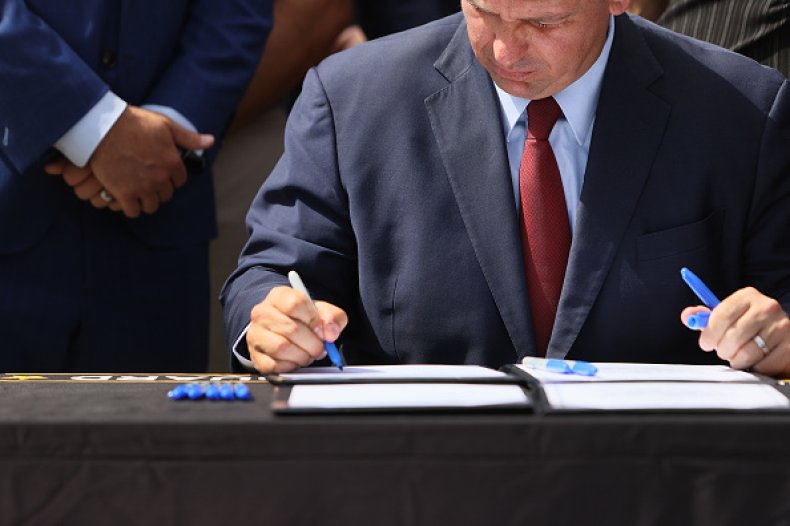 "Today with the stroke of the governor's pen, countless lives will be saved," the organization's director said at The Shul.
The governor also signed another bill on Monday, HB 529, which will require teachers in Florida to set aside time for a moment of silence for public school students in K-12 schools so that they can "reflect and pray" as they see fit. He said it would protect the religious freedom of students in Florida.
"The idea you can just push God out of every institution and you can be successful, I am sorry our founding fathers did not believe that," DeSantis said during the press conference.
The signing of the two bills comes as antisemitism surged across the nation during the most recent conflict in Gaza last month.
According to the Anti-Defamation League, anti-Semitic attacks more than doubled from the same time period last year following the conflict.
Between May 11 and May 31, the ADL reported 251 incidents, including assault, vandalism and harassment—a 115 percent jump from the same period in 2020.
"Clearly, this was triggered by the fighting in the Middle East," ADL CEO Jonathan Greenblatt told ABC News. "Frustration about what was happening in the fighting, a degree of anger...then manifested into frustration and anger being directed at Jewish people here."