DeSantis Joined by Oregon Parents in Push for School Curriculum Transparency
While numerous headlines this week surrounded the signing of two bills by Florida Governor Ron DeSantis—one based on parental rights and the other on transparency in curriculum—a group of parents in Oregon took local action against what they say is a lack of honesty and clarity in their kids' classroom lessons.
In the state's North Clackamas School District, the grassroots group Oregon Moms Union held a small press conference this week calling out a principal and counselor from the district's Oregon Trail Elementary School for teaching a lesson about gender identity and expression to fifth-graders without parents' permission.
According to Kori Haynes, Oregon Moms Union's Clackamas School District captain, it was a few weeks ago that the school's principal Jackie Brody and counselor Gianna Bargetto presented her son's fifth-grade class with a worksheet for "The Genderbread Person."
The fill-in-the-blank worksheet is "a teaching tool for breaking the big concept of gender down into bite-sized, digestible pieces," according to genderbread.org, with the website touting the resource as "great for lesson plans and one-on-one guided walkthroughs." The worksheet is one of several materials cited by Governor Ron DeSantis' office as having been used in Florida public schools to the chagrin of some parents. The worksheet has also been utilized in schools in Arizona, California and Louisiana, among other states.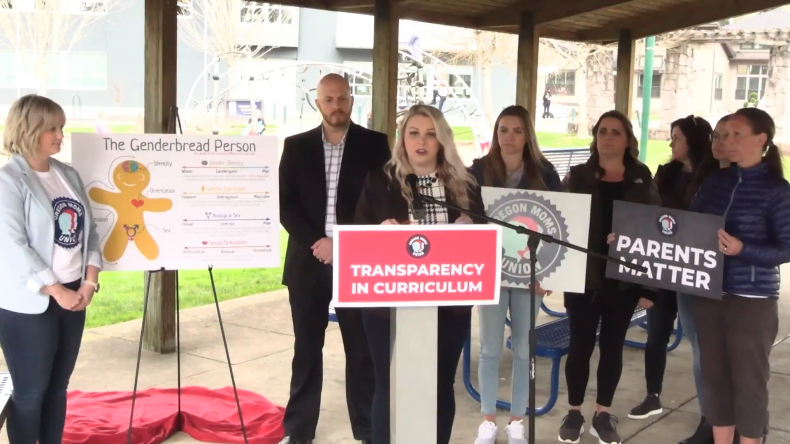 "He and the other students were told to rate themselves on scales from masculine to feminine, from heterosexual, bisexual and homosexual, from woman to nonbinary man. They were asked to describe their sexual preferences and speak openly about it in class," Haynes said at a Monday press conference. "These are fifth-graders that are 10 and 11 years old, many of whom don't even have a realistic concept of basic reproductive anatomy."
Haynes said that a couple hours prior to this lesson, her son's teacher had been notified by Brody that she and Bargetto would be taking over the class to teach a lesson about gender identity and expression. Before this particular lesson, parents said they had been informed about all lessons regarding health curriculum.
Newsweek reached out to both Brody and Bargetto. In a response, Bargetto told Newsweek she was with a student and would call back, but no response was received before publication. The teacher for Hayne's son wished to remain anonymous.
MacKensey Pulliam, president and co-founder of Oregon Moms Union, who is also the wife of Republican Oregon gubernatorial candidate Stan Pulliam, pointed out that the incident is in direct violation of Oregon statute.
ORS 336.465 requires parents or guardians be informed in advance of any instruction on human sexuality and give parents or guardians an opportunity to review materials.
But when Pulliam and Haynes complained to the Oregon Department of Education, they said they were told that the lesson was about protected classes, not human sexuality, and that the statute did not apply.
"Bureaucrats in the Oregon Department of Education are reframing this kind of curriculum as social standards and gender identity so it doesn't fall under the umbrella of human sexuality curriculum, which requires prior notification of parents," said Pulliam, noting that often parents must go through a lengthy process to request to see that curriculum. "This kind of political spin does not belong in our kid's classrooms."
"Making a fifth grader rank themselves on a scale of 'masculine to feminine and heterosexual, bisexual to homosexual' is exactly the type of lesson the Oregon Revised Statute on parental notification on human sexuality was designed to address," said Haynes in a response to Newsweek. "This is just one example of school boards and principals interpreting the law as they see fit to conform to their agenda."
On Friday, April 1, a statement from the North Clackamas School District was sent to Newsweek.
"When negative behaviors that hurt or exclude students arise in a school setting, school staff step in to address the needs and restore the classroom or school community. That is what happened in this situation," said the statement. "A group of students in a particular grade level were using derogatory language referring to the gender and sexual identity of fellow students. The school principal and school counselor addressed that behavior in multiple ways, including classroom discussions at that grade level about acceptance, gender and sexual identity."
Responding to Newsweek, Oregon Department of Education Communications Director Marc Siegel said that while ORS 336.465 does create the right for parents or guardians to be notified of instruction on human sexuality or sexually transmitted infections, a separate statute known as OAR 581-022-2050 has clarified that this is limited to content within the district's comprehensive sexuality plan of instruction.
Therefore, it does not pertain to all that covers student gender identities and expressions.
"Gender identity and expression is a topic that may come up in multiple classes and school contexts, including in the required Health Education Standards and Performance Indicators," Siegel said in a statement to Newsweek. "It may also come up in Social Science classrooms, as well as in other school activities outside of class, which cited that if a parent or student wants to opt out of a required class, program, or learning activity that is outside of the comprehensive sexuality education plan of instruction, another statute known as OAR 581-021-009 applies."
The statement continued, "This rule governs opt outs for all other state required programs and learning activities and under it a school district may excuse a student from a state required program or learning activity to accommodate the student's disability or religious beliefs but the parent is required to propose an alternative for an individualized learning activity and It is up to the district to determine whether to approve the proposed alternative and allow the opt out."
The Oregon Department of Education further clarified that "It's up to local districts to determine what lessons and instructional materials to include within their comprehensive sexuality plan of instruction. Every district will make different decisions on the particular resources that they use to meet the requirements of OAR 581-22-2050."
Newsweek also reached out to Melanie Willingham-Jaggers, the executive director of LGBTQ advocacy group GLSEN and Basic Rights Oregon, a nonprofit that works to shift public opinion, achieve policy victories and ensure all LGBTQ Oregonians experience equality and live free from discrimination.
"LGBTQ+ children live in a world where most media depict straight, cisgender people as the norm, and children from queer families rarely see themselves or their families reflected back to them," Nancy Haque, executive director of Basic Rights Oregon, told Newsweek. "The idea that a simple, age-appropriate learning tool around gender identity is somehow a danger to our kids is wrong. All children deserve to see their identities reflected in their education, and teaching respect and understanding is appropriate at any age."
Meanwhile, during the press conference held by Oregon Moms Union, Haynes announced she would be running for state representative of Oregon to better represent the interests of parents and children in the state's schools.
Her announcement occurred against the backdrop this week of DeSantis signing both House Bill 1467 and HB 1557 (Parental Rights in Education) into law.
The former requires school districts to be transparent in the selection of instructional materials while the latter bars schools from exposing children in kindergarten through third grade to graphic sexual content and gender identity without parental consent.
Critics of the bill have dubbed HB 1557 as the "Don't Say Gay" bill, citing their concern that it would bar discussion of gender identity by children.
Since it was signed, Disney released a statement declaring the bill should never have been passed and noted the company's goal to repeal the law and its commitment to state and national organizations working to that end.
On Tuesday, DeSantis fired back at the media giant.
"This state is governed by the interests of the people of the state of Florida. It is not based on the demands of California corporate executives," DeSantis said.
Disney later announced it was removing all mentions of traditional gender roles at its theme parks.
Nationally, the Biden administration through the Department of Health and Human Services (HHS) on Thursday released two documents, one titled "Gender-Affirming Care and Young People" and the other "Gender-Affirming Care Is Trauma-Informed Care." Both center on what is described as appropriate treatments for transgender adolescents.
Pulliam said that in the case of her state, what occurred inside Oregon Trail Elementary School's fifth grade class is far too common.
"I hope that parents vote with these kind of issues in mind this November by electing people like Kori Haynes who will protect parents' rights and will fight to make the Oregon education system the best it can be for every child in Oregon," she said.
Update: 04/01/22 6:28 p.m. ET: This article was updated with a North Clackamas School District.