DeSantis Offering Companies Incentives to Use Florida Ports Amid Backups in California
Florida Governor Ron DeSantis talked up Florida's ports to companies impacted by the supply chain crisis during a Tuesday press conference in Jacksonville. Along with touting the capacity and reach of the ports, the Republican leader also said the state will give incentive packages to companies that bring ships there.
"Florida is here. We've got capacity, and we also have incentive packages to make it worth your while to be able to bring your business to our ports," DeSantis said.
DeSantis made his pitch from Jaxport in Jacksonville. He said a European container ship supplier recently decided to start using Jaxport as its U.S. unloading destination and as a result, the company was able to bring an extra 1,000 containers a week through the port.
The governor's comments came as reports said that dozens of ships remain off the coast of Los Angeles due to a bottleneck at the city's ports. The ports of Los Angeles and Long Beach account for approximately 40 percent of the shipping containers that enter the U.S., though recently some ships have reportedly waited for days if not weeks before being able to dock.
A number of factors play into the port congestion. Among them are a pandemic-related surge in demand for goods in the U.S.; an outdated freight and rail system; factory shutdowns in China and Vietnam and a shortage of longshoremen.
"We in Florida have the ability to help alleviate the logjams and help ameliorate the problems with the supply chain," DeSantis said. "Part of it is because we've long been committed to reliable, modern and accessible port facilities."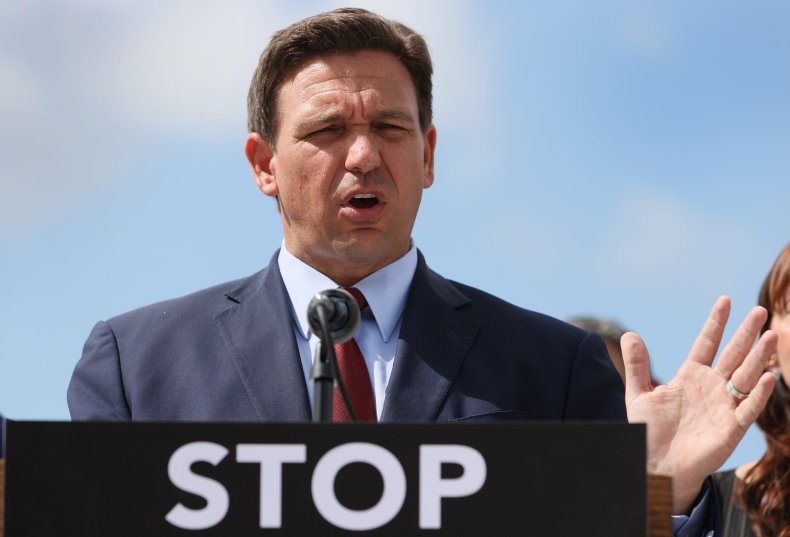 However, even if companies can access ports in Florida easier, they have to find a way to move the goods from the ports once the ships are unloaded. And a shortage of drivers means products transported throughout the U.S. by truck also face longer delays.
Tuesday wasn't the first time the governor has pitched businesses on using Florida over California. On Friday, he made similar comments during a press conference.
"We look at some of the supply issues happening in California, they can come here," DeSantis said Friday. "We will cut the red tape. We will work with our ports."
Earlier last week, President Joe Biden said the Port of Los Angeles would begin 24-hour operations to get ships waiting off the California coast into port. Some business experts have warned the gridlock will affect holiday shopping for consumers, with many popular items not being available on shelves or online.
On Tuesday, DeSantis said Florida's ports already operate 24 hours a day. He also pledged to help make holiday shopping less troublesome.
"We have to make sure people can go Christmas shopping as normal. We have to make sure that all the necessities are there," DeSantis said. "If it's because ships are sitting off the coast somewhere else, and they can be rerouted here and we can get all those shelves stocked, then we want to be a part of that solution."