DeSantis' Order Will Give Parents Right to Ignore School Mask Mandates as Delta Surges
Florida Governor Ron DeSantis said Friday he plans on signing an executive order aimed "at protecting the rights of parents" to decide whether they want their children to wear masks in schools.
"I think that's the fairest way to do it, to let the parents have the decision. It would not be fair if we told parents who wanted the kids to wear masks they weren't allowed to do it," DeSantis said at a press conference in Cape Coral.
"But it's certainly not fair to force parents who don't believe that masks are good for their kids, to force them to have to send their kids in masks. So this way, parents are able to make the decision that's best for their families," the governor added.
In a statement to Newsweek, DeSantis' press secretary, Christina Pushaw, said "the fact is that government mandates do not keep people safe from COVID-19."
"People in Florida are free to take any precautions they wish, from getting vaccinated, to wearing as many masks as they want, to masking their children, to avoiding crowded places, to staying home indefinitely – or even doing all of the above. But no one is 'free' to dictate how other people live their lives," Pushaw said.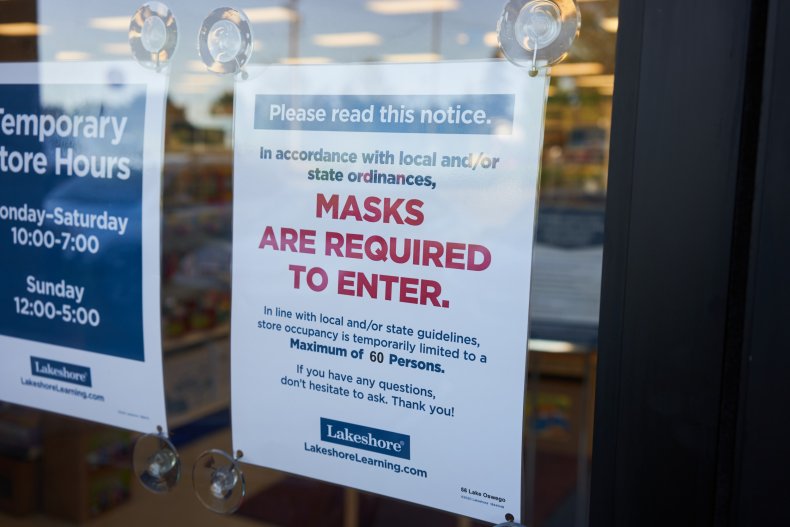 DeSantis said that as of Friday "very few school districts are requiring" masks this fall.
But some school officials have come out in favor of mask mandates.
This week, the school board in Florida's Broward County unanimously voted to require masks in schools this fall, the Miami Herald reported.
DeSantis' planned executive order comes after the Centers for Disease Control and Prevention [CDC] this week modified its guidance on masking as the highly contagious COVID-19 Delta variant surges throughout the country.
The CDC is now recommending that even fully vaccinated people wear masks in public in U.S. counties where COVID-19 transmission is high. CDC officials are also advising that all people in K-12 schools wear masks, even if they're vaccinated.
DeSantis made clear Friday he will not be putting forward any pandemic restrictions in Florida.
"I just want to say, in Florida, there will be no lockdowns. There will be no school closures. There will be no restrictions, and no mandates in the state of Florida," DeSantis, a Republican, said to an applauding audience.
"Floridians have been, are, and will remain free to choose what's best for themselves and their families. And we will protect their right to work, we'll protect the right of businesses to operate, and we will protect the right of our kids to attend school in person," the governor said.
Florida is among the states that has seen a spike in cases in recent weeks. The Miami Herald reported the state saw its fourth-highest single day jump in cases on Thursday, reporting 17,589 new infections.
Some local governments and businesses in Florida have introduced mandates in response to the rising cases. Disney World in Florida announced Thursday it would require staff and visitors to wear masks indoors following the new CDC guidelines.
Miami-Dade County Mayor Daniella Levine Cava announced a masking requirement in all county facilities on Wednesday, according to the Herald.
Update (7/30/2021, 6:12 p.m.): This story has been updated to include comment from DeSantis' office.