DeSantis Presses Biden to Allow Djokovic U.S. Entry Through Florida
Florida Governor Ron DeSantis on Tuesday sent a letter to President Joe Biden, specifically looking for a way to get Serbian tennis superstar Novak Djokovic into the country for a tournament this month, suggesting that if Djokovic can't reach Miami by air or land, maybe he can get there by sea.
The United States is the only country on the ATP tour that still requires a COVID-19 vaccination for international players to enter, according to Eurosport.com. Djokovic on Monday withdrew from the BNP Paribas tournament in Indian Wells, California, after the Department of Homeland Security denied his entry because of his vaccination status, which would also keep him from playing the Miami Open, which starts March 19 in South Florida.
DeSantis told Biden that Djokovic "poses no meaningful health or safety risks" and that the tennis pro has actually been in the country "at least twice—including once during your presidency."
The Florida governor then recommended another route into the country—by sea.
"It is also not clear to me why, even by the terms of your own proclamation, Mr. Djokovic could not enter this country legally by boat," DeSantis wrote to the president.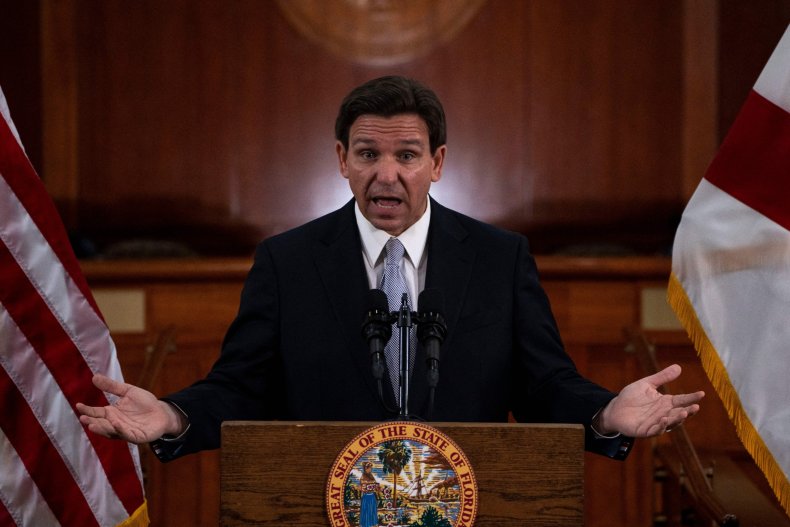 DeSantis cited a 2021 proclamation from Biden that stated non-U.S. citizens could not be permitted into the country by air.
"Your administration does not appear to have issued analogous restrictions for non-U.S. individuals seeking to enter our country by boat," DeSantis footnoted.
Newsweek has reached out to the White House on the letter by DeSantis, and queried if an exception would be made for Djokovic, or if the tennis superstar would be allowed by boat into Florida.
DeSantis just six months ago said Djokovic's exclusion into the U.S. was "so stupid." The U.S. Open takes place in New York each September.
"You think about some of these mandates that have been done in the last couple of years. You still see them now," DeSantis said at the time. "They're not letting Djokovic come to the United States to play in the U.S. Open because of the shot!"
"He's already had COVID. And the shot is not, it's not stopping you from getting this. It's so bizarre. It's so stupid that they're doing this, but you had a lot of these bizarre policies going on in these other states."
"You're letting people come across the border without shots, but you won't let him come in and compete," DeSantis added.
In his letter Tuesday, DeSantis told Biden's administration that the only thing keeping Djokovic from playing in the U.S. is "your administration's continued enforcement of a misguided, unscientific and out-of-date COVID-19 vaccination requirement for foreign guests seeking to visit our great country."
"American tennis legend John McEnroe recently termed this restriction "absurd." He was quite right to say so," DeSantis wrote.
Djokovic is the world's top men's tennis player and could lose his No. 1 ranking if he misses the Miami Open, which he last won in 2016.
Newsweek has also reached out to DeSantis for comment.