Ron DeSantis Rejects Lia Thomas Win As A 'Lie', Honors Second Place Instead
Florida Governor Ron DeSantis is refusing to recognize transgender swimmer Lia Thomas' NCAA win last week and said the state is choosing to honor runner-up and Sarasota-native Emma Weyant as the winner of the 500-yard freestyle instead.
On Tuesday, the governor issued a proclamation declaring Weyant as the "rightful winner" of the race, saying that the NCAA's decision to allow Thomas to compete and win serves to "erode opportunities for women athletes and perpetuate a fraud against women athletes."
Thomas, a swimmer for the University of Pennsylvania, made history on Thursday as the first known transgender athlete to win a division one national championship in any sport after beating Weyant by 1.75 seconds.
Weyant, who is a freshman at the University of Virginia, swam her fastest career time during the championship and the third-fastest time in UVA history, according to the college.
"By allowing men to compete in women's sports, the NCAA is destroying opportunities for women, making a mockery of its championships, and perpetuating a fraud," DeSantis tweeted. "In Florida, we reject these lies and recognize Sarasota's Emma Weyant as the best women's swimmer in the 500y freestyle."
DeSantis is not the first conservative figure to recognize Weyant as the winner over Thomas.
Congressman Dan Crenshaw, Angela Morabito, a former press secretary for the Department of Education during the Trump administration, and Clay Travis, political commentator and founder of sports media company OutKick, have also said Weyant should have been declared the winner of the championship.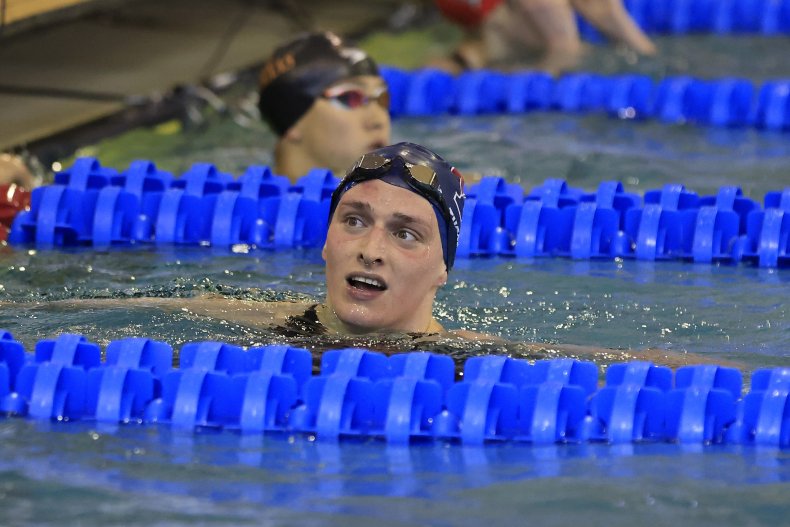 In Tuesday's proclamation, DeSantis also cited the Fairness in Women's Sports Act, which he signed into law last year on the first day of Pride month. The law bans transgender athletes from competing in girls and women's sports from middle school to the college level, including in intramural sports.
"We thought it was very important that girls and young women athletes in the state of Florida had the ability to work hard, to realize their dreams and to compete fairly," the governor said at a Tuesday press conference. "Whether it's in swimming, it's in track and field, you name it."
"To compete at that [college] level is very, very difficult. And you don't just roll out of bed and do it—That takes grit, that takes determination," DeSantis added. "Now the NCAA is basically taking efforts to destroy women's athletics. They're trying to undermine the integrity of the competition, crowning somebody else the women's champion, and we think that's wrong."