Ron DeSantis Won't Return Money From Donor Who Called Obama N-Word
Ron DeSantis, Florida's Republican candidate for governor, said he would not return money donated by a man who called former President Barack Obama a "Muslim n*****," the Associated Press reported.
DeSantis's campaign said that the Republican gubernatorial nominee would not accept future money from Steven Alembik. But it also said it had already spent funds before the August 28 primary.
Alembik's company, SMA Communications, donated $4,000 to DeSantis's campaign and political committee, according to the Associated Press. An additional $11,000 he sent DeSantis was returned due to an accounting error, Politico reported.
Alembik's tweet, which he later deleted, was written in response to a post by the Republican National Committee. The original post said, "without a hint of irony, Obama smears President Trump's 63 million Republican voters as divisive & resentful." Alembik, who later deleted his response and said he wrote the tweet out of anger, replied "F--- THE MUSLIM N-----."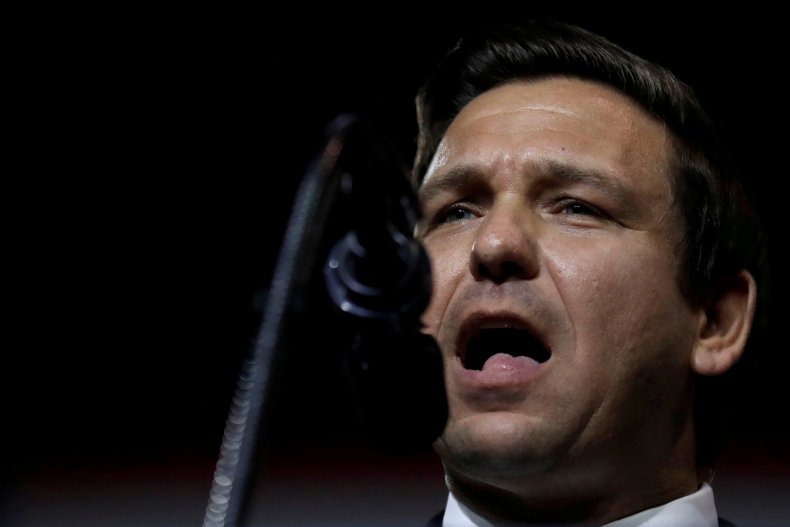 "When I write anything inflammatory, it's because I'm seriously pissed off," Alembik said. "I'm an emotional human being. Do I have a filter on what I say? In public, yes. Would I use that word in public? No. This is Twitter."
He also said he wasn't racist and questioned why he couldn't use the word.
"So somebody like Chris Rock can get up onstage and use the word and there's no problem? But some white guy says it and he's a racist? Really?" he said. The donor also said acceptability standards for language had changed, meaning terms he used before were now considered racist. "I grew up in New York in the '50s. We were the kikes. They were the n------. They were the goyim. And those were the spics," according to Politico.
The DeSantis campaign distanced itself from Alembik's remarks.
"We've said it before, we'll say it again: We adamantly denounce this sort of disgusting rhetoric," campaign spokesman Stephen Lawson said.
"This is the fifth race-related issue concerning the candidate, the campaign or one of its supporters to erupt since the start of the general election campaign," Politico reported. Last month, DeSantis warned voters not to "monkey this up" by electing Democratic candidate Andrew Gillum, who is the first black gubernatorial nominee in state history.
DeSantis later said his remarks had no racial undercurrent.
Gillum denounced the statement. "In the handbook of Donald Trump, they no longer do whistle calls," he said, according to The New York Times. "They're now using full bullhorns."
Trump won Florida, which has a population of 21 million, in 2016. A Reuters-Ipsos-UVA Center for Politics poll released Wednesday showed Gillum held a 6-point lead over DeSantis.