DeSantis Ripped for Proposing Tax Break on Gas Stoves 'They' Want to Take
Florida Governor Ron DeSantis is facing backlash following a proposal to dedicate millions of dollars of his state's budget to enacting a permanent tax break for gas stoves.
DeSantis on Wednesday rolled out what was dubbed as the "Framework for Freedom" budget for the 2023-2024 fiscal year. The $114.8 billion budget includes $7 million for a sales tax exemption on the purchase of gas stoves, which the governor's office says will keep the appliances "free from federal overreach in Florida."
Gas stoves have recently become an unlikely culture war issue among conservatives who claim that President Joe Biden's administration has plans to ban or confiscate the stoves due to environmental and health concerns, although the administration has repeatedly said that gas stoves are not on the agenda.
The issue becoming a conservative talking point despite no plans for a ban has inspired criticism and mockery from some. The tax break proposal from DeSantis sparked the latest round of backlash on Wednesday, with many pointing out that the vast majority of Florida residents do not even use gas stoves.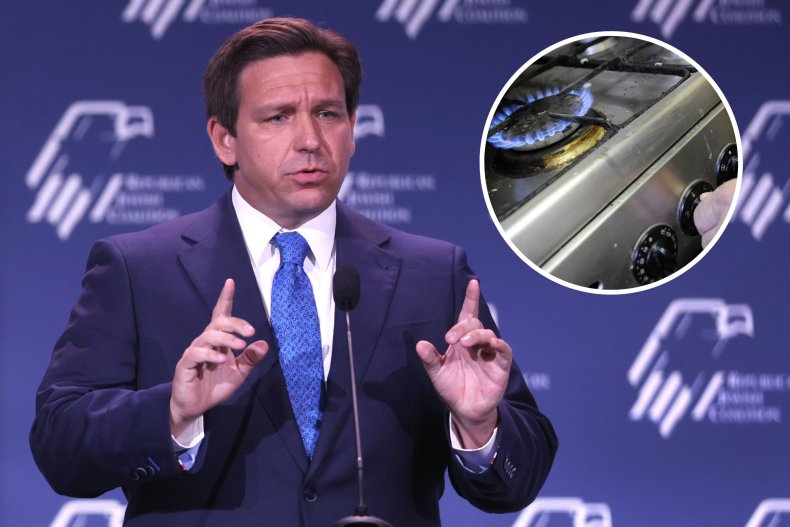 "Florida Governor Ron DeSantis has just announced that Florida will no longer impose sales tax on gas stoves," tweeted political commentator David Frum. "That may not do much for Floridians, who currently tie with Maine for lowest gas stove use in the nation. Only 8% of Florida homes cook with gas."
"DeSantis' budget is his political agenda," former Democratic Florida state Senate candidate Eunic Ortiz tweeted. "It does not work for Floridians. He just put $7 MILLION in the budget to provide tax exemptions for those wanting ... gas stoves."
"Republicans are playing make-believe that Democrats want to ban gas stoves, which they don't," tweeted tech journalist Mike Elgan. "To fight back against this imaginary threat, DeSantis to make gas stoves tax-free in Florida. Turns out Florida leads the nation in non-gas stoves."
"Since DeSantis has been Governor of Florida .. 84,927 Floridians have died of COVID," actor and comedian Hal Sparks tweeted. "The federal Government has given FL over $1.3 Billion for disaster relief..DeSantis spent less than $143 Million and kept the rest to shore up the budget. But Gas Stoves.. please continue."
"Is DeSantis spookily smart at capitalizing on perceived liberal overreach, or sort of pathetic in the extremely online way of letting his political attention get pulled here and there by the internet rage du jour," asked writer Derek Thompson.
DeSantis acknowledged that most Floridians do not use gas stoves while speaking about his budget proposal on Wednesday.
The governor argued that he was including the tax break out of "principle," while suggesting that an unnamed "they" want to take the stoves.
"We just added, because I think it needs to be done, no tax permanently on gas stoves," DeSantis said in a clip shared on Twitter. "They want your gas stove, and we're not going to let that happen."
"The way Florida was built, a lot of this wasn't even connected to gas lines, you've got a lot of electric stoves," he continued. "It's just the principle ... They want to go after the gas stoves."
"It really goes to show how little he actually cares about enacting policies that help people," user @nickhilden tweeted in response to DeSantis. "Sure, coastal cities will be under water in 20 years, but here's a few bucks off on gas stoves!"
"Showing favoritism to gas stoves?" tweeted @Glenn_N_Smith. "What about the 'free market'?"
The gas stoves controversy began in early January after Richard Trumka Jr., a Biden-appointed commissioner with the U.S. Consumer Product Safety Commission (CPSC), said in an interview with Insider that a ban on gas stoves was "on the table" due to "hidden" health hazards.
However, CPSC's Alexander Hoehn-Saric said soon after that the commission was "not looking to ban gas stoves," while Trumka himself said that the government was not "coming for anyone's gas stoves."
The White House has also made it clear that Biden does not support a ban. Regardless of the administration's stated position, some prominent conservatives have continued to baselessly push suggestions that a federal ban is secretly moving forward.
Newsweek has reached out to the office of DeSantis for comment.