DeSantis, Rubio Shun Biden's SOTU, Won't Condemn Trump's Praise of Putin
As President Joe Biden prepares to deliver his State of the Union address, two of Florida's top Republicans have publicly shunned the event, but have yet to condemn former President Donald Trump's praising of Russian President Vladimir Putin.
Florida Senator Marco Rubio announced that he would not be attending Biden's State of the Union Tuesday night due to its COVID-19 guidelines, while Florida Governor Ron DeSantis rejected a request to send National Guard members to Washington, D.C., to serve as security. Both publicly shared their disinclination for Biden's speech, but have not publicly spoken out against Trump for calling Putin "savvy" and a "genius" for the steps he had taken in the days before declaring war on Ukraine.
DeSantis announced on Twitter Monday that he would not be sending his state's National Guard.
"Last week, the Biden Administration requested the assistance of State National Guard to deploy to Washington D.C. I have rejected this request—there will be no @FLGuard sent to D.C. for Biden's State of the Union," DeSantis wrote on Twitter.
DeSantis' office on Tuesday replied to Newsweek's request for comment by saying neither the federal government nor Biden specified why "National Guard troops would be needed at an event where US Capitol Police and Secret Service traditionally serve as security."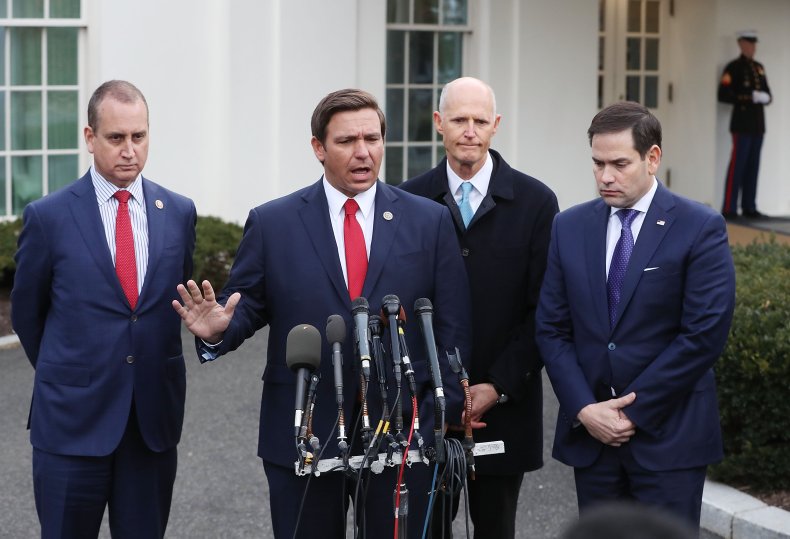 The statement went on to cite how National Guard members were treated poorly last year at the inauguration.
"The National Guard should never be misused for political purposes or regime propaganda spectacles," the statement read. "Last year, when the National Guard deployed to D.C. around the inauguration, they were forced to sleep in freezing parking garages. Our dedicated, patriotic service members deserve better."
On the same day as his Twitter announcement, DeSantis blamed Biden for Russia's attack on Ukraine and praised Trump for keeping Russia at bay during his presidency.
"When Obama was president, Putin took Crimea. When Trump was president, they didn't take anything. And now Biden's president and they're rolling into Ukraine," DeSantis said a news conference in Vero Beach, according to Florida Politics.
Rubio said he boycotted the State of the Union for its COVID-19 protocols, citing that he doesn't have time to get the required COVID test ahead of the speech.
"I don't have time to go take a COVID test today," Rubio told HuffPost. "I only take a test if I'm sick."
When asked about Trump's comments on Putin, Rubio defended him, saying Trump's controversial comments were merely sarcasm.
"I heard that interview, OK? I'm not going off the press reports. I heard the interview. I didn't hear him say that. I heard what I heard. A guy who was being sarcastic. He was saying, 'Oh, look at this guy, he's a genius, this, that and the other," Rubio said on CNBC's Squawk Box on Tuesday.
Rubio then mentioned that he doesn't agree with everything the former president said.
"But right after he said that stuff—and I don't agree with all the stuff he's said about Russia—right after he said that stuff that people are pointing to, he talked about how we need to impose crushing sanctions," Rubio added.
Newsweek reached out to Rubio for comment, but did not receive a response in time for publication.