DeSantis Warned by Fox's Rivera He Will 'Feel the Wrath' of Latino Voters
Fox News host Geraldo Rivera warned that Florida Governor Ron DeSantis will suffer losses at the polls from Latino voters upset with the governor for transporting migrants to Martha's Vineyard last month.
"Governor DeSantis will soon feel the wrath of Florida's Latino voters outraged by his toying with the lives of those Venezuelan refugees he exploited," Rivera wrote in a tweet Wednesday.
Rivera's statement comes shortly after DeSantis flew dozens of mostly Venezuelan migrants from Texas to vacation hotspot Martha's Vineyard in Massachusetts, a Democratic-led state, last month.
Prior to DeSantis, other Republican governors like Greg Abbott of Texas and Arizona's Doug Ducey also transported migrants to Democratic cities in a stance against President Joe Biden's immigration policies. The tweet also comes nearly a month ahead of the gubernatorial election in Florida, where DeSantis will be facing off against Democratic candidate Charlie Crist.
While speaking with Fox News last month, DeSantis communications director Taryn Fenske confirmed the governor sent the planes to Martha's Vineyard and said they "were part of the state's relocation program to transport illegal immigrants to sanctuary destinations."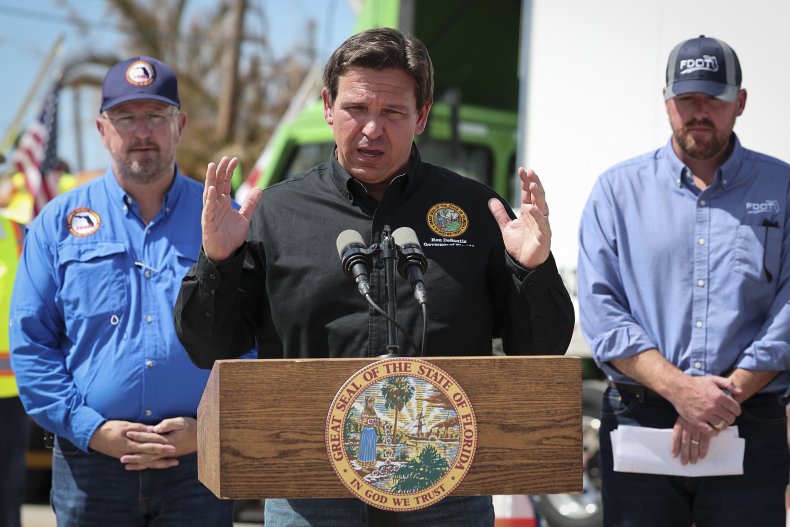 Fenske continued, "States like Massachusetts, New York and California will better facilitate the care of these individuals who they have invited into our country by incentivizing illegal immigration through their designation as 'sanctuary states' and support for the Biden administration's open border policies."
During a press conference September 20, DeSantis discussed the transporting, saying that while Florida is not seeing "mass movements" of migrants into the state, he said "between a third and 40 percent of the people coming across are seeking to end up in Florida."
"And if we know that that's illegal, there's someone that's kind of smuggling them, they're committing a crime, then you can do arrest, but that's not effective enough to stop the mass migration; it's just coming in onesie-twosies," DeSantis said.
Shortly after DeSantis flew the migrants to Martha's Vineyard, he faced a wave of criticism and backlash.
"Republicans who call themselves Christians have been plotting for some time to use human lives - men, women, and children - as political pawns. It is evil and inhumane," Massachusetts state Representative Dylan Fernandes wrote in a tweet last month.
In another tweet, Fernandes called on the Department of Justice to investigate "the abuse of these migrant families by Ron DeSantis & others."
"These families did not know they were going to Martha's Vineyard & were terrified when they landed to discover they were surrounded by water in a place they never heard of," Fernandes wrote.
While some other critics suggested that the transportation of migrants was trafficking, Catherine Chen, CEO of the human trafficking advocacy group Polaris, previously told Newsweek that the accusations are "harmful" to human trafficking survivors.
Newsweek has reached out to the DeSantis campaign for comment.