Florida Governor Ron DeSantis vowed to fight President Joe Biden over his vaccine mandates, and on Monday he warned businesses in the state that they would be charged if they ask customers for proof of vaccination.
Speaking in Alachua County, DeSantis slammed Biden's vaccine requirements and argued the president is ignoring the science regarding people's natural immunity after being infected with COVID-19. The Republican governor and fellow elected officials committed to their stance by banning so-called vaccine passports or requiring proof of vaccination through both an executive order and a law. That rule is going into effect on September 16.
On Monday, DeSantis said that any cities or counties in Florida that require public government employees to get vaccinated to keep their jobs will be charged $5,000 for every single violation, with violators at risk of paying millions of dollars in fines.
"We are going to stand for the men and women who are serving us. We are going to protect Florida jobs," the governor said. "We are not going to let people be fired because of a vaccine mandate."
DeSantis' warning comes days after Biden's mandate that says employers with more than 100 workers, including federal employees of the executive branch, must require the vaccine or perform weekly testing. The order is expected to affect 80 million workers in the private sector, according to the White House, and businesses that don't comply could face a $14,000 fine per violation.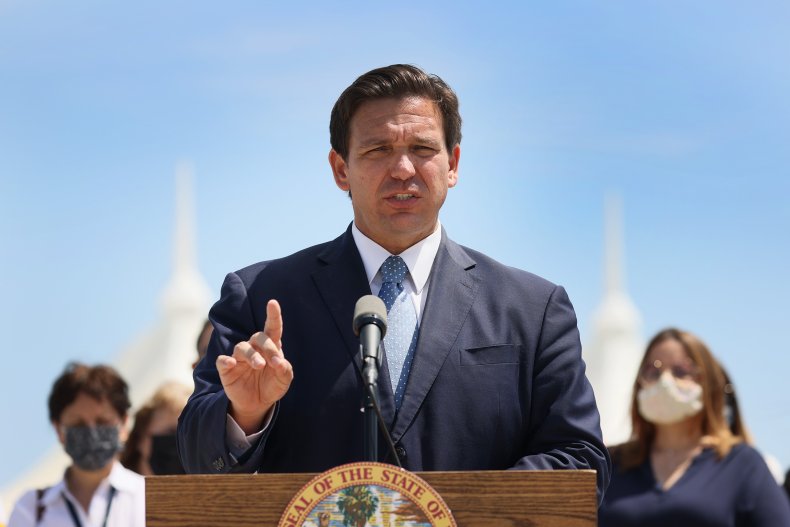 A spokesperson for the governor said that his law would impose a $5,000 fine per violation of the vaccine passport ban but it is unclear how the state plans to determine if someone received the vaccine because they were mandated to.
Several city and county employees spoke at the event and said they were facing termination for not getting the vaccine.
Orange County Mayor Jerry Demings imposed a vaccine mandate for all county employees on July 28 with a September 30 deadline.
According to Orange County Government, 4,704 of 7,561 employees have been fully vaccinated and 779 have received their first shot. If the county was penalized for every employee, it could face more than $37 million in fines, reported Orlando-based news station News 6.
However, DeSantis said that any government agencies who force their employees to be vaccinated would be breaking the newly passed SB 2006.
"You don't just cast aside people who have been serving faithfully over this issue, over what's basically a personal choice on their individual health," DeSantis said. "We cannot let these folks be cast aside. We cannot allow their jobs to be destroyed."
The Florida governor also criticized the Biden administration as "not following science."
"If you were really following science, you would acknowledge natural immunity. Instead, they ignore it...if you do not acknowledge that—you are not following science. This is about using government power control to mandate, not the underlying medical issues," he said.
Christina Pushaw, the press secretary for Governor DeSantis, told Newsweek that his office is looking into all legal options to protect the rights of employees. DeSantis encourages business owners to "respect their employees' rights to medical privacy."
Update, 9/13/21 at 6:00 p.m. ET: This story was updated with comment from Governor DeSantis' office.