Desertification Is Destroying Mauritania | Opinion
As I walked in the scorching heat through Taguilalett, Mauritania, I saw houses about to be submerged by yellow-red blistering sand. I would soon realize this is the harsh reality of life in northwest Africa. The unpredictability of the climate crisis is causing destruction for many, from uprooting families and destroying livelihoods to profound health and mental impact.
Desertification—the process of fertile land becoming desert—is a significant problem throughout Africa. Currently, 45 percent of Africa's land mass is experiencing desertification, with an even greater percentage at high risk. Mauritania is greatly affected by climate change and the burden of desertification.
Given that 90 percent of Mauritania lies in the Sahara Desert, the nation is particularly vulnerable to the effects of lengthy periods of drought and decreased rainfall. For civilians, these natural disasters can shatter lives. Currently, almost 17 percent of the population lives below the extreme poverty line, with a shocking one in four children living in absolute poverty. Many Mauritanians rely on natural resources to sustain their livelihood, and desertification has severely impacted the country's economic development. Climate change is pushing already vulnerable communities into further poverty.
Comba Ibrahim from Taguilalett told me how she escaped her previous village after sand swamped their house. She moved to a new village in the hope of escaping Saharan sand. The regular removal of the sand, which requires strength, is affecting her body—she suffers from aches and pains, which cause her sleepless nights.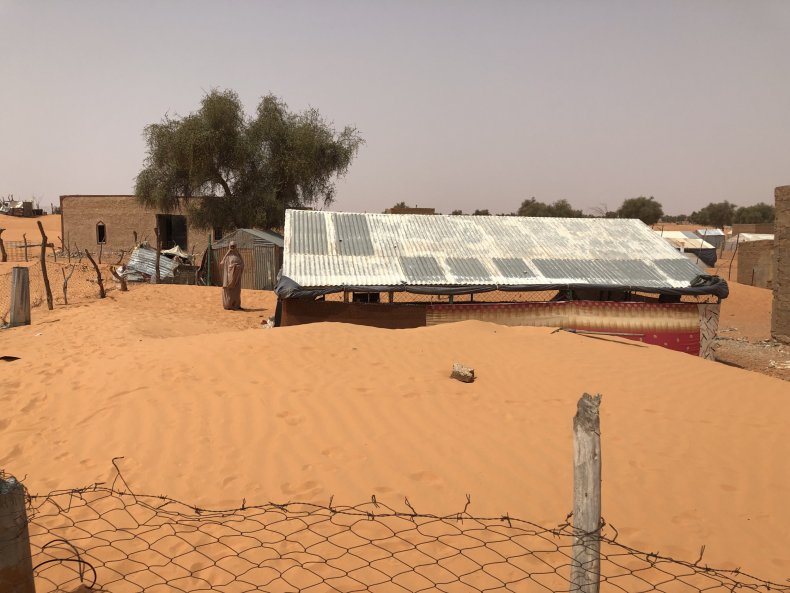 She also has dark spots on her hand caused by the constant shoveling of hot sand. Looking at her hands, I was saddened to see the scars, a visual and poignant reminder of her struggle. "This is the life in Mauritania," she told me. Her situation is dire, like the rest of her community. The impact of desertification is destroying her livelihood and health, and there is little respite for her struggles.
Alongside desertification, the locals must also contend with the water scarcity crisis. Fresh, clean, safe water is a luxury here; according to the World Health Organization, 2,150 Mauritanians die of diarrheal disease annually, the majority (90 percent) of these deaths are linked to contaminated water. Those living in remote villages find it even more challenging to access clean water due to water scarcity.
Despite their struggles, many in Mauritania are suffering in silence. Maria Neira, director of the Department of Environment, Climate Change and Health at WHO, recently said, "The impacts of climate change are increasingly part of our daily lives, and there is very little dedicated mental health support available for people and communities dealing with climate-related hazards and long-term risk."
Fatima Ahmed, another local I spoke to, constantly worries about the well-being of her children. Three out of her four children are blind—the children were born blind—she believes the excessive heat and sandstorms further exacerbates their health. She worries for the futures they may lead if the situation does not improve. I understood her concern as I sat in her one-room corrugated metal house. While it was suffocating being in the Saharan desert—being inside her tin home almost felt akin to a heat dome. While her situation is deteriorating her family's health, she remains grateful that she has somewhere to call home. She hopes her house and belongings will not disappear under the evermoving sand.
Fatima's house is one of many in Taguilalett that is uninhabitable. The vice mayor of Taguilalett, Amina Mohamed, took us around the village, pointing out how desertification has threatened food, housing, and population health. "Desertification has impacted the people of Taguilalett, many houses are unliveable. People have decided to leave the village because of a lack of water and income. They are moving to the capital, Nouakchott, to start a new life. Many lives have been destroyed—and I am watching another village disappear under the sand," she said.
While climate change is the most significant factor for desertification, it is crucial not to ignore that human activities are also partially responsible. Deforestation is common in Mauritania, and with rising poverty, people are turning to alternative sources of income. According to Global Forest Watch, from 2001 to 2021, Mauritania lost around 33 hectares of tree covers. Locals are illegally cutting down trees and burning them in the hopes of obtaining charcoal. To them, charcoal is a source of income and a way to survive. Many hardly recognize the implications of cutting trees on the environment and how it worsens desertification. They are going to extreme measures due to their desperation. This situation is not an isolated case either. In Nouakchott, they are facing the same problem. A way they have combatted this issue was to install barriers and station security guards to protect planted trees.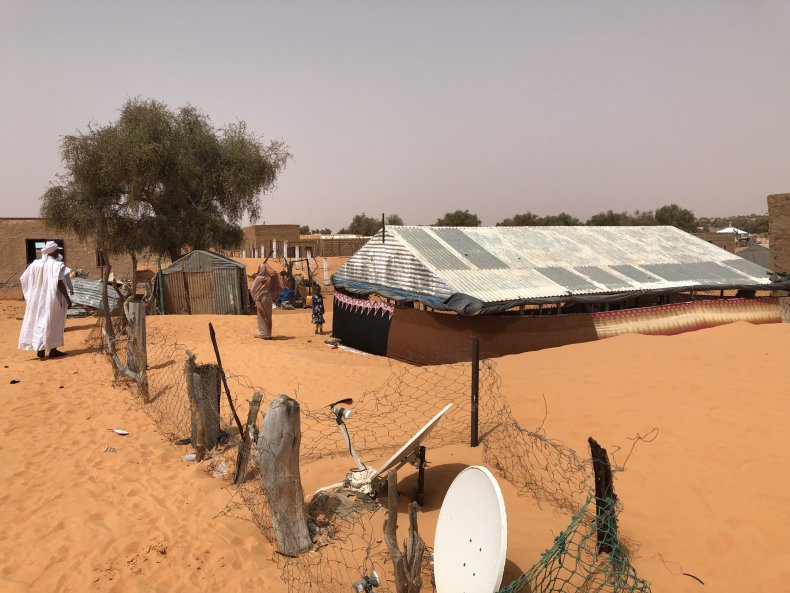 Comba Ibrahim from Taguilalett said she is "tired of the uncertainty of her life," exhausted of the constant upheaval that she and her family have faced because of desertification. Unfortunately, this is the tale for many. She cannot stand the sight of the sands and wants to outrun it. To Comba, and many other Mauritanians, the sand seems to follow them wherever they go. They simply cannot outrun it.
Launched in 2007, the Great Green Wall aims to restore degraded landscape and combat desertification across Africa's Sahel Region. The initiative aims to restore 100 million hectares of degraded land and create 10 million green jobs by 2030. Currently, the project is only about 15 percent complete. While the Great Green Wall initiative aims to prevent desertification, for people like Comba and Fatima, who are facing the harshness of climate change, they need support now.
Fadumo Abdulqadir is a reporting officer at Muslim Hands, UK.
The views expressed in this article are the writer's own.