Deshaun Watson Accusers Angered, Say NFL Was 'Victim-Blaming' During Questioning
Two women who have accused Houston Texans quarterback Deshaun Watson of sexual misconduct said in a Sports Illustrated story published Friday they were deeply upset by the line of questioning by NFL investigators.
One of the women said the investigators were "patronizing" and "victim-blaming" while asking her questions, while the other claimed an investigator asked her what she was wearing during the alleged incident with Watson.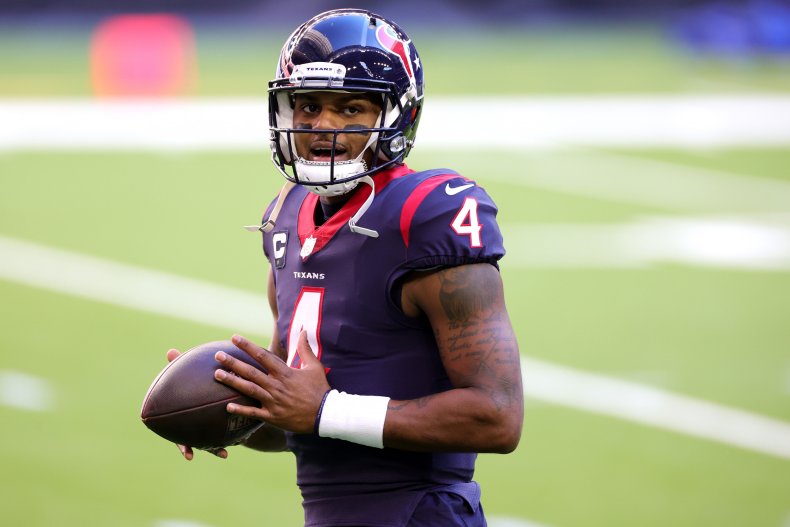 Ashley Solis, a massage therapist, was the first of 22 women to accuse Watson of sexual misconduct. She first gave her name publicly after filing a lawsuit even before she was asked to do so, and she also met with Houston police to file a criminal report.
Still, Solis said she was caught off-guard by the questions she was asked by NFL investigators, especially since the two investigators were female.
In her suit, Solis described Watson putting his penis in her hand during a massage. One of the investigators, according to Solis, asked her what she was wearing at the time of the alleged incident.
She said the question "really p**sed me off." Solis told Sports Illustrated, "She explained that that's something that she has to ask—which I don't believe at all. I'm not sure what I'm supposed to be wearing that would suggest that I don't want you to put your penis on my hand. Do I need to wear a turtleneck?"
The magazine named Lisa Friel and Jennifer Gaffney as the heads of NFL's personal-conduct investigations. The two women also interviewed accuser Lauren Baxley, who—like Solis—is a massage therapist.
Baxley told Sports Illustrated she was also asked what she was wearing during her alleged incident with Watson in June 2020. She described the investigators' tone as "patronizing" and "victim-blaming," and Baxley said they asked her why she didn't end the session after Watson's alleged inappropriate behavior with her.
Baxley also filed a report with the Houston Police Department's adult sex crimes unit, an experience she said was handled better than the NFL's investigation. She characterized her interview with the police as "very respectful," unlike her talk with the NFL questioners, who she said tried to "trip me up" and expose "weakness that they thought they could exploit."
In late July, Watson reported to training camp with the Texans. As of Friday, he has only participated in practice drills, even though the NFL has said there are currently "no restrictions" on his participation.
On Friday, the NFL told ESPN's Kimberley A. Martin there has been "no change to [Watson's] status as the investigations by the Houston Police Department and the league continue."
The NFL also informed ESPN that a review of the "serious allegations" against Watson "remains ongoing and active."
Watson's attorney, Rusty Hardin, has previously stated that all 22 of the accusers are lying about the sexual misconduct.
Newsweek contacted the NFL and Rusty Hardin for comment but did not hear back in time for publication.