Deshaun Watson Accusers List Grows to 12, And 10 More Women Have Come Forth
The list of women who have accused Houston Texans quarterback Deshaun Watson of assault has grown to a dozen, and 10 more are talking to the attorney representing them, says Houston lawyer Tony Buzbee.
Buzbee gave a press conference Friday afternoon and said he is now representing 12 women, and that he has talked with 10 more who have similar allegations.
The attorney who recently ran for the Houston mayor's office said the cases aren't about money or fame. He said it isn't about neither the Houston Texans nor the McNair family that owns the team.
"This case isn't about money. It's certainly not about seeking publicity or fame. I personally don't need it. These women don't want it. This case is about female empowerment, taking the power back," Buzbee said.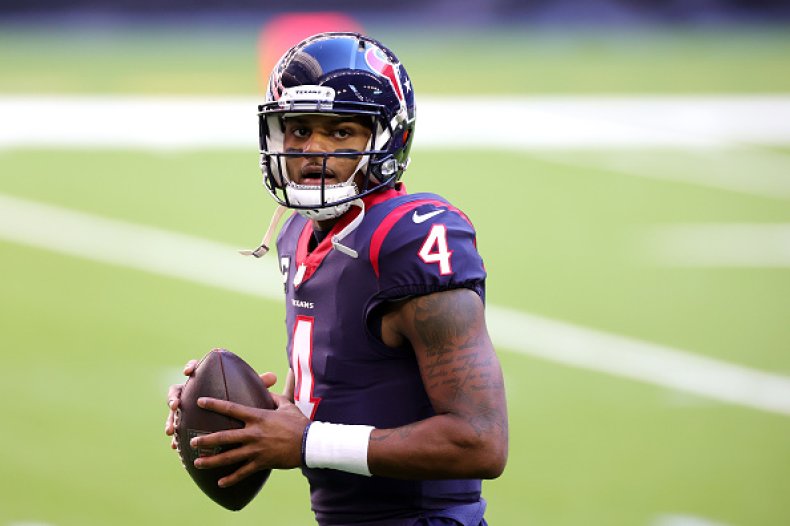 There have been seven lawsuits filed against Watson as of Friday afternoon, and Buzbee said he plans on filing five more lawsuits. He said the first woman who came forward was "a very brave person."
He encouraged even more women to not maintain silence.
"Women who are watching (the press conference), I want to hear your story," Buzbee said.
The story first broke earlier this week when Buzbee wrote on Instagram Tuesday night that he would be filing a lawsuit on behalf of an accuser, which he did the next morning.
Watson responded on Twitter late Tuesday night, saying he is innocent of all allegations and that a woman was seeking a six-figure out-of-court settlement, which he rejected.
"I have never treated any woman with anything other than the utmost respect," Watson tweeted, adding "this isn't about money for me - it's about clearing my name."
Watson has hired Houston attorney Rusty Hardin for representation.
According to one lawsuit, Watson had inappropriate contact with a massage therapist, allegedly touching her with his private parts.
Another lawsuit states that Watson sent the plaintiff a direct message to meet him at a local office building. The therapist reportedly left the room and then later returned to find the quarterback on the table, lying on his stomach with a small towel covering his rear. Midway through the massage, he allegedly rolled over and "got more aggressive, forcefully telling her to move her hand down to his pubic area."
The therapist said she felt "intimidated and threatened" and "was afraid of what someone like Watson could do if she did not submit to his demands."
After allegedly telling the masseuse that he could "help or hurt" her career, the therapist said Watson tried to force her to perform oral sex for him, to which "she did not consent."
Buzbee wrote Thursday night that he had filed three lawsuits and that nine women had come forward. The number of accusers have grown each day, and the number could keep rising.
Many followers on the internet accused Buzbee of living in the ritzy River Oaks section of Houston, next to the McNair family, and that this was all about football, which he denied on Friday.
Watson has publicly made it known that he wants to be traded from the Texans after the team's front office made questionable personnel decisions, which included trading the team's best receiver (DeAndre Hopkins) last year, and then this offseason releasing defensive star J.J. Watt. Both of those players are now with the Arizona Cardinals.