Deshaun Watson's Future—What Could Happen Next For Houston Texans QB
Deshaun Watson's immediate future in the NFL grew even more uncertain on Tuesday after two more lawsuits accusing him of sexual assault or inappropriate conduct were filed by Houston lawyer Tony Buzbee.
The Houston Texans quarterback, who has denied all allegations, now faces 16 lawsuits, all of which were filed in just over a week.
The two most recent lawsuits on Tuesday came just a day after Buzbee said a total of 24 women had come forward with similar sexual and civil assault allegations and just hours after Watson's lawyer, Rusty Hardin, said his firm had "strong evidence" one of the lawsuits alleging sexual assault was false.
That, Hardin said in his statement, called "into question the legitimacy of other cases as well." The lawyer added he believed "any allegation that Deshaun forced a woman to commit a sexual act is completely false."
Watson's future was shrouded in uncertainty even before lawsuits began raining down on him last week, following reports he had told the Texans in no uncertain terms he was determined to leave the franchise.
In January, ESPN and NFL Network both reported Watson was "extremely unhappy" after feeling the franchise did not consult him over the hiring of new general manager Nick Caserio.
The 25-year-old was also disgruntled the franchise did not consider his opinion over the hiring of the new head coach to replace Bill O'Brien—Romeo Crennell was promoted from assistant coach to interim head coach after O'Brien was fired in October, following a 0-4 start.
Watson offered his input on potential replacements for O'Brien and met with Texans owner Cal McNair "several times" to discuss a host of candidates he felt would be a good fit for the franchise.
Houston overlooked Watson's suggestions and eventually hired first-time head coach David Culley, leading the quarterback to reiterate he would not play for the franchise again.
The 16 lawsuits that have since been filed against the 12th overall pick of the 2017 NFL Draft have clouded his future and left the Texans in a limbo. NFL spokesperson Brian McCarthy said last week Watson's position was "under review," while the Texans said they would be in close contact with the league while it carries out its investigation.
The NFL can place players who face criminal charges on the Commissioner's Exemption List, an option that would not be available should the cases remain civil.
Should Watson being placed on the list, he would be barred from practicing or playing until the NFL completes its investigation. Notably, under the NFL's Personal Conduct Policy, should Watson reach a settlement with the plaintiffs including full confidentiality, the latter would be unable to cooperate with the league.
In 2014, Baltimore Ravens running back Ray Rice and then-Minnesota Vikings running back Adrian Peterson were both placed on the list as they contested criminal charges.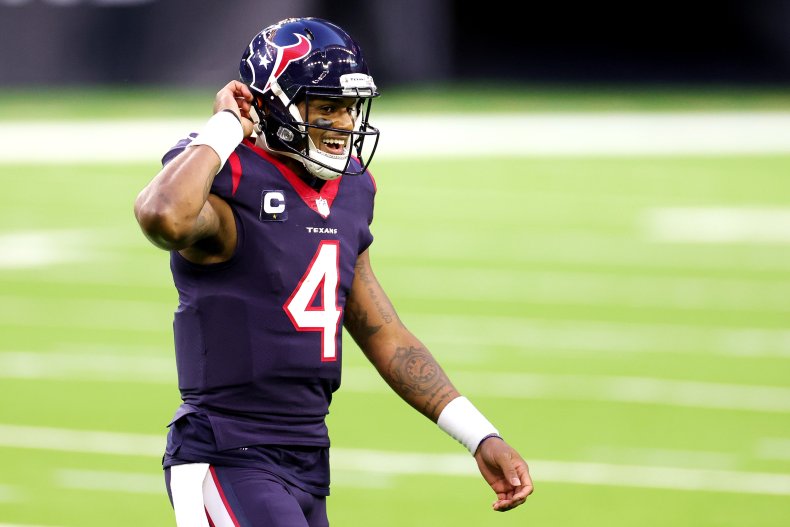 In November 2019, meanwhile, the NFL indicated Antonio Brown would be placed on the Commissioner's Exempt List if he signed with any team amid an ongoing investigation into sexual assault allegations.
Two months earlier, the league had not placed Brown on the list after the accusations first surfaced and a civil lawsuit was brought against him. Brown played one game for the New England Patriots before being cut, as more details emerged.
Should Watson be placed on the Commissioner's Exempt List, the Texans would be required to pay his salary. According to figures from Overthecap, Watson's base salary for the current season stands at $10.5 million, all of which are fully guaranteed, plus a prorated bonus of $5.4 million.
His salary will account for 8.2 percent of the Texans' total cap this coming season after Houston signed him to a four-year, $177.5 million extension in September, which keeps him under contract through the 2025 season.
The contract is the second-largest in NFL history after Patrick Mahomes' monster 10-year extension with the Chiefs and includes $111 million in guarantees for Watson.
Had they decided to accommodate their quarterback's request to be traded earlier this year, the Texans would have to absorb a $21.6 million hit in salary cap, as per figures from Overthecap.
Should Watson be placed on the Commissioner's Exempt List, the franchise could simply decide to cut him and avoid paying a salary he wouldn't be allowed to earn.
"I don't see any way [Deshaun] Watson plays here [in Houston] again," Houston Chronicle veteran and Texans beat reporter John McClain told NBC's Pro Football Talk earlier this week.
While teams would normally be queuing up to sign Watson, the pending investigation significantly changes the circumstances. NFL insider Benjamin Allbright said at least one team that had previously shown interest in Watson had now made contingency plans, as the case surrounding the Texans quarterback would not be "wrapped up" by the NFL Draft in April.
Conversely, the Houston Chronicle reported on Saturday that the Philadelphia Eagles, Carolina Panthers, New York Jets, Miami Dolphins, San Francisco 49ers and Denver Broncos all remained interested in Watson.
Significantly, any team trading for the former Clemson star would still face the prospect of having to pay him should be placed on the Commissioner's Exempt List.