Deshaun Watson, Houston Texans Live Up to Preseason Hype in Win Over Miami Dolphins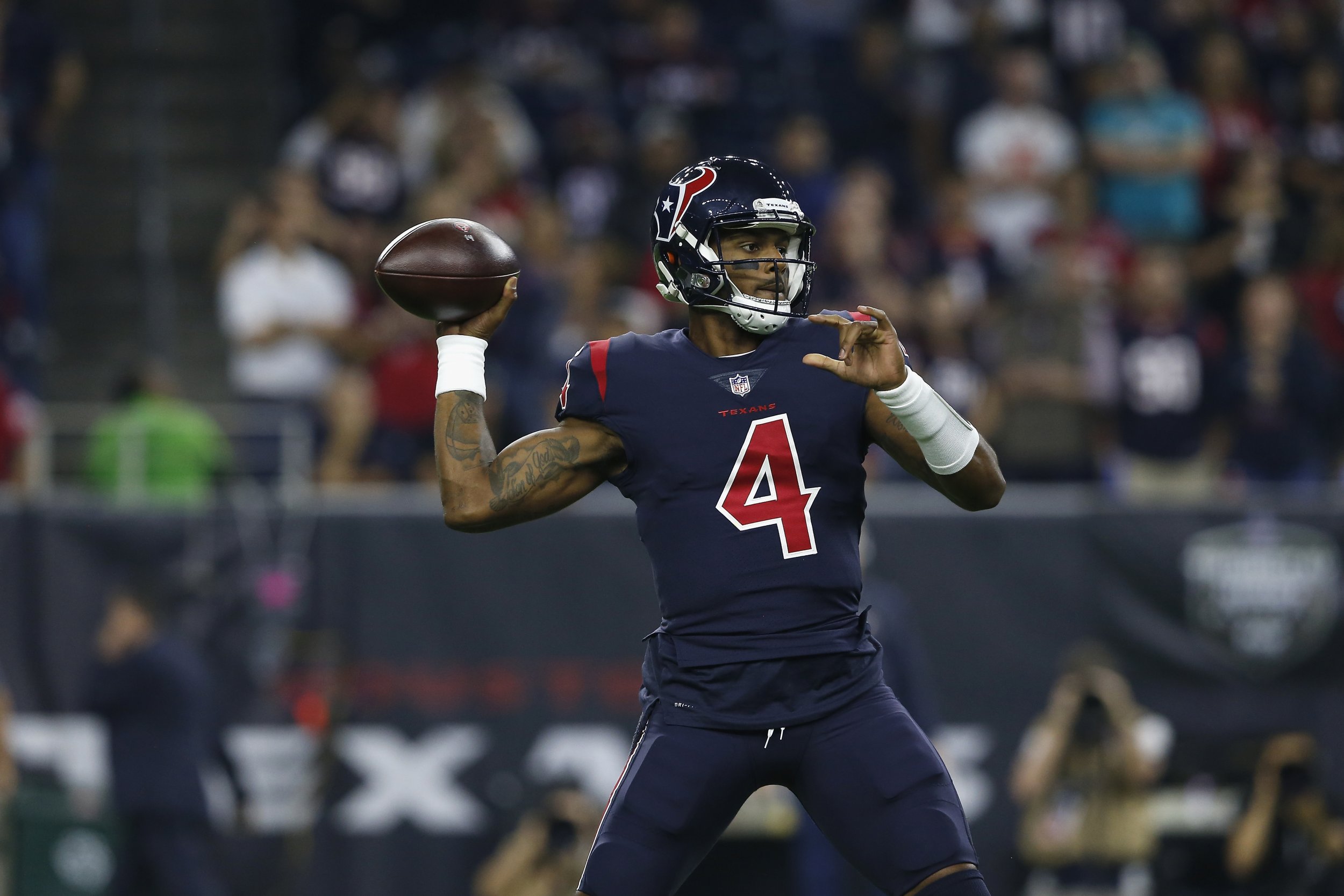 Deshaun Watson and the Houston Texans are the real deal.
Coming off an offseason full of hype, a disappointing 0-3 start and a sudden winning streak, Watson and the Texans managed to live up to preseason expectations with a decisive 42-23 victory against the Miami Dolphins on Thursday night, earning their fifth consecutive win.
The former first-round quarterback threw for a season-best five touchdowns, as well as 239 yards on 16 of 20 passing. That's right. Watson finished with more touchdown passes than incompletions.
"[It was] just fun," Watson told FOX Sports' Erin Andrews when asked what was going right for him during Thursday's game. "Energy, we're executing, sticking to the details and we're just playing gritty. We got our swagger back today and we just wanted to have fun and try to light up the scoreboard on primetime and that's what we did."
That was the Deshaun Watson fans had been waiting to see. The quarterback who led Clemson to a national championship and broke numerous school records before making an immediate impact as the Texans' starting quarterback during his injury-shortened rookie campaign.
But perhaps Watson wasn't as healthy as most believed during his first seven games in 2018. Or maybe it was just getting used to the speed of an NFL game after months of rehabilitation that hindered his production.
Either way, the player who took the league by storm during his first few NFL appearances was present during Thursday night's victory. Watson was the elusive quarterback that gave ACC and NFL defenses fits against the Dolphins. When the pocket collpased, he scrambled until there was an open receiver and made smart, accurate passes.
Additionally, the rest of the Texans' key players seemed to play up to expectations as well. Wide receiver DeAndre Hopkins caught five passes for 78 yards and two touchdowns, although his best catch, arguably the highlight of the 2018 season, was called back because of a pass interference penalty.
Will Fuller, who was examined for a knee injury midway through the fourth quarter, recorded a team-best 124 yards and a touchdown on five receptions.
Running back Lamar Miler opened up the passing attack with a strong performance on the ground. Miller recorded 133 yards and a touchdown on 18 rushing attempts, which averaged 7.4 yards per carry.
Houston's defense also had a few bright spots, despite allowing 23 points during Thursday's win. Defensive end J.J. Watt recorded four tackles, including one sack and two tackles for loss, while safety Tyrann Mathieu recorded six tackles and a sack.
The Texans entered Thursday's game ranked first in the AFC South and had a four-game winning streak, but still had to work back from a 0-3 start. Fortunately, the rest of the division currently has sub-.500 records, so Houston was already in the driver's seat, despite losing its first three games.
The Texans should be expected to pull ahead, especially with favorable upcoming matchups at Denver (11/4), at Washington (11/18) and against the Tennessee Titans (11/26) coming off a decisive victory.
"I don't even know how explosive we can be," Watson said. "I know it's top notch and we just have to keep working. Today we showed just a little bit but we're only going to continue to get better and prove each and every week."
With Watson back to Pro Bowl form, Houston should live up to lofty preseason expectations and dominate the AFC South standings for the remainder of the 2018 season.
Hopefully, the former first-round pick can stay healthy and live up to the moniker of a "generational talent" that many gave him during his first NFL season.