Deshaun Watson No Longer the Texans Starter? New QB Tyrod Taylor Makes it Sound So
The quarterback waters in the Houston Texans' organization got murkier Thursday when new signee Tyrod Taylor met with the press for his first time, and it certainly sounded like he's atop the depth chart with his comments.
Deshaun Watson is still part of the team's overall roster, but his status is unknown while sexual allegations loom and his desire to leave the team have been publicly known.
Taylor, 31, met with media after an offseason workout, saying an opportunity to start in Houston is something he "looks forward to."
"Deshaun has played at a very high level throughout his career. I'm looking forward to just competing with the guys we have in our locker room. Great talent: Brandin Cooks, Jordin Akins, David Johnson, Philip Lindsay, Mark Ingram, all guys that I've admired from afar. Being able to be in the locker room with those guys and to go to battle with those guys on Sundays is something I'm looking forward to."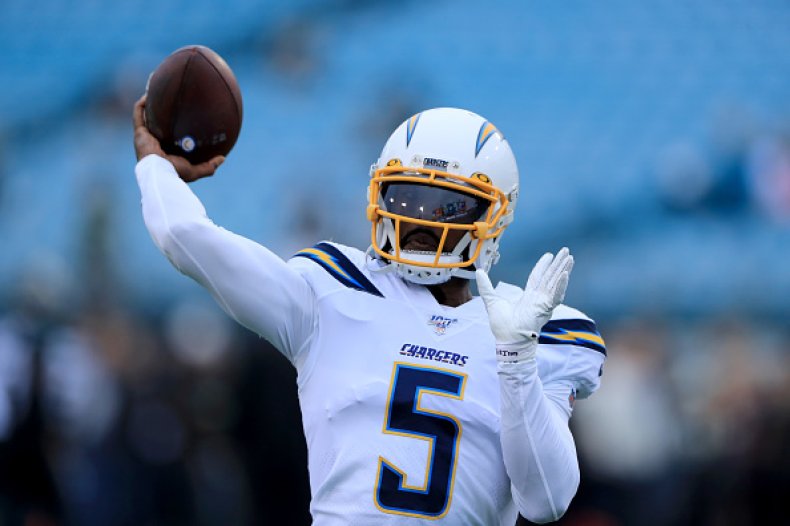 Watson has publicly made it known that he wants to be traded from the Texans after the team's front office made questionable personnel decisions, which included trading the team's best receiver (DeAndre Hopkins) prior to the 2020 season, and then this offseason releasing defensive star J.J. Watt. Both of those players are now with the Arizona Cardinals.
To make things more complicated since then, a couple dozen women filed civil lawsuits against the quarterback that alleged sexual misconduct or sexual assault.
Watson has categorically denied all allegations, but recent silence in Houston has been deafening.
It all began March 17 this year when Houston attorney Tony Buzbee wrote a social media post stating he would file a lawsuit—on behalf of a female client—against Watson. The lawsuit was filed the next day and, within a month, the total number of lawsuits filed included 24 female accusers.
"Should we make excuses for the famous? Or those who hold special positions, or quarterbacks on a local professional football team? I don't think so!" Buzbee wrote in his original Instagram.
Watson denied things from the start. He responded to the claims, saying he has only treated women with the "utmost respect." He even called Buzbee a "publicity-seeking plaintiff's lawyer."
"I have never treated any woman with anything other than the utmost respect," Watson wrote, adding "this isn't about money for me - it's about clearing my name."
The total number of female accusers reached 24. About a week after the first lawsuit was filed, the Texans signed Taylor, who said Thursday that he only expected a chance to prove himself—not necessarily get thrust into the limelight so quickly.
"I was not for sure (what my role would be), I just knew it was an opportunity for me to be able to showcase what I can do," Taylor said, according to the Houston Chronicle. "Since I came into the league, I've always treated the job the way I think every quarterback should, is to prepare as the starter, because at our position, you're one play away.
"You never know when that opportunity will come. So, regardless of how the roster looks, you have to come in and prepare as the starter each and every day and that gives yourself the best chance to be successful, but also gives your team the best chance to be successful throughout the year."
Watson could still be the starter when the Sept. 12 opener rolls around, but Thursday's workout sounded like the organization is already looking beyond him.