Design Diva Hits a High Z: Zaha Hadid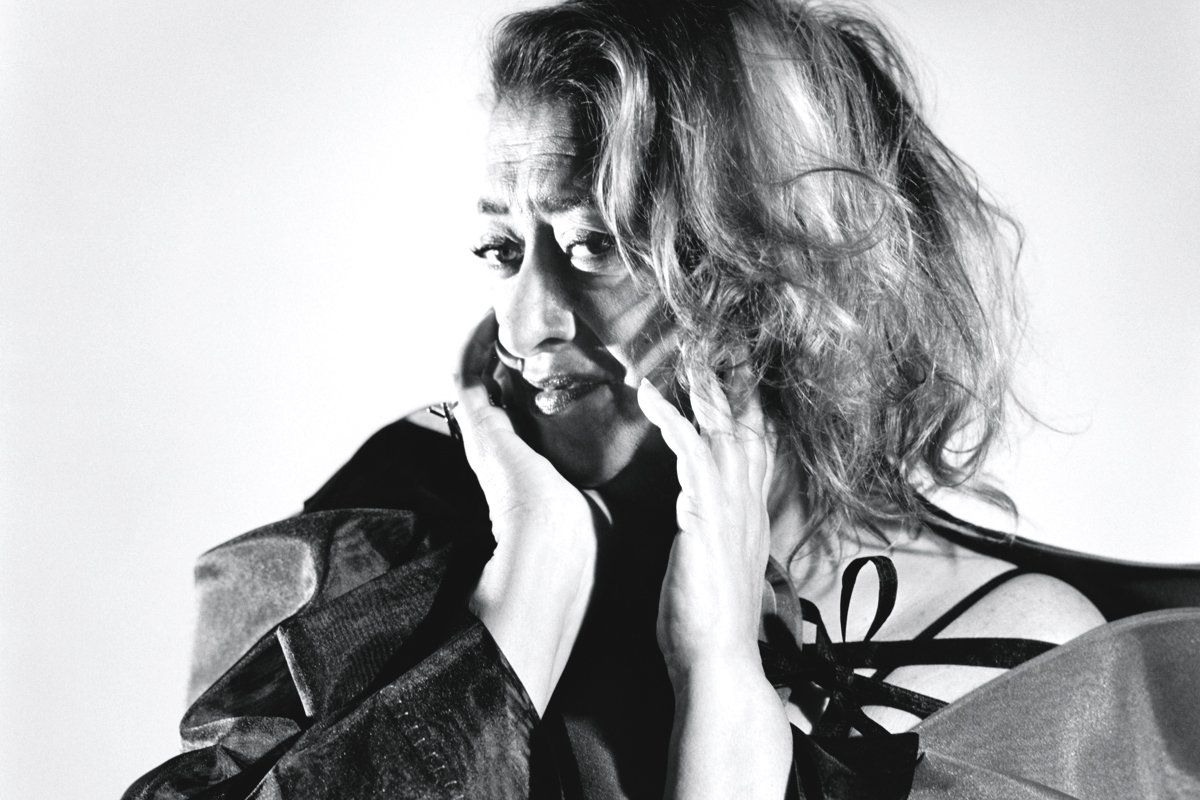 It should be the perfect spot for an interview with Zaha Hadid, the famous architect and designer: in an atrium in Miami's Design District, beneath a three-story Hadid sculpture that looks like a spider web made from taffy, sitting on her favorite 1960s swoopy plastic chairs. But Hadid isn't happy. "It's freezing in here," she says as soon as she arrives, and has the chairs and the writer pushed out into the Florida heat.
"They always say I'm a diva—but they don't call the guys a diva. It's just because I'm a woman," says Hadid, maybe with good cause; the lady's allowed to feel cold, after all. Yet her presence is undeniably operatic. Hadid is a large 60-year-old who dares to dress in shiny black leggings and a Miyake top that looks like crumpled origami. A ring on one hand extends into a mane of gold tassels. "You can't eat with it," she says. Her eyes are hidden behind big Prada glasses, Liz Taylor style, and she talks with a Lauren Bacall growl.
Hadid's works seem even more grandiloquent than she does, as though the normal world were torn apart by the force of her will. MAXXI, her new art museum in Rome, could be a tangle of pasta. The zigzags of Glasgow's new transport museum evoke accordioned trains. In Philadelphia, the city's great art museum just launched a show of Hadid design, including a coffee set that looks as if it should serve coffee to Klingons. A Hadid chair might as well be a lightning bolt, frozen—and gets titled, regally, Z-Chair. The display space itself, also by Hadid, is all curves and slashes, like a Styrofoam cup that got stuck in a shredder.
"I don't think that architecture is only about shelter, is only about a very simple enclosure. It should be able to excite you, to calm you, to make you think," she says. That makes you realize that that atrium in Miami was the perfect Hadid setting after all, even if you got to sit there only for a minute. The taffy-pull she's filled it with, titled Elastica, has no purpose except stimulating the eye and teasing the mind.
Like that piece, Hadid's buildings may be the world's largest, splashiest, most expensive abstract sculptures, with other functions grafted on later. The design on show in Philly is equally sculpture-like, "uncompromising in its radical innovation," in the words of curator Kathryn Hiesinger. The goal of a Hadid chair isn't to cradle your body; the goal is to keep you aware of how uncradled it is. Her coffeepot is about how much it is not just about pouring coffee. In a classic Hadid, as in classic abstract art, achieving a captivating look and shape matters more than getting something practical done.
Hadid's entire career took off from modernist abstraction. She was born in 1950 into the elite of pre-Saddam Iraq, where her father was the minister of finance, and says she fell hard for the modern housing favored by her well-to-do relations. Her opus No. 1, she says, was the space-age décor she had done for her room as a teenager. But in the early 1970s, when Hadid studied at London's prestigious and experimental Architectural Association, she looked much further back, to the great Suprematist artists of the Russian Revolution. (Not exactly a functionalist bunch.) Her first proposals for buildings took the form of paintings almost as abstract as theirs. You could spot bits of structure but were more likely to find an energetic line or exciting color than a door or stairwell. "I am an architect who really was inspired by art, as a starting point, and by design," she says. "If one went back to the era of the Bauhaus and early modernism, these things overlapped: there was no clear definition of an artist, architect, designer—they were trying to reinvent the world, and they tried to look at everything. And it was a very exciting and inspiring moment."
For decades, Hadid herself was such an "exciting" figure that she could barely get anything built. Instead she taught and did interiors and furniture, winning competitions and a reputation but not much more than that. She explains both her success and her hurdles in terms of her sex, which makes especially good sense in architecture's boys' club. As a woman, Hadid says, "I think you're displaced—they don't expect you to do things like a guy does. So they give you a certain freedom, but whether they accept what you do is another story. ... They couldn't pigeonhole me: I was crazy; the work was crazy; I was Iraqi; I'm a woman."
Hadid's first major building, an art center in Cincinnati, didn't open until 2003, and business started soaring only the year after, when she became the first woman to win the Pritzker Prize, known as architecture's Nobel (at least among architects). She has since become such a hot commodity that there are more than 300 people working in her office in London. Hadid settled there in 1972 and became a British citizen in 1989. She lives around the corner from her offices, and has remained single. Given her work habits and travel schedule, it's hard to see where a partner would fit in.
Hadid has projects all around the world, with buildings going up in Marseilles and Baku and even London (an aquatics center for the 2012 Olympics) and urban plans underway for big chunks of Cairo, Singapore, and Istanbul. Her firm has been growing nonstop, even as other architects have been hit hard by the recession. And she lambastes those who wish she'd have registered its impact too, at least in terms of damping down her work's irrational exuberance. "We are in a period of economical decline—so we should do bad stuff? People are losing jobs—so we should give them bad buildings? What kind of bullshit is that? Show restraint? Why?"
Curiously, the Arab Spring may constitute one of the few threats to this Arab woman's practice. Hadid was recently commissioned to design the Central Bank in Baghdad, a city she hasn't seen since 1980. Other works are in progress or planning across the Middle East, where she has become the starchitect of choice, and turmoil does them no good. "Every country there wanted a new project. I hope this is carried on. I'm not sure it will be ... Whatever happens there needs to emerge quite soon, so the stability can be obvious for investing." Coming from someone whose buildings seem to tout instability as the spirit of our age, that statement seems surprising.
Or maybe not so surprising, since it's easy to spot a conservative, nostalgic streak in Hadid. In fine art, modernist abstraction is hardly cutting-edge, and biomorphs like hers date back to the Cold War. Hadid's structures are often praised as "futuristic," but the future they point to has been on show for almost a century, at World's Fairs and in science fiction. John Harwood, a 34-year-old architectural historian at Oberlin College, may speak for a younger generation when he describes Hadid as a "living legend" whose work nevertheless "doesn't wow you with its sophistication. ... It's modernism as fancy shapes."
Hadid has a decent retort. She takes huge pleasure in the sights and sensations of travel, she says. And she sees her work as providing similar excitement to the widest possible public. Her wild projects are conceived "so that people can experience things they wouldn't otherwise. Whether it's a good school, or a nice museum, or a concert hall, or having a nice street or street furniture or a lamp, I think all these things need to be very inspiring."