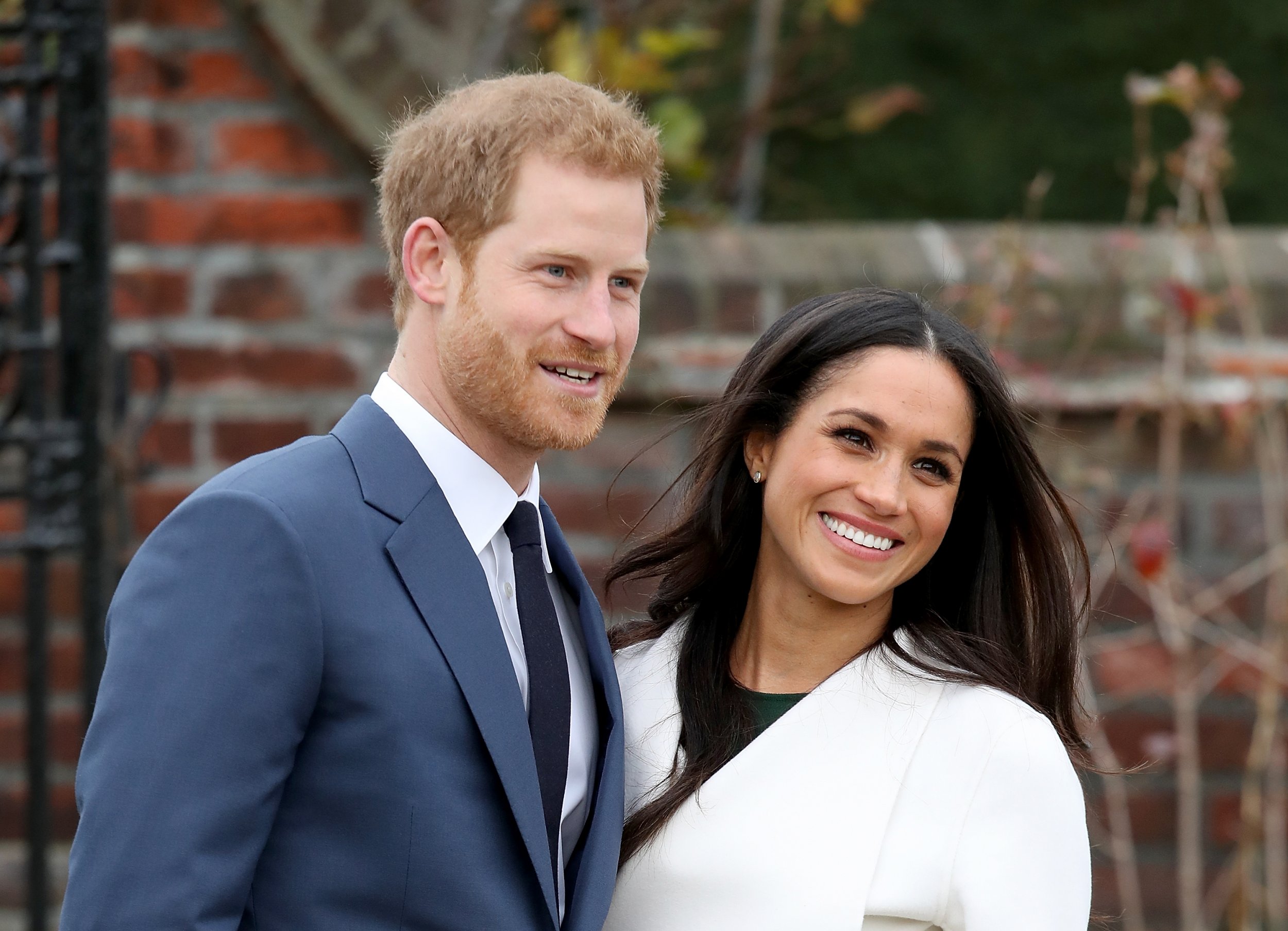 Details about Meghan Markle's wedding dress won't be revealed until she walks down the aisle on May 19, but there are some rules the former Suits actress has to follow when she says "I do" to Prince Harry at St. George's Chapel. Even though she is an American celebrity, she must follow British traditions.
Her wedding dress, for example, will most likely be made by a British designer and it will certainly be conservative, Marlene Koenig, a royal historian who runs the blog Royal Musings, told Newsweek in a phone interview on Friday.
"Don't expect low cut. Don't expect sleeveless," she said. "This is a traditional church where they say, 'wilt, 'thou' and 'thine.' It will have to be a British designer. I'd be very surprised [if it wasn't]."
Markle won't wear spaghetti straps, in other words, but she could be relatively daring, opting for half sleeves. When Duchess of Cambridge Kate Middleton married Prince William in 2011 she had long sleeves. Younger sister Pippa Middleton, her maid of honor, had considerably more freedom—her arms were bare, and her dress was as close to sexy as a royal gown gets.
As for the color, said Koenig, it will probably be ivory, like the dress of Harry's late mother, Princess Diana, or cream, which is more relaxed and flattering than white (Princess Alice, Duchess of Gloucester, chose a rather daring blush-hued wedding gown). Kate Middleton's dress, designed by Sarah Burton of the fashion house Alexander McQueen, was made with ivory and white satin gazar.
Markle will be accessorized with British jewelry. "There will be a tiara loaned by the queen.… I don't know which one," Koenig said. "And she'll certainly have pretty earrings."
Koenig predicted Markle's dress would have a long train since there is a "decent" length aisle at St. George—though certainly not as long as that of Diana, whose dress and 25-foot train, the longest in royal wedding history, was created by designers David and Eizabeth Emanuel.
The train will be carried by her bridal attendant, just as Pippa carried sister Kate's. But the bridesmaids will likely follow Markle, which is a royal tradition, rather than precede her, as happens in American weddings.
Like all royal brides, Markle's flower bouquet will include a sprig of myrtle (considered good luck in love) grown at Osborne House, Queen Victoria's holiday home on the Isle of Wight. Orange blossom might be incorporated, too.
When Markle and Harry say their vows, their wedding bands will probably include a chip from a nugget of Welsh gold, first used by the Queen Mother, Harry's great-grandparent. Small pieces of the nugget were used for the rings of Prince William and Kate Middleton. "It's now a tradition for every royal bride to have Welsh gold in her ring," Koenig said.
The American bride will probably indulge in the American and British traditions of "something old, something new, something borrowed and something blue." But she might add a British twist: A lucky six pence in her shoe.
As for Markle's "something blue," it might be the color of her garter, or she could have something stitched into the gown; Middleton had a blue ribbon sewn within her dress.
Koenig will be surprised if Markle wears a sexy gown, or the sort of body-hugging designs she preferred for red carpet events. "I would be very surprised. This is a Church of England wedding," Koenig said. "That's just guessing. We won't know until the morning of May 19."
One thing is certain: "She's not going to be wearing anything that Kim Kardashian would wear."