This Designer Wants to 'Make America Colorful Again'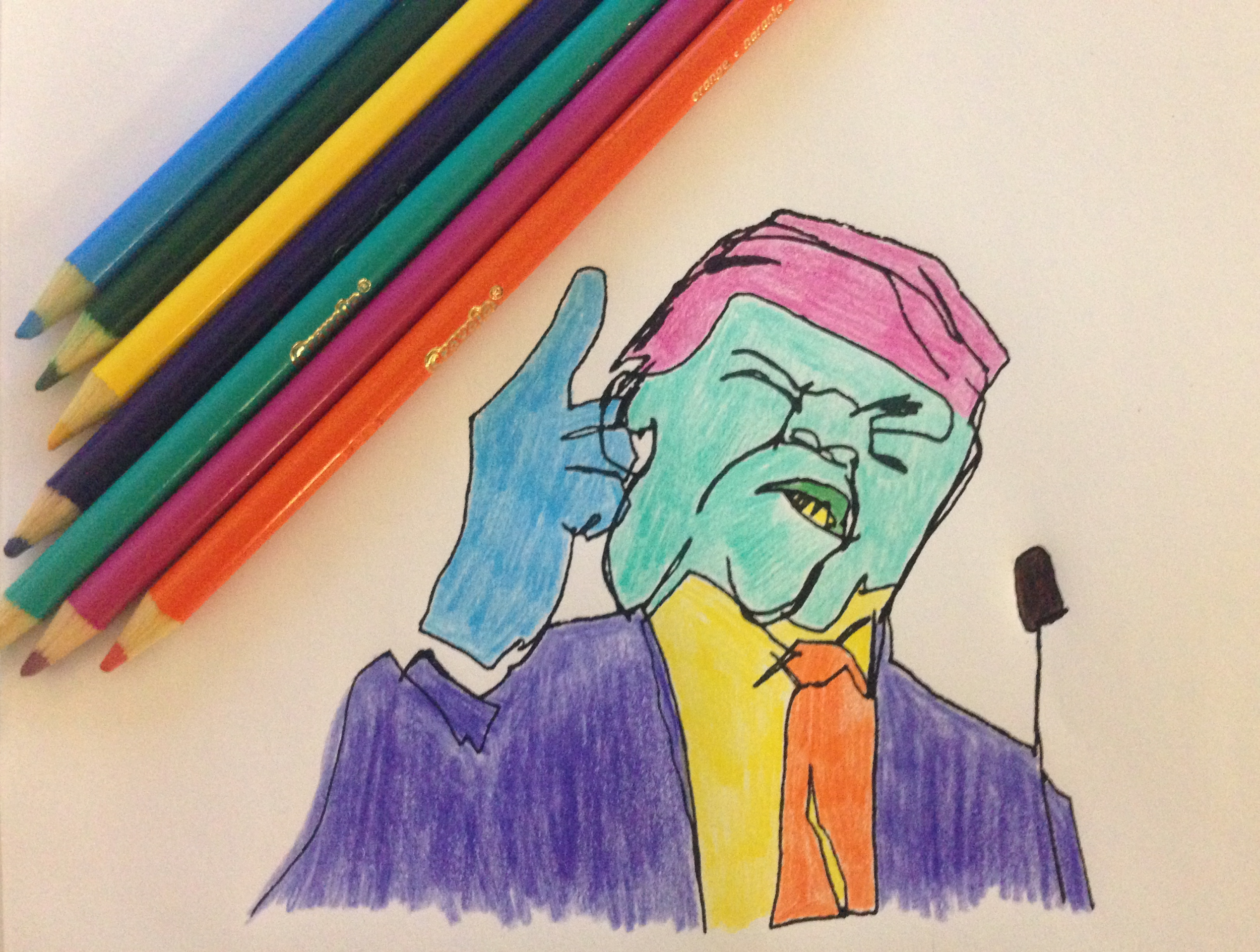 Joey Yang didn't want to draw his lamp for the third time. One of his art class assignments had him keep a notebook for blind contour drawings—meaning you pick an object or an image and draw it without looking down at the page—and he quickly lost interest in the lamp, pen and cardboard box he had initially chosen for practice. As the Oakland-based interactive and web designer scanned through the news on his phone, his eyes fell on presumptive Republican nominee Donald Trump. He gave him a try.
"The first one I did came out looking just really, really dumb," Yang tells Newsweek. "I took a picture and I was pretty delighted about it." He posted the drawing to Facebook and his friends and acquaintances were pleased too. Having found a subject more interesting and more racist than his lamp, Yang decided to stick with it.
He ended up with dozens of blind contour drawings of Trump, some of which smack of Picasso, with their misplaced facial features. Friends pushed him to turn the collection into a coffee table book, but Yang thought the line drawings, which are created without ever lifting pen from paper, would work best in a coloring book.
Just as the Republican National Convention was beginning in Cleveland on Monday, Yang posted "Make America Colorful Again" online as a free PDF and simultaneously launched an Indiegogo crowdfunding campaign to raise money for a print run (the size of which will depend on the number of backers at the end of the 30-day campaign).
"A Donald Trump coloring book, badly drawn," reads the project's subtitle on Indiegogo, "100 percent of proceeds help immigrants stay in America." Specifically, the money will go to the International Institute of the Bay Area, a nonprofit that provides high-quality legal services as well as education and other opportunities to immigrants, refugees and their families.
Within hours of going live, the campaign surpassed its $1,000 goal and by early Tuesday afternoon it had earned more than $2,000. Perks for three contribution levels include copies of the book, coloring supplies and a blind contour drawing of the backer's choice to be made by Yang.
"They're kind of funny because they have an absurdist tint to them," Yang says of the more than 20 Trump drawings included in the book. "Absurdity is a really useful tool for helping us grapple with things." When Trump first started appearing in debates, he says, people were amused. "And then as it got more serious it got more scary."
As he puts it in the first line of his Indiegogo campaign, "These drawings are terrible, just like Donald Trump."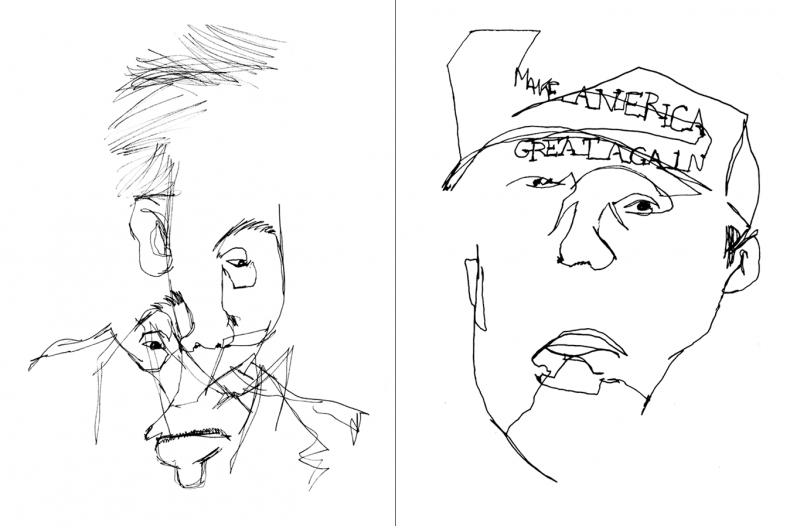 "The building a wall thing, you know, and banning Muslim immigration—it sounds like he says these things and we can just brush or shrug it off," Yang says. "But I don't think we can. Because we've done it before." In the book and on the phone with Newsweek, he cites as an example the Chinese Exclusion Act, which was the first major law that restricted immigration to the U.S.
The exclusion act along with subsequent discriminatory policies and attitudes against Chinese immigrants hit close to home for Yang, who became emotional recounting the experiences of his parents when they arrived in the U.S. and even his own growing up in an area with few other Asian Americans. "That was a tough experience," he says. "It made America not feel like home."
Trump's suggestions on the campaign trail have thus far been directed at other groups. "For me as a Chinese American, it's not me this time but what if it is next?" Yang says. "What if I'm next?"
His sentiments echo those expressed in a crowdsourced letter created after the recent shootings of Alton Sterling and Philando Castile to help primarily young Asian American supporters of Black Lives Matter explain the movement to their immigrant parents and other family members.
"Even as we hear about the dangers Black Americans face, our instinct is sometimes to point at all the ways we are different from them. To shield ourselves from their reality instead of empathizing," it reads. But "we are all fighting against the same unfair system that prefers we compete against each other."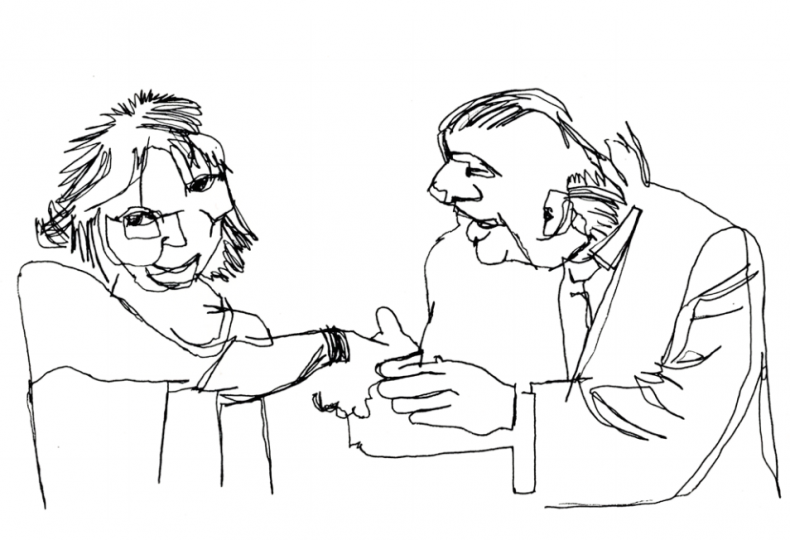 The coloring book's title is a nod to the author's hopes for a diverse country that sees the inclusion of immigrants and people of various racial and ethnic backgrounds as an advantage rather than a danger. As such, Yang encourages people to color Trump in whatever shades and styles they want—whether that's white, black, purple or polka dotted. "It might cause us to think a little, like how we deal with race in this country," he says.
He also encourages people to try their own blind contour drawings, with blank pages and instructions included at the end of the book. That section speaks to Yang's other goal, which is to remind people of all ages that they can be creative and try things outside their comfort zones.
"Make America Colorful Again" was published hours before Trump was officially named the GOP's presidential candidate on Tuesday. It also marks just four months left before the general election determines not only the country's next leader, but also "what we want to be," Yang says, "and how we think of ourselves and how we show ourselves to the world."
"I want to turn Trump into this thing that we can all laugh at and engage with, and at the same time realize that this poorly-rendered drawing in front of you, as dumb as it looks, as uniquely as you've chosen to color it, the person behind that drawing is one step away from being president of the United States of America," Yang says.
"All the things he says and represents, we can't ignore that, we can't shrug it off," he adds. "Because when people like Trump try to pit us against one another, we all lose." And even Trump would have to agree that we wouldn't want to lose.