Desmond Tutu awards Parkland activists International Children's Peace Prize for work fighting gun violence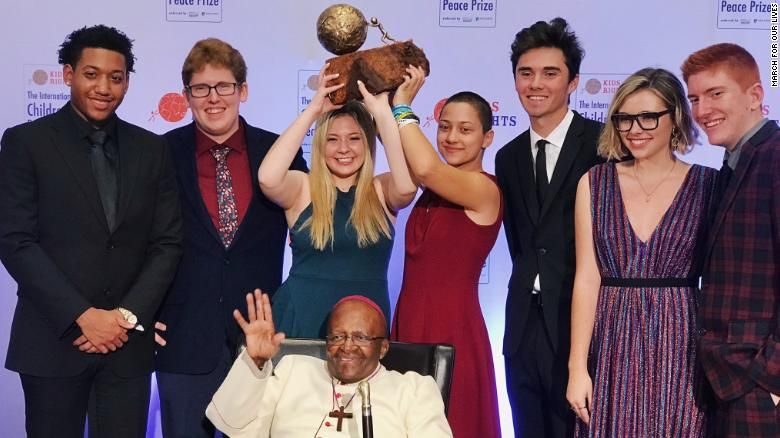 In a very public endorsement for the intrepid activism of the Parkland students who survived the Marjory Stoneman Douglas High School shooting that killed 17 of their classmates last February, Archbishop Desmond Tutu awarded them the International Children's Peace Prize on Tuesday.
Tutu presented the award to March For Our Lives organizers David Hogg, Emma Gonzalez, Jaclyn Corin, Ryan Deitsch and Matt Deitsch during a ceremony in Cape Town, South Africa, the Associated Press reported.
"I am in awe of these children, whose powerful message is amplified by their youthful energy and an unshakable belief that children can — no, must — improve their own futures," Tutu said.
March For Our Lives, he said, is one of the most significant youth-led mass movements in living memory and its founders "true change-makers."
Gonzalez, front and center as the resolute group graced the cover of Time Magazine (April 2, 2018), said the peace prize "serves as a major reminder that the universe is on the side of justice and that we will win because our cause is one of peace."
In the emotional aftermath of watching 17 of their classmates and teachers gunned down at Marjory Stoneman Douglas, the students and peers led rallies, inspired huge walkouts and peaceful protests at schools across the nation.
They didn't back down to the National Rifle Association demonizing and blaming them for standing up for their murdered peers. Instead, they conducted media interviews, stood up to lawmakers about gun reform during town halls and galvanized supporters from coast to coast – and internationally.
Joining the ceremony in Cape Town was classmate Delaney Tarr and Matt Deitsch, a Parkland alumnus who joined the March For Our Lives movement. He is Ryan Deitsch's brother; they had another sibling at the school during the shooting.
Parent Manuel Oliver, whose son Joaquin was killed, spoke during the ceremony. Two Chicago Strong students also attended; they lead an initiative to end gun violence in their hometown.
Their courage, youthful leadership and raw determination sparked an international following. Oprah Winfrey and George Clooney have helped them raise millions of dollars for their grass-roots movement.
The students inspired hundreds of thousands to attend their Washington, D.C. march to raise awareness about gun violence and to advocate for safer schools.
The students have called for a ban on assault rifles and universal background checks. March For Our Lives reports that more than 25 states, including Florida, have passed legislation supporting the organization's causes, according to the AP.
Last summer, the students helped register young voters and spoke about gun violence in 80 communities and 24 states.
Tutu, 87, winner of the Nobel Peace Prize in 1984 for his work to end apartheid in South Africa, called March For Our Lives one of the most significant youth movements, as posted on the Children's Peace Prize website, CNN reported.
"The peaceful campaign to demand safe schools and communities and the eradication of gun violence is reminiscent of other great peace movements in history," Tutu said.
KidsRights, an organization that works to guarantee the rights of children, founded the prize. Tutu has been the patron for more than a decade. Past winners include Malala Yousafzai, who received the award in 2013 for her work advocating for children's education.
Desmond Tutu awards Parkland activists International Children's Peace Prize for work fighting gun violence | U.S.