'Despacito' Video Area In Puerto Rico Destroyed by Hurricane Maria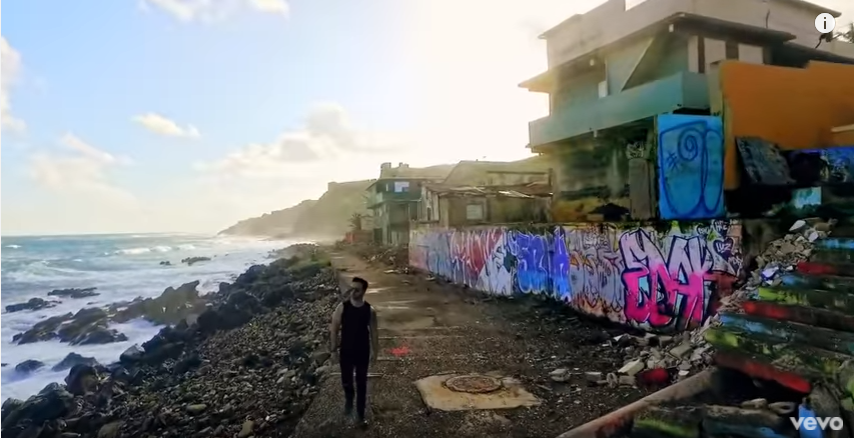 La Perla, a neighborhood in San Juan, Puerto Rico, became the colorful setting for Luis Fonsi and Daddy Yankee's music video hit "Despacito" earlier this year. But most of the location's beachside houses were reduced to debris this week after Hurricane Maria made landfall on the Caribbean island.
The neighborhood, once plagued with drug trafficking and crime, became a tourist attraction after Fonsi and Yankee released their video clip in January. It has been played more than 3.7 billion times on YouTube ever since.
Hurricane Maria's wrath left some of the area's residents homeless. "I lost my house. Now we'll see if the government will help us out," a resident told Puerto Rico's newspaper El Nuevo Dia. "Hurricane Maria was devastating. My little house is gone." Shattered glasses and smashed cars were left scattered around the neighborhood, the newspaper reported.
Prior to Hurricane Maria, the Puerto Rican economy received a much-needed boost with help from "Despacito." According to El Nuevo Dia, tourism went up by 45 percent since the song started to play across the globe. Tourist guides began exploring La Perla and other locations from the video as part of their tours.
Billboard shared an Instagram post from Luis Fonsi reacting to the news. "What a joy I feel after reading this in international media. Puerto Rico is the true protagonist of this song and this video. It was always my inspiration," Fonsi wrote, thanking Yankee and video producers and adding a hashtag that read, "This is how we do it down in Puerto Rico."
Prior to "Despacito," La Perla took on a mission to remove violence and drugs from its streets. According to a 2015 article by BBC Mundo, La Perla did not see any casualties in six years, while local authorities and DEA captured 70 people for allegedly selling and trafficking drugs in 2011. To change the stigma La Perla endured for years, its residents began painting their house façades and streets in bright colors. Abandoned houses in the area were used to establish small businesses such as bakeries and restaurants.
La Perla has served as the site for other popular bands in Latin America, including Calle 13, which dedicated a song to the neighborhood.
Puerto Rico's 3.4 million residents have no electricity after Hurricane Maria's passing, and it will take four to six months to restore power. Puerto Rico Governor Ricardo Roselló announced Friday that the death toll on the island had grown to 13.