'Desperate' L.A. Restaurateur Blocks Health Officer's Car, Laments COVID Closures in Video
Carlos Roman, a Southern California restaurant owner, condemned COVID-19 restrictions that recently ordered food service establishments to suspend dining entirely in a confrontation with local health officers and police. Roman received a citation from county health department personnel when an officer observed customers seated in an outdoor patio space adjacent to his restaurant on December 20. According to the owner, one person sat on a public bench near the patio. Outdoor dining is prohibited under the terms of Los Angeles County's new COVID-19 orders.
After receiving notice of the citation, Roman parked his truck behind the health inspector's vehicle and, later, denounced COVID-19 regulations and their consequences for small businesses during an interaction with police.
One of Roman's colleagues recorded the lengthy encounter, and video footage subsequently surfaced online in a post shared to the restaurant's Facebook page. The video received thousands of reactions from social media users, many of whom empathized with Roman, throughout the week that followed. A GoFundMe campaign, created to support the restaurant, has raised more than $17,000 of its $25,000 goal since the video surfaced.
"He wants to come in and say, 'No one can work.' So, he can't work either," Roman is heard telling a Covina police officer in last week's video, while gesturing to the health inspector's car. The restaurateur said his business is facing financial challenges as a result of the county's COVID-19 mitigation order, and said he is "desperate" for some form of relief. He did not wear a face mask during any portion of the interaction.
Roman's truck was ultimately moved from its position behind the health inspector's car, a spokesperson from the Covina Police Department confirmed to Newsweek on Monday. The spokesperson said "peace was kept" throughout the incident.
Roman owns an "upscale pub," per its description on Facebook, in Covina, a city located about 25 miles outside of downtown Los Angeles. The establishment, called Bread & Barley, was required to halt outdoor dining operations alongside other restaurants, breweries and wineries across Los Angeles County as COVID-19 cases and hospitalizations skyrocketed over the past month. Takeout and delivery services can continue to operate.
The county health department issued updated guidelines for restaurants at the end of November, and again on December 11, stipulating that temporary outdoor seating areas at these businesses must close. Those mandates compounded slightly less strict instructions from the state health officer, released in conjunction with California's regional stay-at-home order at the start of December.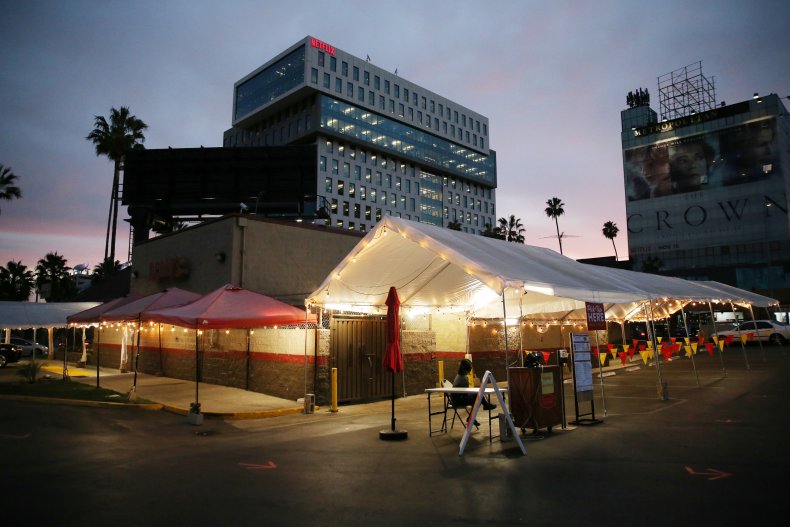 As part of the citation for violating county health directives, authorities issued fines totaling roughly $1,000 to Bread & Barley following last week's inspection and confrontation with Roman. The owner told Newsweek on Monday that he plans to contest the penalties and potentially take legal action to challenge local COVID-19 orders. He also said Bread & Barley does not intend to close its outdoor patio to the public.
"I'm trying to follow the rules as much as I can without going out of business," he said, noting that customers "are welcome to eat outside" in the restaurant's patio space if they supply their own seating. Roman has relayed these policies to community members via Bread & Barley's social media accounts. The restaurant's indoor seating areas remain closed.
Updated at 5:18 p.m. ET to include comments from a spokesperson at the Covina Police Department.