Desperate Migrants Ride Freight Train Roofs in Perilous Attempts to Cross Border
Customs and Border Protection (CBP) released a report on Monday that showed illegal border crossings attempted by jumping freight trains increased by more than 60% since the beginning of the current fiscal year.
In all of 2020, there were 181 illegal train crossing encounters. In not quite four months of 2021, there have been 292.
It is an incredibly perilous journey for the migrants.
The Migration Policy Institute reports that the migrants must cling to the roofs of the moving freight cars, as there are no passenger cars on the trains. There's generally nothing for them to hold on to and no way for them to secure themselves while they sleep. Many who have tried riding the roofs have lost limbs, or fallen off and died.
Those who manage to make it onto the trains face danger from local gangs who prowl the rail lines and force the migrants to pay. Those who cannot pay are often thrown from the tops of the trains to the ground below.
CBP Public Affairs Specialist Roger Maier told Newsweek that he hopes by sharing this report he is able to bring attention to the danger involved in the practice of train hopping.
He said he wanted to "persuade people to think twice before considering this potentially deadly practice."
However, regardless of information on the dangers involved, some experts doubt the phenomenon will come to a halt.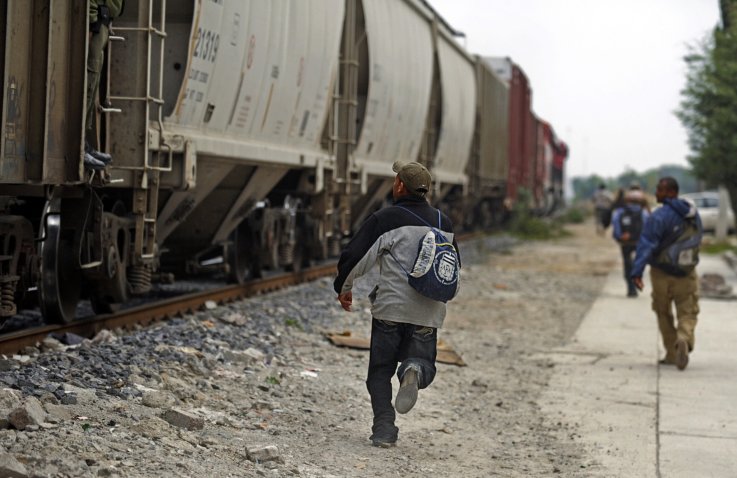 Salvadorean migrants run to jump on a train to the border with the United States, in Lecheria, 30 km north of Mexico City, on June 1, 2010.
LUIS ACOSTA/AFP via Getty Images
While CBP's statistics represent a real phenomenon, Josiah Heyman, director of the Center for Inter-American and Border Studies at the University of Texas at El Paso, says the pattern of illegal crossing by riding the rails is nothing new.
He personally witnessed crossings by train in Nogales, Arizona in 1992, and said the practice has been going on for decades. For years, he said, migrants from Mexico and Central America have literally risked life and limb to seek safety and economic opportunity in the United States.
What's new about this moment, he said, is the extent of push factors leading migrants to make the decision to flee their homelands.
"The level of violence and both regional and local persecution has risen in Mexico as well as Central America," Heyman told Newsweek. "Title 42—immediate expulsion of single adults and some families—has a perverse effect of encouraging people to enter, be apprehended, be expelled, and try again until they succeed in entering. So ironically, it is increasing this sort of thing."
Title 42, introduced during March of 2020 by the Trump administration, was put in place to address the "serious danger of the introduction of such disease into the United States." Heyman that before Trump policy was put into place, asylum seekers were processed on entry. Now they are expelled across the border and left to figure out their next plan.
The economic effects of the COVID-19 pandemic on Latin America are another important factor driving migration.
The pandemic brought Mexico its largest quarter-on-quarter GDP retraction in the nation's history, the country's National Institute of Statistics and Geography reported. In Latin America as a whole, overall poverty rose to 33.7% in 2020 from 30.5% in 2019. In addition to facing two hurricanes in November that destroyed roughly 250,000 homes in the region's Northern Triangle, many regions saw local gangs expand their turf.
"These situations undermine the enjoyment of human rights so badly in those countries," Adeline Neau, a researcher based in Mexico City for Amnesty International, told Newsweek. "People decide to leave, despite arbitrary detention and violence deployed by Mexican authorities, or abductions, assaults and killings at the hands of criminal organizations."
She said that addressing the factors that lead to people being desperate enough to ride a train roof requires actions be taken in Mexico that better protect their human rights.
On the U.S. side, Neau said protecting minors should continue to be a priority of the administration. She recommends expanding the Central American Minors (CAM) program that allows lawful migrants from the Northern Triangle countries of El Salvador, Guatemala, and Honduras to request refugee status for their children. Furthermore, she suggests the administration do what it can to tackle corruption in these countries.
"They could expand measures to support the fight against impunity and to tackle corruption, given that these are structural issues in countries such as Honduras and Guatemala," Neau told Newsweek.
"Thousands of people from El Salvador, Honduras and Guatemala are forced to flee their homes each year," she said, "and make this dangerous journey to Mexico and the United States to literally save their lives and those of their families."